New Hampshire Democrats on Friday endorsed their Texas counterparts' decision to flee the state to prevent a vote on new election laws. It's similar to a move Granite State Democrats tried during a House session in February.
"New Hampshire House Democrats Extend Support to Texas Dems in Fight to Preserve Voting Rights" is the headline of the Democratic House Caucus's press release.
"This week, a majority of Democrats in the Texas House of Representatives left Texas to deny House Republicans a quorum to continue a special session designed to erode voting rights in the state," according to the release.
"The right-wing assault on voting rights nationwide is a disturbing and unconstitutional abuse of power to which New Hampshire is no stranger," said New Hampshire House Deputy Democratic Leader and ranking Democrat on the House Election Law Committee Rep. David Cote (D-Nashua). "This year, we have seen House and Senate Republicans in New Hampshire prioritize making it harder for Granite Staters to vote just as their colleagues in Texas and across the country are.
"The House Democratic caucus extends our support to Texas Democrats and all Americans in the righteous fight to preserve our democratic freedoms."
New Hampshire Republicans were unimpressed. "Unsurprising. New Hampshire Democrats frequently support those who refuse to work," quipped state Rep. Joe Sweeney (R-Salem).
The jet-setting Texas Democrats have been the subject of non-stop mockery and ridicule since boarding private planes and "bugging out" of state for luxury hotels (paid for in part by country singer Willie Nelson) and press events in Washington, D.C.
At least five of the fleeing Democrats have tested positive for the COVID-19 virus after flying unmasked on their private planes.
Texas Lt. Gov. Dan Patrick noted that the renegade lawmakers wouldn't go thirsty on their travels.
"Smiling House Dems fly off to DC on a private jet with a case of Miller Lite, breaking House quorum, abandoning their constituents, while the Senate still works," he tweeted, along with a photo.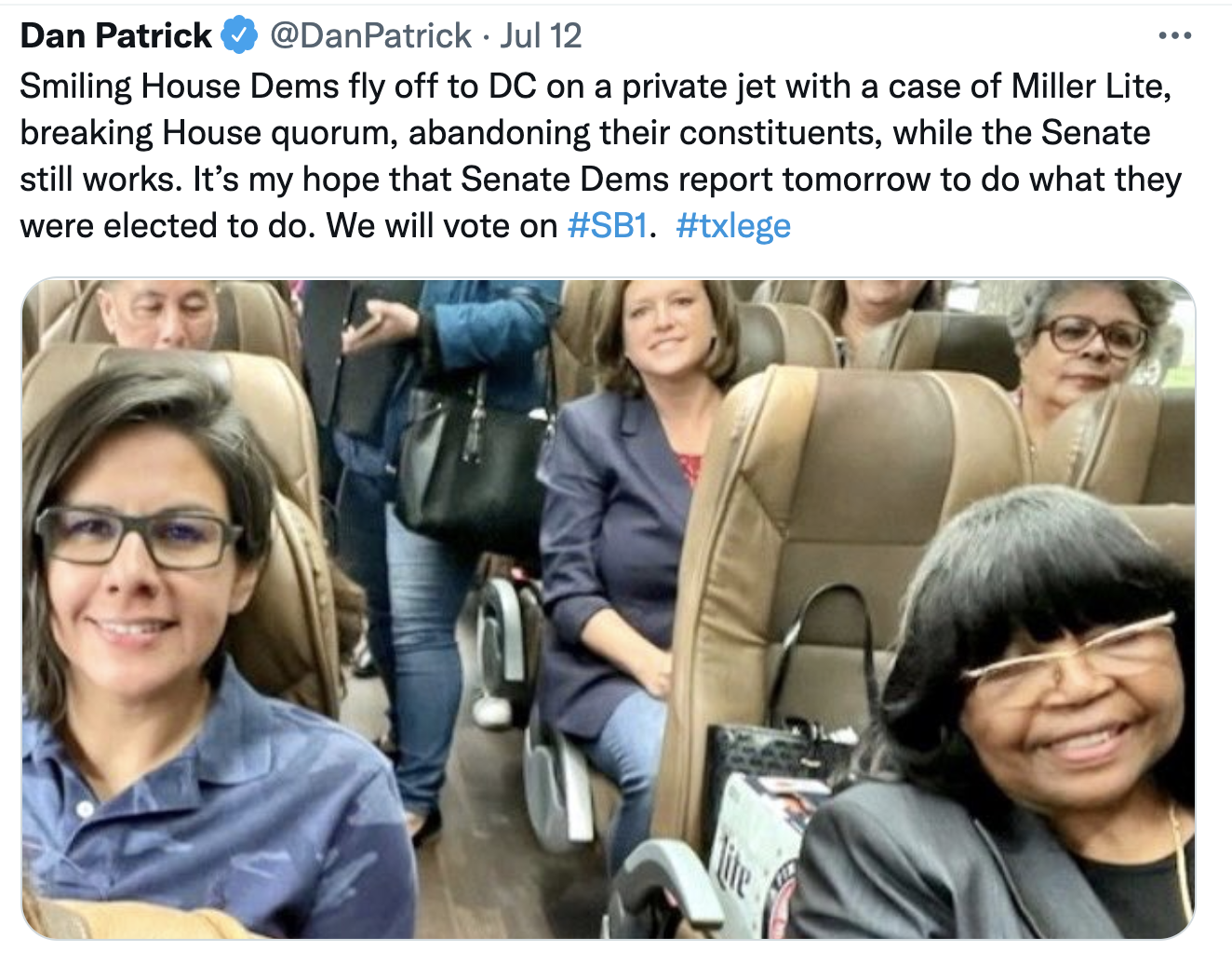 "Runaway Texas Democrat is mocked for sharing a picture of her clothes – including bra and leopard print panties – drying in the bathroom of her $200-a-night hotel room," reported the Daily Mail.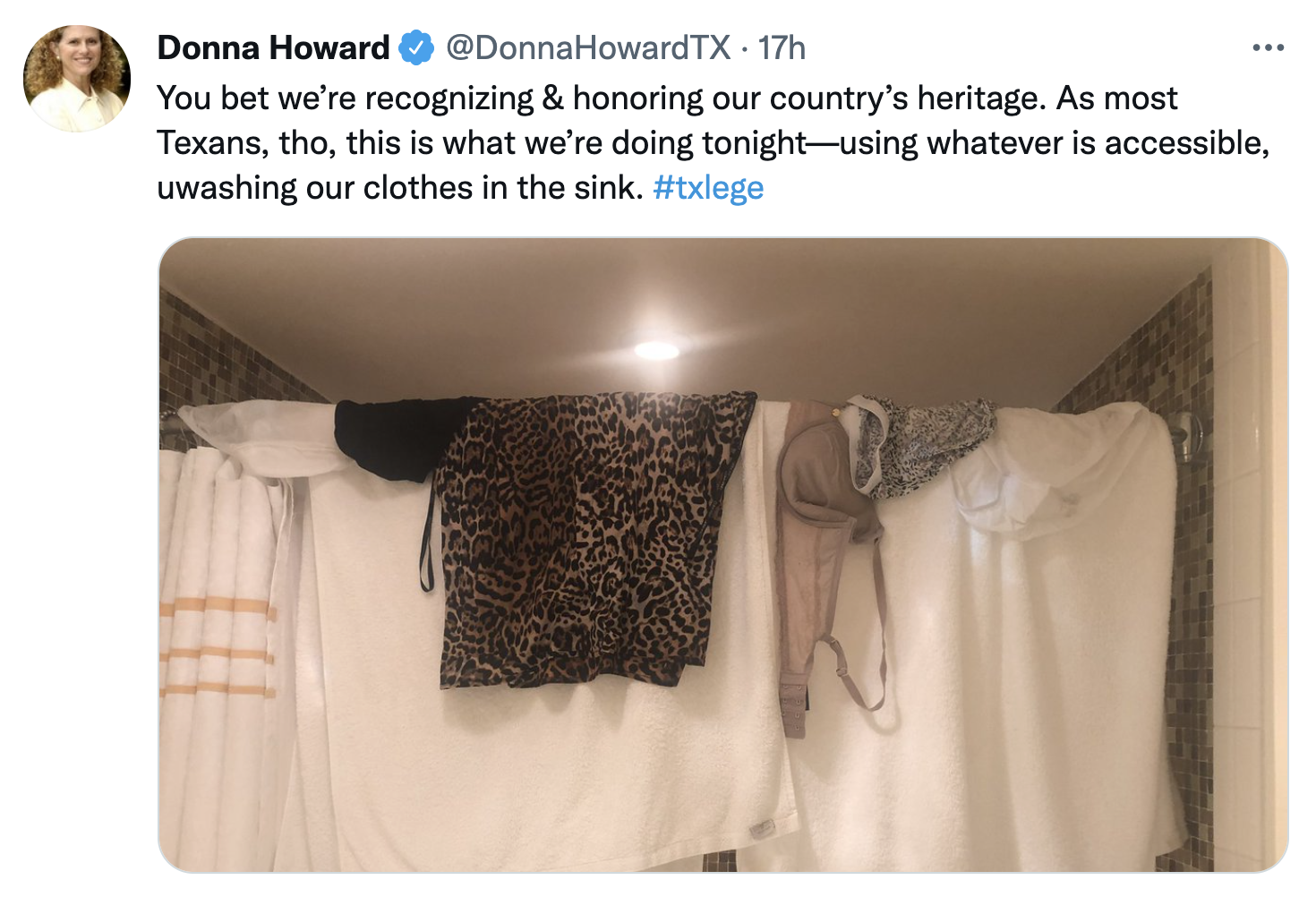 Granite State House Republicans issued their own statement on Friday.
"It is no surprise to see Democrats once again cheering one another on for running out on a hard vote," said House Majority Leader Jason Osborne (R-Auburn). "The Left's penchant for political stunts and phony moral crusades at the expense of their constituents will come back to haunt them in November. I find it strange that they have no problem showing ID to joyride on a private jet, but do not want anyone showing ID to vote for our elected representatives."
Republicans also emailed out a video of the New Hampshire Democrats' failed attempt to execute a similar strategy hoping to kill legislation banning late-term abortions and denying protections to newborns who survived botched abortions.
Unfortunately, rather than deny the GOP majority a quorum, a handful of Democrats who'd bolted from the floor of the Bedford Sportsplex ended up locked out, temporarily giving Republicans an even larger majority.
Meanwhile, Granite State Republicans were fundraising off the Texas Democrats' follies.
"I get the feeling that the fewer of them [N.H. House Democrats] there are, the more extreme and ridiculous they will become," said Rep. Kim Rice (R-Hudson) in an email. "Hopefully, just like with Texas, Democrats across the country will follow suit and we can all enjoy a good laugh!
"We need your help to make sure that the next time the Democrats walk out, there are so few of them that no one even notices," Rice wrote.
Republicans also note the irony of Democrats who want to end the filibuster — because it allows a legislative minority to block the will of the majority — celebrating a handful of legislators breaking the rules to prevent a majority vote in the Texas House.
Meanwhile, Democrats have yet to identify which specific aspects of the proposed Texas law threaten democracy. It allows early voting, mail-in voting, and ballot drop boxes. The Texas House wants a voting window of 6 a.m. to 10 p.m. while the Senate would cut off voting at 9 p.m. Both exceed the voting hours for New Hampshire polling hours, a state that doesn't allow any drop-off ballots or early voting at all.
NHJournal asked Cote and the House Democratic Caucus spokesperson to identify which part of the Texas law is an "unconstitutional abuse of power" or would "erode voting rights in the state," as they claim.
They declined to respond.