A last-ditch attempt to stop a vote on an abortion-related bill left New Hampshire House Democrats locked out of the legislative process — literally — after they stormed out of session, leaving behind a (temporary) GOP supermajority. It was just one of many contentious moments at the House session held at the Sportsplex in Bedford on Wednesday.
The day began with a photo of the 50,000 square foot venue distributed by House GOP leadership, demonstrating the wide spaces and social distancing available beneath the towering roof of the Sportsplex. That didn't stop some House Democrats from decrying the allegedly life-threatening conditions. The state Democratic Party chairman praised members "who risked their lives" to attend.
A House Democratic staffer, Rachel Brady Cole, and at least one Democratic state rep even wore full-body PPE suits as the session began.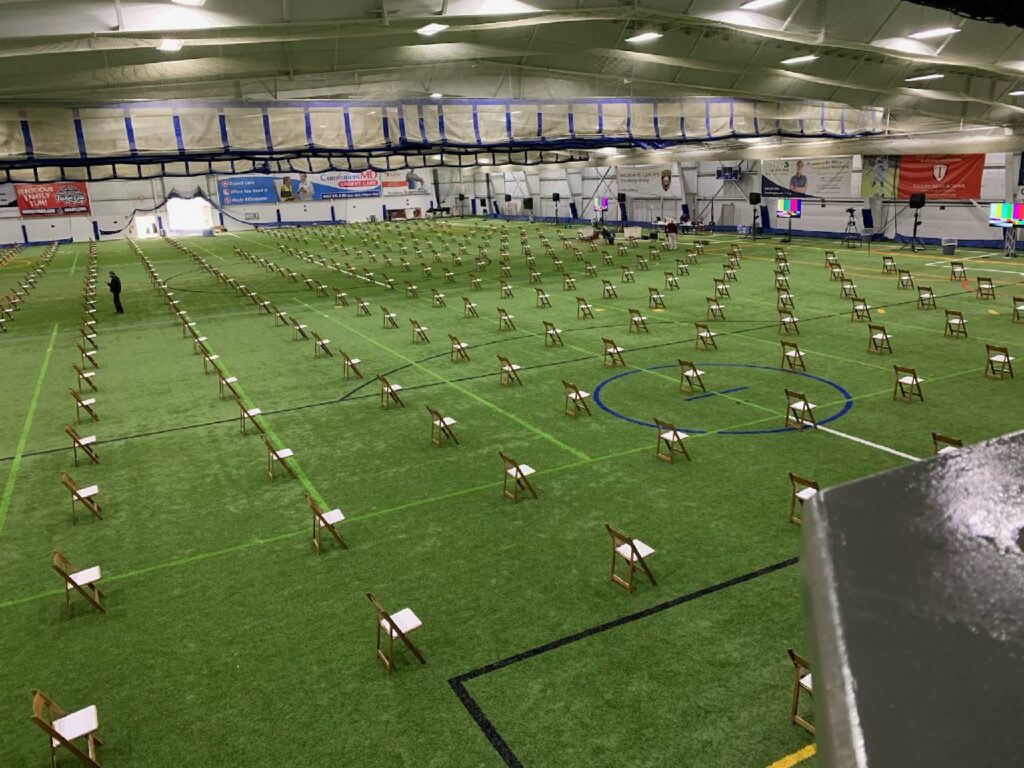 According to an announcement at the beginning of the session, there were 24 Democrats with excused absences but just two Republicans — thereby expanding the narrow GOP majority in the House. As Republicans won vote after vote, the frustration began to build. After a pro-life bill easily passed and another was moved forward in the schedule,  Democrats decided they'd had enough.
"The Democrats are going home now," Democratic Leader Renny Cushing (D-Hampton) announced to Speaker Sherm Packard (R-Londonderry). As Democrats rushed to leave the venue, it appeared their goal was to stop House Republicans from passing legislation by denying them a quorum. Without a quorum of 199 members, the only motion in order is to adjourn the body.
But Cushing miscalculated. By announcing the strategy, he gave Speaker Packard the ability to act. Packard, invoking his powers as Speaker to maintain a quorum, promptly ordered the doors locked. The quorum was maintained, though a number of Democrats defied the order, and even the state police, to make it out of the venue.
"WE BUSTED THROUGH THE POLICE TO LEAVE!!!!" Rep. Nicole Klein-Knight (D-Manchester)  reported on Twitter. "S*** JUST HIT THE FAN, SPEAKER UNLAWFULLY LOCKS US IN THE SPORTSPLEX."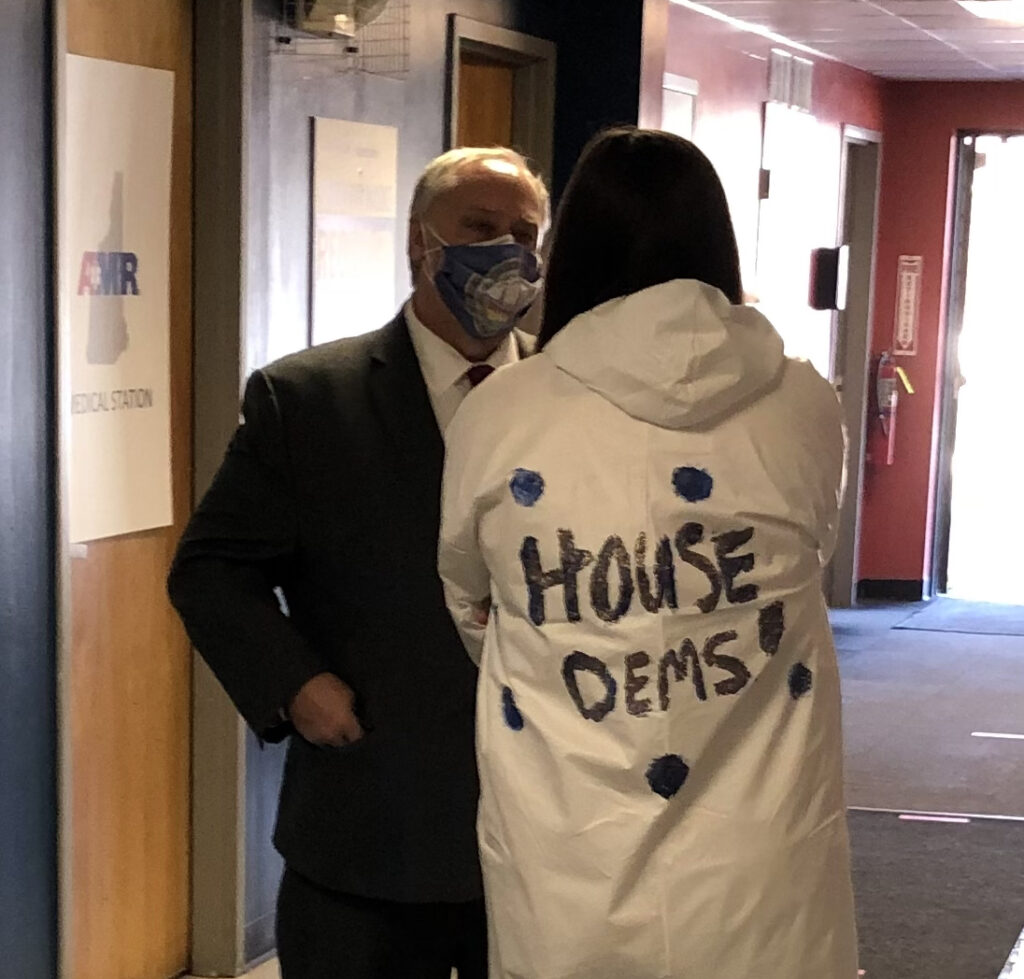 "I'm disappointed, but I suppose I am not surprised over the highly juvenile antics by House Democrats," said Republican Majority Leader Jason Osborne. "Rather than doing their job and debating the legislation before the House, they abandoned their responsibility to their constituents only because legislation they disagreed with passed."
"The last two years, Republicans were in the minority, and we know it's not fun to lose on legislation we felt passionate about, but we continually showed up to do our job. We never took our ball and went home leaving our constituents hanging. This was an embarrassing display of pettiness, and I hope their constituents take notice. House Republicans will continue to show up and do our job."
After nearly an hour of further delaying tactics – including parliamentary inquiries, inquiries of the Chair, roll calls, and ruling challenges, the almost entirely Republican body voted to approve a measure that requires infants born alive to receive medically appropriate and reasonable care and treatment.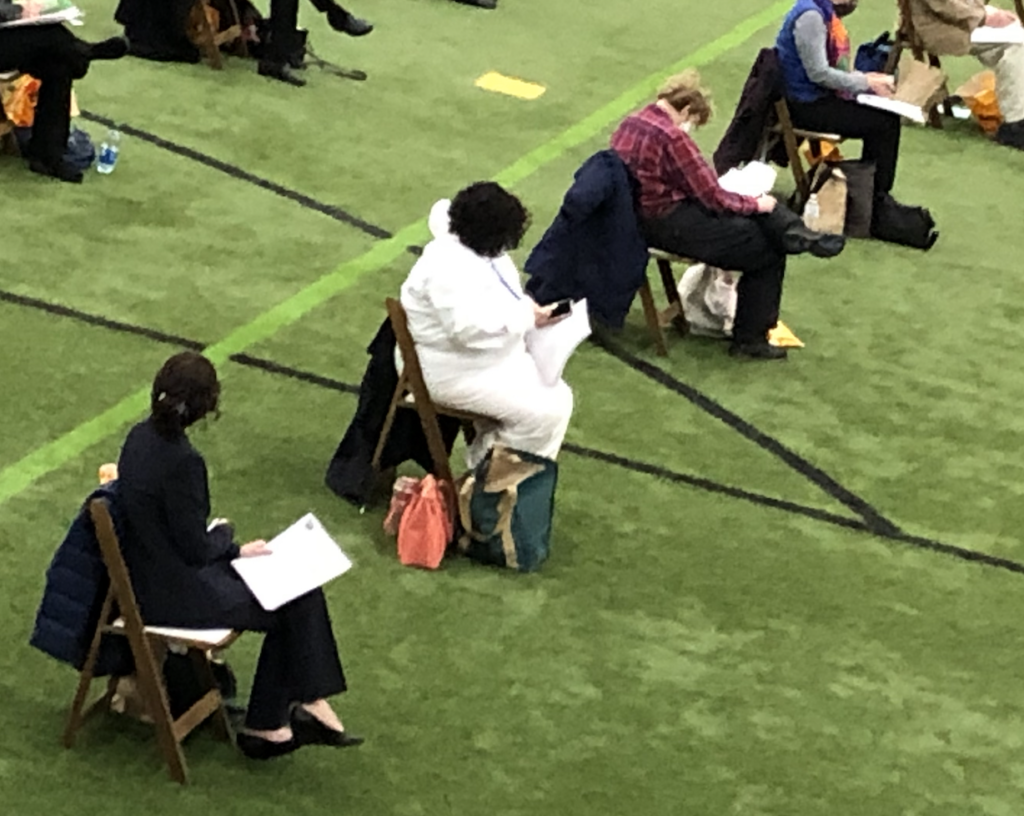 Meanwhile, the same Democrats who had demanded to leave the session in order to avoid voting were now demanding to be allowed back in to cast their votes.
One Democrat who remained inquired of Packard where in his purview he could keep members from coming back once the doors were locked, citing a New Hampshire Constitution article that prohibits police from detaining members on their way to session.
Packard cited his constitutional authority to lock the chamber doors, and eventually ruled one Democrat member dilatory for intentionally delaying House business.
"This dilatory delaying tactics will not be tolerated anymore," Packard told what remained of the third-largest English-speaking legislative body in the world.
Some Democrats denounced the Speaker's decision to lock the doors, at least one comparing it to being "held hostage." Republicans reminded Democrats that last March, as the COVID pandemic began and the NHGOP was in the minority, Democrats oversaw a session that started at 9 a.m. on March 12 and didn't end until nearly 4 a.m. on March 13 — all with few GOP complaints and no walkout.
During that marathon session, Speaker Shurtleff (D-Penacook) had the Sergeant at Arms lock the doors late in the evening to maintain a quorum – even without the Republican minority attempting to take their ball and go home.
"We showed up and did our job," one former GOP Rep. told NHJournal.
Late Wednesday evening, Osborne emailed a message to the GOP House caucus warning Democrats would be "out for blood after their violent insurrection."
"It is of vital importance that every Republican be in attendance and in their seat prior to the start of the session," Osborne wrote. "We expect them to start challenging the Speaker's rulings as soon as the House session is opened, and we must be ready for their assaults.