The district lines haven't even been drawn yet, but 2020 GOP nominee Matt Mowers has already entered the 2022 First Congressional District primary. Mowers defeated fellow Republican Matt Mayberry in the primary two years ago and is viewed by many as this year's frontrunner.
This time, however, he'll be part of a five-person field — at least. NHGOP insiders expect several more candidates to enter the GOP primary once redistricting is done and potential candidates see how safe a Republican seat has been drawn.
At his formal announcement event Wednesday night in Bedford, Mowers echoed themes from his previous race, telling the enthusiastic crowd, "These politicians say they want to fundamentally change America – well, the only thing that needs to fundamentally change are the politicians running America."
However, Mowers also focused heavily on current events, particularly the Biden administration's botched withdrawal from Afghanistan. Just hours after Secretary of State Tony Blinken acknowledged Americans were being kept in Afghanistan against their will, Mowers drew upon his experience in the Trump State Department to throw down on Biden.
"Serving as senior White House advisor, I saw the humanity that is saved when America chooses to step up. I also saw what happens when our adversaries see American strength, too. Whether it was sitting across the table from world leaders or challenging the massive bureaucracy in DC.
"Our mission was clear– put America, and Americans first. And unlike this Biden administration – never leave an American behind," Mowers said.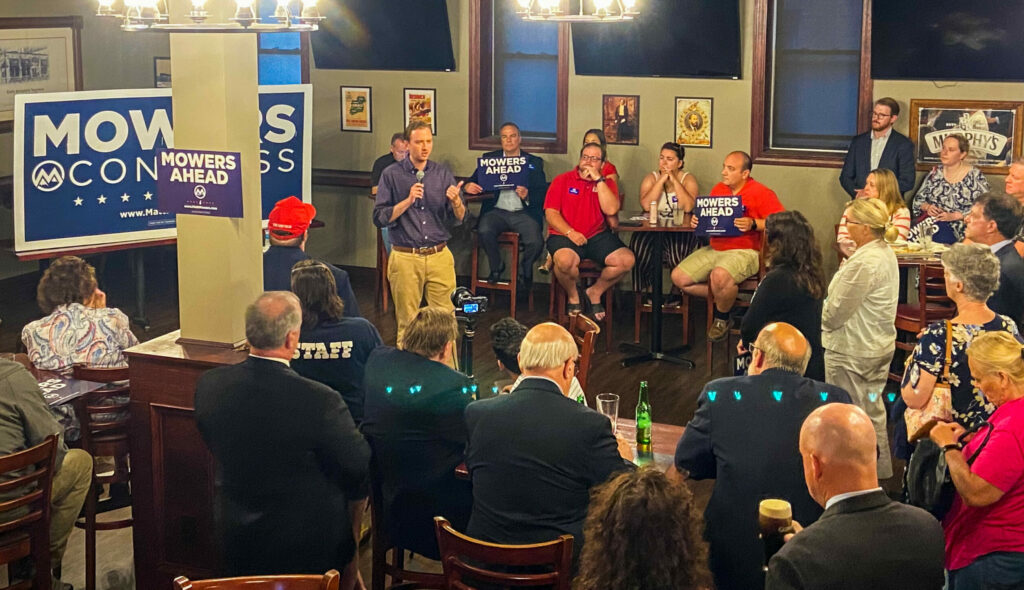 Polls show the Afghanistan issue has hurt Biden's standing. A new YouGov poll released Wednesday found Biden's approval at an all-time low of 39 percent. A recent UNH survey found similar numbers in New Hampshire.
At just 32, Mowers is a virtual "senior statesman" in the field, with an average age of just over 28 years old. It includes Karoline Leavitt, 24; state Rep. Tim Baxter, 24; Gilead Towne, 31; and Julian Acciard, 33.
Baxter released a list of 32 fellow House members who've endorsed him a full year before the primary, which is impressive. But some Republican strategists say there's only one endorsement that will matter in the primary, and that's Donald Trump's. A recent NHJournal poll found 86 percent of Granite State Republicans say Trump did a good job as president, and 65 percent want him to run again.
That same poll found Mowers at 43 percent and the rest of the field in single digits.
On Jack Heath's radio show Wednesday morning, close Trump ally Corey Lewandowski gave his full support to Mowers. And though Lewandowski said explicitly the former president would make up his own mind about who to support, it appears likely Trump will back Mowers, who served in his administration and who Trump endorsed and campaigned with two years ago.
Mowers is also likely to benefit from out-of-state money from the Trump network as well. "If you're not ready to raise $1 million, you're not a serious candidate in this race," one GOP insider with ties to Mowers' campaign said.
Democrats stuck Mowers with the "carpetbagger" label in 2020, and it's almost certain to be used again this time around — most likely by his primary opponents. Mowers has said that he's lived in New Hampshire since working as the NHGOP's executive director in 2013 — other than his two-year stint at the State Department.
In addition to adding more time on his residency clock, Mowers and his wife Cassie have also added to their family: Jack, their son born in June.
The Democratic Congressional Campaign Committee released a statement when Mowers first announced he was entering the race last week.
"Last November, voters in New Hampshire rejected shadow lobbyist Matt Mowers for being the out-of-touch and out-of-state swamp creature that he is — and they will do so again. Mowers joins a pro-Trump, far-right GOP primary more focused on poor impersonations of Donald Trump than providing any real solutions for Granite State families," said DCCC spokesperson James Singer.
Still, the real question for most GOP insiders is who else gets in the race? Gail Huff Brown, wife of Trump's ambassador to New Zealand and Massachusetts U.S. Senator Scott Brown, is already hinting about a run. Some Republicans are quietly urging 2010 gubernatorial candidate John Stevens to join the field, and there are also rumors one or two current state senators may look at throwing their hats in the ring if the new district is solidly Republican.
And if the district is drawn deep red (insiders expect an R +7 seat at a minimum), it could bring a surge of candidates into the race.
It could also drive one candidate out of the race: Rep. Chris Pappas. New Hampshire Democratic insiders tell NHJournal they fully expect Pappas to run again, despite the new map and the historical trend of mid-terms being tough on the party in power. "Chris is going to run, and he'll win, too. He's got that strong Manchester base," one veteran strategist said.
And, Democrats say, while Biden may not have coattails, the national GOP's brand is far more unpopular in New Hampshire than local Republicans like Gov. Chris Sununu. The more national issues like abortion are in the headlines, the more likely New Hampshire will continue the New England tradition of electing Republicans to state offices but sending Democrats to D.C.
A memo released Wednesday by the New Hampshire Democratic Party in the wake of its upset victory in Bedford highlighted the success of a last-minute digital ad on the abortion issue connecting the new Texas "fetal heartbeat" law to the Bedford House race.
Still, Mowers says he's confident the second time's the charm.
"We're going to finish the job we started last year," he said Wednesday night. "We will return this seat back to the hands of the people of New Hampshire!"