In a New Hampshire Journal poll released Monday, Granite State Republican primary voters were clear on three things: They love Donald Trump, they hate Critical Race Theory, and they care about the border. Those views could have a major impact on who the party's nominees are in contested races next year.
With more than a year to go until any potential primaries, it's not a surprise that candidates with high name ID who've run before are at the top of the polls.
In a survey listing announced GOP candidates for the First Congressional District, 2020 GOP nominee Matt Mowers has 43 percent support, followed by Not Sure/Don't Know at 37 percent, while political newcomer and Trump White House veteran Karoline Leavitt is at 7 percent.

In a list of widely-rumored candidates for a potential GOP gubernatorial primary (assuming Gov. Chris Sununu doesn't run again), former U.S. Sen. Kelly Ayotte has 46 percent of the vote, with Not Sure/Don't Know at 29 percent, and former Massachusetts Sen. Scott Brown — who ran against Sen. Jeanne Shaheen in 2014 — is at 13 percent. Commissioner of Education Frank Edelblut is at seven percent and Senate President Chuck Morse (R-Salem) is at six percent.

The potential wrench in the works for Ayotte, however, could be the strength of Trump's support.
Asked which best described their view of the former president — He was a good president and I want him to run again; he was a good president but it's time for someone new; or he was a bad president who should go away — Granite State Republicans overwhelmingly said they want him to run again (65 percent)
Just 9 percent of Republicans joined the "Never Trumpers."

"These numbers make it clear that for now, New Hampshire Republicans love Trump and the path to winning a presidential primary runs through him, whether he runs or not," one longtime GOP insider told NHJournal.
They're also a potential problem for outspoken Trump critic Ayotte, who may struggle to hold onto primary voters if her opponents focus on her record regarding Trump. At the same time, Ayotte also helped guide Trump's first Supreme Court nominee, Judge Neil Gorsuch, through his Senate confirmation and served on the former president's Afghanistan Study Group.
"She did her part to help President Trump once he was in office," veteran GOP strategist Tom Rath said. "There's no reason she can't hold these voters."
Still, the New Hampshire Republican electorate is a lot more "Trump" than it is "traditional Republican."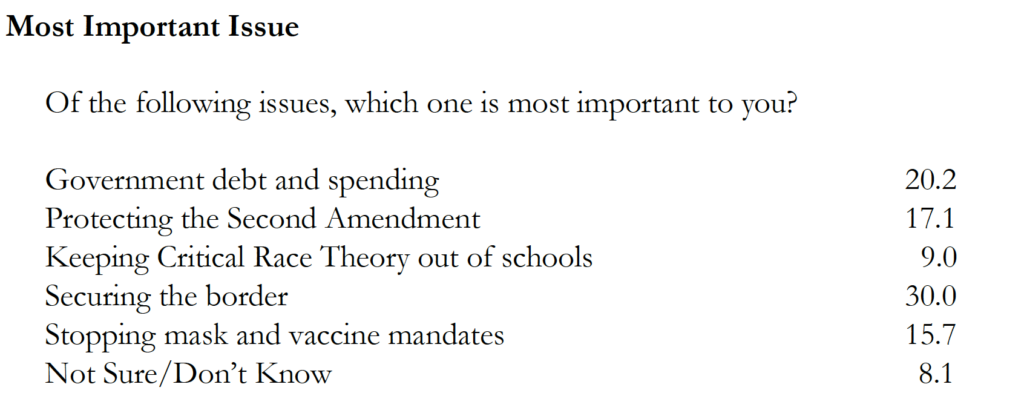 Asked to pick their top issue, 30 percent said border security, with another 30 or so picking either the Second Amendment or stopping mask and vaccine mandates. Just 20 percent picked government spending and debt.
In another test of pragmatism vs. partisan zeal, twice as many GOP primary voters said it was more important for a candidate to support conservative values than to be the candidate most likely to defeat the Democrats.
"This isn't John Sununu's GOP," one NHGOP strategist told NHJournal. "I'm not even sure it's Chris Sununu's. When you think about how pragmatic he's been, his strength with these [hyper-ideological] voters is even more impressive."
The only thing Granite State Republicans are more united on than supporting Trump is hating CRT. While keeping the controversial, Marxism-based ideology out of classrooms isn't a top priority, a whopping 69 percent of Republicans said they oppose it being taught in classrooms.

"This spring, New Hampshire passed a law to make sure that we aren't teaching our children to discriminate based on race, or teaching them that America is a racist country," said state Sen. Kevin Avard (R-Nashua). "Despite the Democrats' best efforts to swing public perception about this important law, this poll shows that its principles are very popular with Granite Staters."
And while this is a poll of GOP primary voters, there are no polls showing widespread support for CRT in New Hampshire public schools.
The New Hampshire Journal poll, conducted by Praecones Analytica, surveyed 792 New Hampshire GOP primary voters between August 13-20, 2021. The margin of error for the entire sample is +/3.5 percent.