An estimated 290,000 people gathered at the March for Israel in Washington, D.C., the largest gathering of American Jews ever, according to reports.
The gathering at the offices of the Jewish Federation of New Hampshire in Bedford was slightly smaller — about 20 or so — but participants shared the passions displayed on the big screen projecting the video feed from the march.
"If I had stayed home to watch this on my own, I would have spent the whole time crying," said Evelyn Miller of Goffstown. N.H. "To be able to watch alongside other community members was so comforting."
Comforting and inspiring. When the acapella group, the Maccabeats, began singing "The Star Spangled Banner," the group in the Bedford building quickly stood and faced a nearby flag. The same when Israeli pop star Omer Adam performed their national anthem, "Hatikvah," soon after.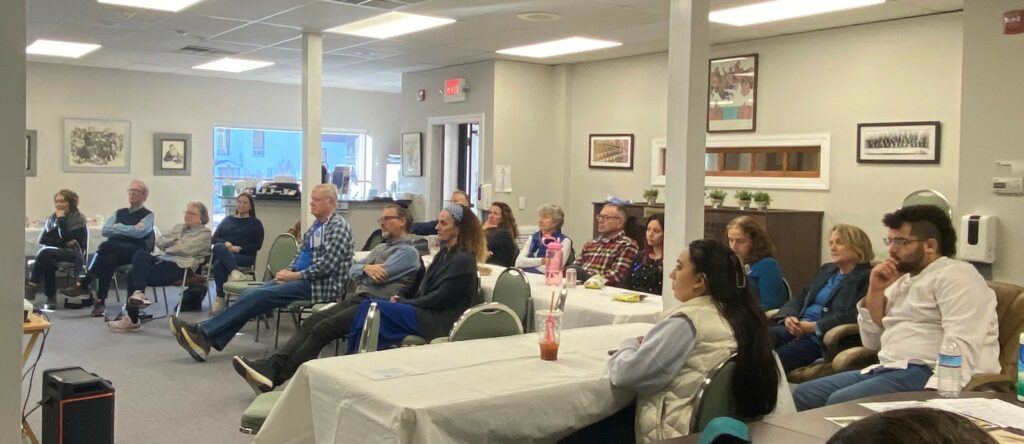 Tracy Richmond, chair of the federation's board, noted the difference between Tuesday's gathering and those held by anti-Israel and pro-Palestinian activists.
"Today's peaceful rally in our nation's capital brought people from all walks of life together in peace. There was not one chant to kill or eliminate another religion. Not one face covered and absolutely no hate," Richmond said. "I have been watching so much hate and vial rhetoric over the past month that today's rally filled my heart once again with hope and love."
William Daroff, CEO of the Conference of Presidents of Major American Jewish Organizations, told the Commentary podcast Tuesday that flights up and down the East Coast were sold out. Amtrak added train cars to accommodate the crowds. An estimated 1,600 buses rolled into D.C. as well.
In addition to Jewish Americans from across the political and social spectrum, "We'll have tens of thousands of our allies — Christians, African-Americans, Latinos, and others" showing their support for Israel, Daroff said.
Allyson Guertin, the New Hampshire federation's executive director, told NHJournal several members of the Granite State's Jewish community also traveled to D.C. for the march. Among them was Sam Farrington, a member of the UNH College Republicans who posted on social media he was "standing in solidarity with the hostages and marching against antisemitism."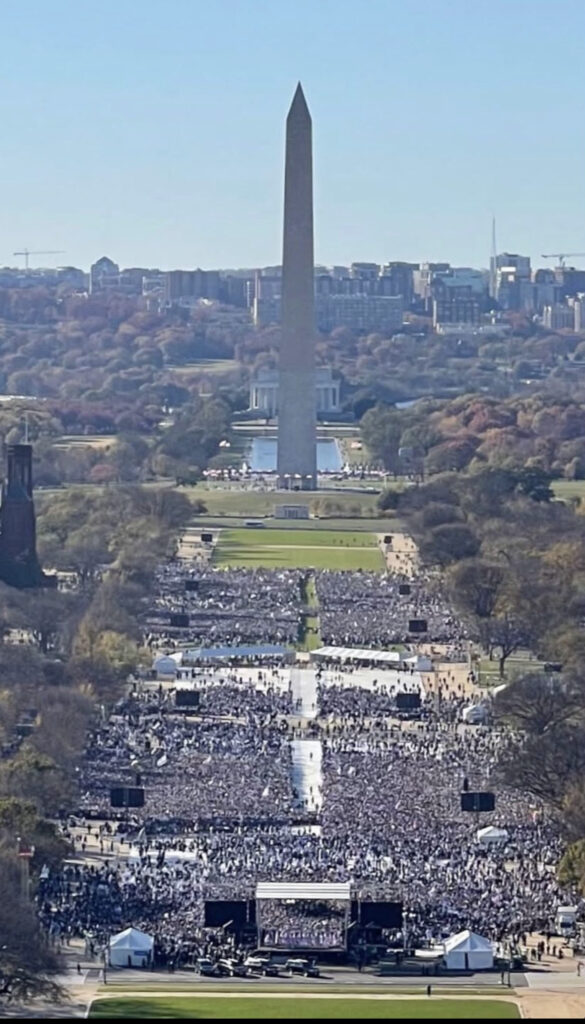 Farrington told NHJournal he was near the front of the crowd, and he described the event as "empowering."
"The message I would bring back to New Hampshire is a sense of unity, that we need to stand up to injustice even when it doesn't affect us directly," said Farrington. "I'm not Jewish, but I wanted to be here to show my support.
According to Michael Dickson of Stand With Us Israel, along with the historic crowd on the National Mall, another 250,000 people were watching the march live from places like Bedford.
"The March for Israel in Washington, D.C. brought together North America's Jewish Community, united with a powerful message of support for Israel and the hostages, while also addressing the concerning increase in antisemitism," Guertin told NHJournal. "Recognizing that not all members of New Hampshire's Jewish community could attend, we aimed to create a local opportunity for our community to gather, watch the rally together, express our solidarity, and feel we had a part in sharing that important message."
The Bedford gathering was particularly quiet while listening to Israeli President Isaac Herzog, who spoke to the march via video stream from the Western Wall in Jerusalem.
"Eighty years ago, Jews came out of Auschwitz and vowed, 'Never again.' As the blue and white flag was hoisted over our ancient homeland, we vowed, 'Never again.' Forty days ago, a terrorist army invaded the sovereign State of Israel and butchered hundreds upon hundreds of Israelis in the largest massacre since the Holocaust. Let us cry out together, 'Never again.' Never again is now," Herzog said.
"From the Jewish symbol of fulfillment of our ancient dreams to the American symbols of freedom, liberty, and democracy, thank you, thank you to the hundreds of thousands who have gathered from all over the United States."
Farrington said the speeches that brought the large crowd close to silence were those from family members of the 200 or so hostages being held by Hamas.
"Listening to them, you heard how what is happening is impacting real lives, in real ways," Farrington said.
Helena England of Durham, N.H. was part of the Bedford gathering and she was impacted by what she saw in Washington.
"As the daughter of Holocaust survivors, I reacted to the events of Oct. 7 and the subsequent celebrations of Hamas on campuses and city streets with horror and despair," England said. "It was comforting to see the large crowds in D.C. and hear representatives of the American people denounce Jew-hatred and express strong support for Israel."