MANCHESTER — Mayor Joyce Craig says she has enacted diversity training for city workers, but her office won't share specifics on what that entails.
Last month, Craig told WMUR's Adam Sexton that diversifying the city government's workforce is a priority. "We have training for all our city employees, for diversity and cultural competency," Craig said. "It has been an exciting opportunity for everyone here that is front-facing."
Since that interview, NHJournal has repeatedly asked Craig and her administration for access to the materials used in this "all employee" training. Craig's office has declined.
Lauren Smith, Craig's chief of staff, said the program is a "train the trainer" program with city staff getting key staff members in public-oriented departments trained to lead classes within their departments. But Smith declined multiple requests for details on what, exactly, is being taught to the trainers.
It's also unclear who provided the initial training. Smith indicated the training was provided through the New Hampshire Department of Health and Human Services, but DHHS representatives didn't respond to a request to confirm it.
Craig's office initially said the training would be facilitated by New Hampshire Health and Equity Partnership and the Southern New Hampshire Area Health Education Center.
The city was awarded a $20,000 grant from the Bean Foundation for the initial training. However, it is unclear if that money covers just the initial train-the-trainer training, or the subsequent training provided by the trained staffers as well.
How the city determined there was a need for diversity training is still not known. While state law requires boards and commissions to provide "readily available" minutes of their meetings, the Mayor's Multicultural Advisory Council has declined to do so. It does not publish readily available agendas or minutes for its meetings, and there is no listing for the group on the city website along with all the other boards and commissions.
This is in stark contrast to the minutes and agendas for other Manchester boards and commissions, including the Board of Aldermen, available to the public on the city website.
Arnold Mikolo, chairman of the Mayor's Multicultural Advisory Council, did not respond to a request for comment.
Under New Hampshire's Right to Know law, RSA 91-A, all public bodies that perform governmental functions in a community must hold open meetings. The requirements extend to advisory boards and commissions and include publicly posted agendas, holding meetings in areas accessible to the general public, and making minutes available for inspections 72 hours after the meeting.
If the Mayor's Multicultural Advisory Council is not posting notices in advance of meetings to let the public know how to attend, and not keeping minutes that are accessible to the public, it would be a violation of state law.
Craig's diversity efforts include hiring a director of equity for the Manchester School District. The district has already taken heat for mandating employee training that claimed, "whiteness (is) a pillar of white supremacy."
Meanwhile, Manchester high school English teacher Jodi Chabot recently asked the district to allow her students to access a debunked Harvard website that purports to reveal the user's inner bias. She wanted to use it as part of her lesson plan for the F. Scott Fitzgerald classic, "The Great Gatsby."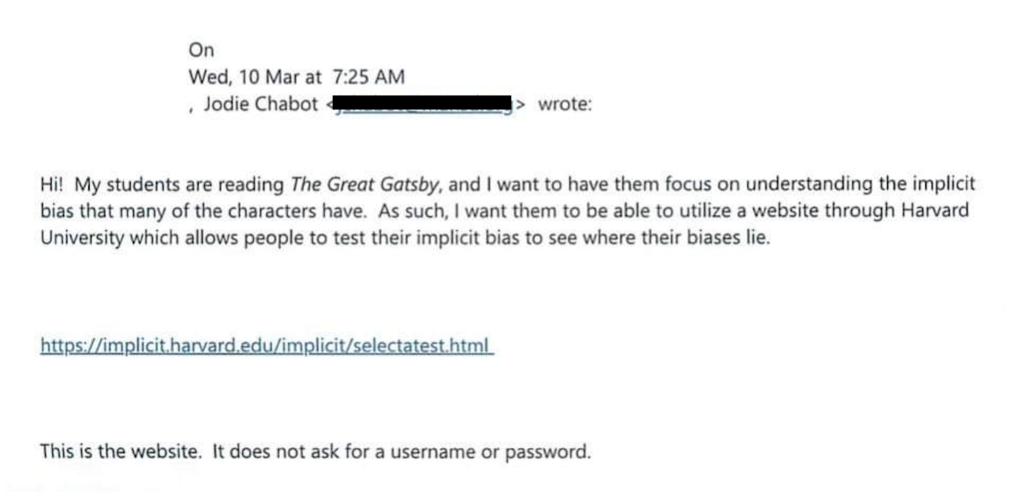 "My students are learning about "The Great Gatsby" and I want them to focus on understanding the implicit bias that many of the characters have," Chabot wrote in an internal school district email seeking access to the Harvard site.
When contacted by NH Journal, Chabot first wanted the reporter to reveal sources.
Chabot was alarmed that NHJournal had obtained the information and demanded to know the source. After being informed that NHJournal does not reveal sources, she refused to explain why she was using bias training as part of her instruction on Fitzgerald's novel, instead claiming she could not speak without permission from the teacher's union.
Teaching students about implicit bias and White privilege is becoming common in the Granite State. Paulette Fitzgerald, the principal of Rundlett Middle in Concord, recently said the school district has an equity group that oversees teacher training on anti-racism.
During an interview on NHPR, Fitgerald described the environment at Rundlett:
"We're seeing kids using language that's pretty powerful towards each other. I think that there's a lot of misunderstanding about what the words mean. So, for example, if a Black student says the N-word to another Black student, that is something that is part of their culture. If a White student uses that word, that is taken as a huge insult."
In Laconia, elementary students are being taught about White privilege, with fairly innocuous examples like Band-aids usually being the color of their own skin and seeing a lot of people of the same color on television. Laconia children experience White privilege, according to materials used by the district, because "on your first day of school the teacher will probably know how to pronounce your name."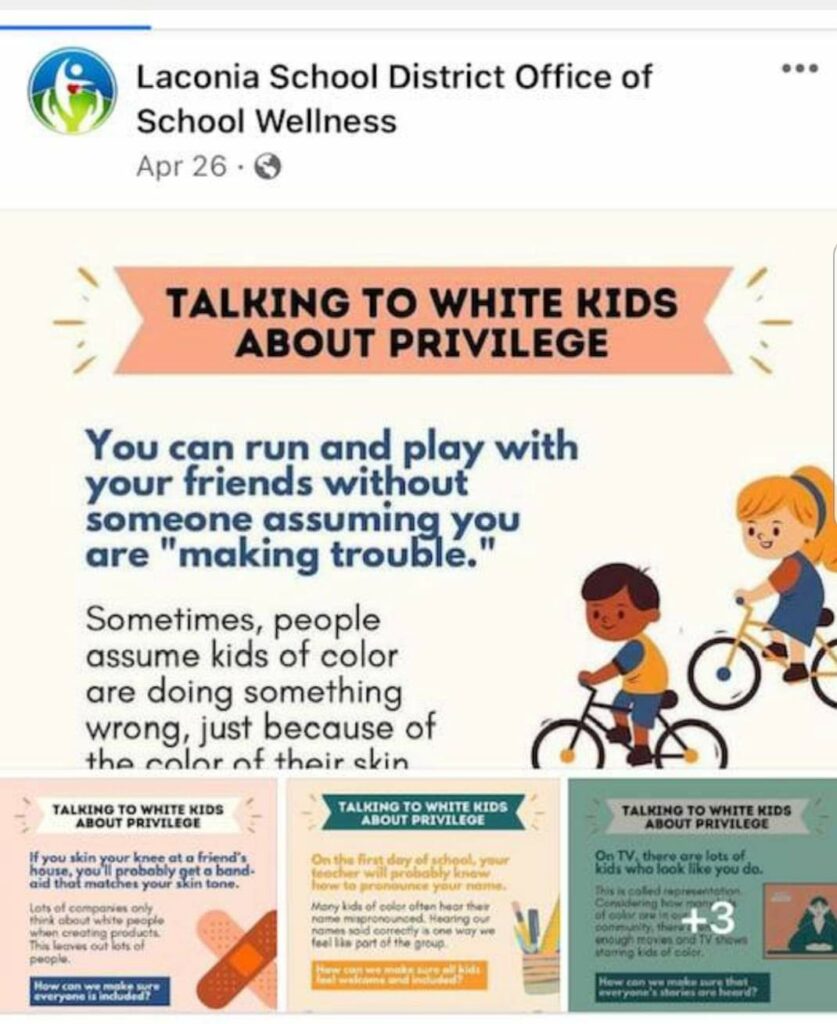 In Hanover, students were taught the founding of the country was a racist exercise, according to parents.
Anti-Racism is part of the jargon connected to Critical Race Theory (CRT) which teaches that being White is a problem and that all White people are engaged in racism or oppression regardless of their views or behavior.
Critical Race Theory was developed in the 1970s and it prioritizes narrative and storytelling over data. In some materials, it connects American racism with the signing of the Declaration of Independence. One of its best-known national advocates of CRT, Ibram X. Kendi, describes "Whiteness" as inherently problematic to society and advocates discrimination as part of an "anti-racism" solution.
Yale University's School of Medicine recently made headlines when audio of a lecture given by a CRT advocate was released in which she fantasized about  "unloading a revolver into the head of any White person that got in my way, burying their body, and wiping my bloody hands as I walked away relatively guiltless with a bounce in my step. Like I did the world a f—ing favor."
Dr. Aruna Khilanani made the remarks in April during a talk entitled, "The Psychopathic Problem of the White Mind."
The effort by statehouse Republicans to ban teaching that one race is inherently superior to another has been universally unpopular with schools, businesses, and even Gov. Chris Sununu. The state Senate's recently-passed budget includes a modified version of the ban that allows for discussions of history and current events in classrooms.
Democrats say the bill violates the First Amendment.