Former President Donald Trump didn't endorse in any of the Granite State GOP primaries for federal office, and it looks like he didn't need to. "MAGA Republican" won all three races, and against better-funded GOP-establishment-backed candidates.
As of midnight, Don Bolduc and Karoline Leavitt had won their contests. Around 1:30 a.m., Bob Burns in the Second Congressional District was declared the winner over moderate, pro-choice Republican Mayor George Hansel of Keene.
The off-the-record reaction of Granite State Republican insiders and strategists looking at November?
"Disastrous." "Brutal." And, "I think we're all f—ed."
The star of the night was First Congressional District candidate Karoline Leavitt, who wasn't even old enough to serve until she turned 25 last month. A Granite State native and graduate of St. Anselm College, Leavitt moved back to New Hampshire less than 18 months ago, after serving as a communications staffer in the Trump White House and then for Rep. Elise Stefanik (R-N.Y.) the third-highest-ranking Republican in the House.
Standing between Leavitt and the nomination was Matt Mowers, the 2020 GOP nominee with solid name ID, significant fundraising, and the backing of presumed Speaker-In-Waiting Rep. Kevin McCarthy. Pro-Mowers groups like the Congressional Leadership Fund and Defending Main Street spent a combined $3 million or so boosting Mowers and bashing Leavitt. Their argument was Leavitt's embrace of hardcore Trumpism, including the unfounded claim Joe Biden and the Democrats stole the 2020 election and manipulated the vote totals, would make it harder for the GOP to beat incumbent Rep. Chris Pappas (D) in November.
But that's not how the voters saw it.
After enjoying a five-point lead or better for most of the night, both the Decision Desk HQ and the Cook Political Report's Dave Wasserman declared Leavitt the winner around 10 p.m.
"The media, the Washington establishment, and the Democrats counted us out. They said I was too young, we couldn't raise the money to compete and we could never beat a former Republican nominee." Leavitt told her supporters after the news hit. "Tonight, Team Karoline, we smashed expectations. Tonight, Team Karoline, we defied the odds."
Soon after, Mowers released a short statement conceding that he had lost, but without mentioning Leavitt. Mowers' decision to leave his election night gathering without making a speech drew negative comments from Republican activists.
Leavitt is clearly the top performer of the three MAGA candidates in the New Hampshire primary. From her first campaign event, one year ago this week, Leavitt showed the ability to organize and stay on message. For example, she closed her campaign with an event at a Londonderry gun range with Congressional Freedom Caucus members Lauren Boebert (R-Colo.) and Byron Donalds (R-Fla.).
Leavitt also raised about $1.5 million, an impressive haul for a first-time candidate. In fact, she raised more money than Bolduc and Burns combined.
Gen. Don Bolduc, declared the winner by DDHQ and Wasserman around midnight, accomplished the unheard-of feat of winning a contested U.S. Senate primary without spending a penny on television. And he did it in the face of more than $3 million in TV spending on behalf of state Sen. Chuck Morse.
Morse had the backing of D.C. Republicans and Gov. Chris Sununu. According to multiple media reports, Morse also nearly had the public support of Trump. But Morse's poor showing in polls in late August — including one from prominent GOP pollster Robert Cahaly showing him down by around 20 points — reportedly helped keep Trump out of the race.
Under the circumstances, Morse's margin, within 5 points, could be viewed as a moral victory, or an indicator of what spending about $5 million on TV in less than two weeks can do to a race in a small state– particularly when your opponent isn't buying any TV ads.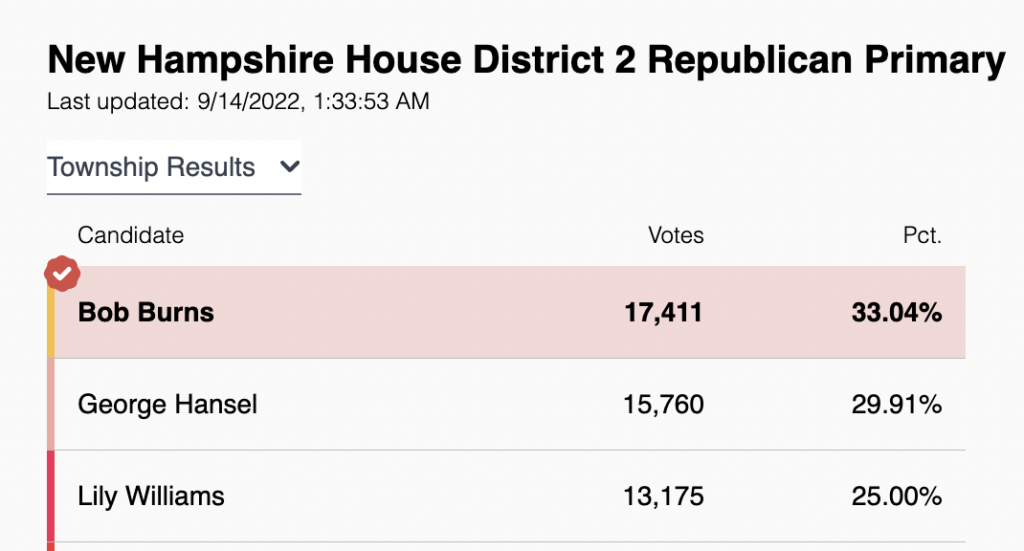 Granite State Republicans are concerned that with Bolduc at the top of the federal ticket, the millions of national GOP dollars that would normally flow into a race against a weak incumbent like Hassan simply won't show up. GOP strategists have warned for weeks that if Bolduc gets the nod, the money will likely go to places like Georgia, Nevada, and Colorado where Republicans believe they have a better shot of picking up a Senate seat and putting Sen. Mitch McConnell (R-Ky.) back in charge.
If there was any consolation for mainstream Republicans, it was Hansel's relatively strong finish in NH-02. Running as a pro-choice moderate in a GOP primary, Hansel actually led the bombastic pro-Trump Burns for the first few hours. But by around 10 p.m. Burns had overtaken him by 0.06 percent. By midnight, Burns was up by about 1.5 percent with his margin growing.
On Thursday, Sununu is scheduled to speak at the GOP Unity Breakfast in Concord, where his job will be to get Granite State Republicans to rally around the Bolduc/Leavitt/Burns ticket.
"It isn't going to be pretty," one GOP strategist said.