Americans for Prosperity is launching a six-figure, multi-media ad campaign targeting U.S. senators over their upcoming vote on the Biden COVID-19 relief package, and they have New Hampshire's Maggie Hassan in their sights.
"COVID relief should be targeted to people who need it," an AFP video ad says, "Not a wasteful partisan wishlist." A direct mail piece soon to hit New Hampshire says Biden's relief bill "has nothing to do with defeating the virus or helping the economy recover." The mailer calls for Granite Staters to contact Hassan and urge her to vote against "President Biden's $1.9 trillion partisan wish list"
Asked repeatedly about her support for the COVID package this week, Hassan refused to comment.
In addition to Hassan, the ads are also targeting potential swing votes from both sides of the aisle. Among Hassan's fellow Democrats, that includes Kyrsten Sinema and Mark Kelly of Arizona, Jon Ossoff and Raphael Warnock of Georgia, as well as Angus King, the Maine Independent who caucuses with the Democrats.
For the GOP, Lisa Murkowski of Alaska, Bill Cassidy of Louisiana, Susan Collins of Maine, Cindy Hyde-Smith of Mississippi, Rob Portman of Ohio, and Mitt Romney of Utah are on the list.
In a gaggle with reporters Tuesday, Collins told the Washington Post that she doesn't see a single Republican voting for Biden's bill.
Biden's relief package has come under scrutiny since the House released the contents of its 591-page bill. Critics note less than half of the $1.9 trillion goes to prevent COVID or provide direct aid to address the pandemic. Instead, billions will go to arts organizations, Planned Parenthood, and infrastructure projects unrelated to the coronavirus– including a $1.5 million bridge from New York to Canada, backed by Senate Democratic Leader Chuck Schumer (D-N.Y.)
In addition to raising the minimum wage to $15 an hour, the bill also contains $350 billion to state and local governments, a longtime Democratic priority. However, since state budgets haven't declined as expected — down just 1.6 percent overall, with 18 states taking in more money than projected — the "COVID emergency" funds will go to backfill government pensions in many overextended states.
There's also nearly $130 billion for school "reopening" funds, though White House spokesperson Jen Psaki said the Biden administration did not support tying these monies to a school's decision to reopen classrooms.
According to the Congressional Budget Office, 95 percent of this COVID emergency money for schools won't be spent until next year — or later. Only $6 billion of the $129 billion for schools will be spent during the current pandemic emergency. Unless the bill is changed, more money will be spent on COVID in the classrooms of 2028 than this year.
In an interview with Fox News' Harris Faulkner, House Republican Whip Steve Scalise ripped the relief bill, saying "any member of Congress that votes for it, is voting to delay school openings and just give away money that we don't have that's going to be borrowed from our kids to slow economic growth."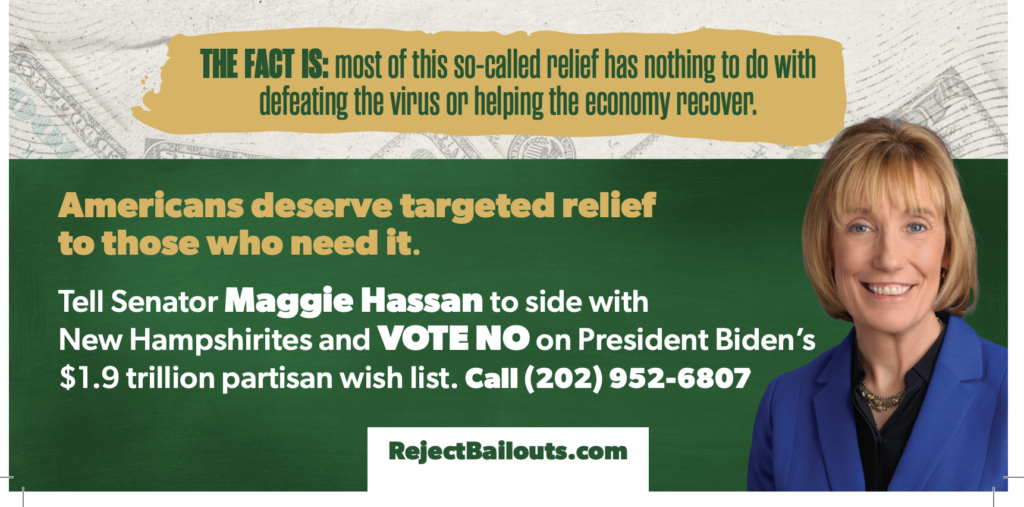 A new digital ad from Americans for Prosperity targeting Hassan also says "Covid Relief should be timely and targeted, getting relief to those who need it, when they need it" and that "Americans deserve better than more bailouts and another bad spending deal"
Americans for Prosperity's New Hampshire State Director Greg Moore said in a statement that President Biden's plan "would be one of the most expensive pieces of legislation in history" and that it "benefits special interests more than struggling Americans who have been devastated by the government's response to COVID-19"