In March, 2022, more than 100 N.H. House Democrats voted against a resolution of support for Israel, and opposition to Israel from Granite State progressives was common on social media.
But in a sign of how much damage Hamas' October 10 terror attack on innocent Israelis has done to their cause, New Hampshire's once-outspoken progressive activists have been almost entirely silent since. That puts them in stark contrast with their ideological allies in Boston, New York and Washington, D.C.
On Monday night, thousands of anti-Israel protesters took to the streets of Boston and marched to the Israeli consulate, the Boston Globe reports. They were chanting, "From the river to the sea, Palestine will be free!"
Rachel Domond, a senior communications staffer with the Communications Workers of America labor union, "railed against U.S. support for Israel, saying the worst terrorists are imperialists," according to the Globe. 
"Biggest threat in the world today?" she asked the crowd. "Israel and USA!" protesters shouted back.
But progressive activists in New Hampshire could only get about 30 people to join them in Manchester last week. One of the protesters, Mario Talamas, wrote an op-ed for NHJournal explaining his views (it will be published on Thursday.)
"I support the people of Gaza's right to self-determination. They have been living in an open-air prison for fifteen years. Israel is an apartheid state that needs to be dismantled," Talamas wrote. "Notice that Hamas killed soldiers while Israel killed children."
Talamas is by far the exception. Of the nearly one dozen progressives contacted by NHJournal, including activist groups like Black Lives Matter, none have any messages of support for Gaza or opposition to Israel in their Twitter feed, and none would answer questions about the conflict.
Meanwhile, members of "The Squad" – a handful of progressive Democrats in Congress — continue to boldly make their case against Israel and on behalf of the Palestinian cause.
On Wednesday, Rep. Rashida Tlaib (D., Mich.) continued to claim (falsely) that Israel bombed a hospital in Gaza, hours after evidence showed the explosion she referenced was caused by an errant rocket fired at Israel by Islamist terrorists.
"We just continue to watch people think it's okay to bomb a hospital. With children," Tlaib said at a Washington, D.C. rally. She also criticized President Joe Biden for his vocal support of the Jewish state.
"To my president, to our president … I want him to know, as a Palestinian American and somebody in the Muslim faith, I'm not going to forget this. And I think a lot of people are not going to forget this," Tlaib said."
None of New Hampshire's Democrats in the federal delegation have repeated Tlaib's claim or defended her. Instead, they've issued statements of solidarity with Israel.
Clifton West. Jr., of Barrington, executive director and co-founder of Black Lives Matter Seacoast, did post a message mocking the reports that Israel wasn't responsible for the explosion at the hospital.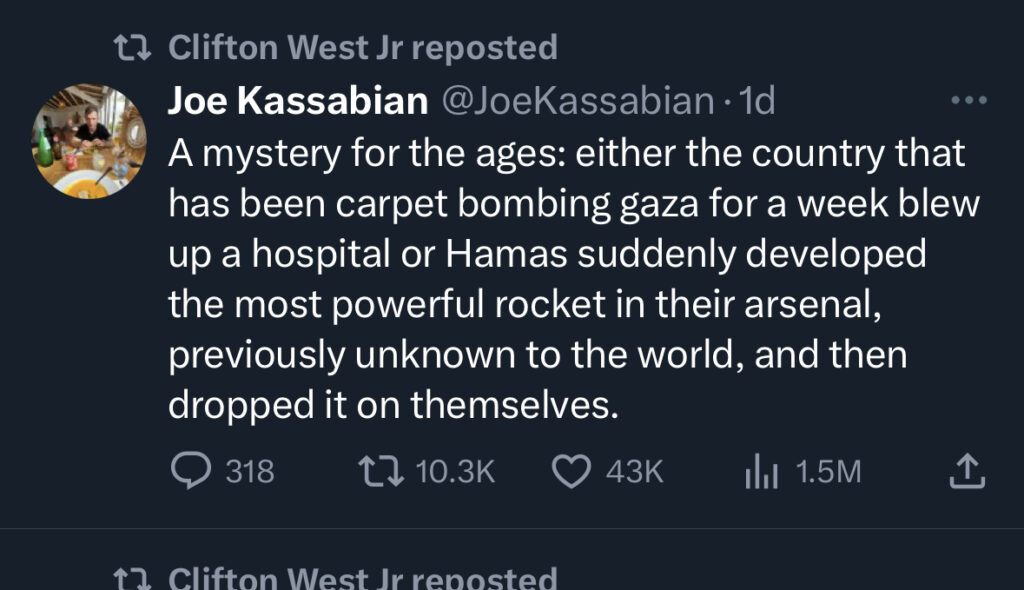 He also reposted a statement claiming America is "complicit in the massacre" of Palestinians.
West did not respond to requests for comment.
Tlaib's fellow Squad member Rep. Ilhan Omar (D-Minn.) wrote, "Bombing a hospital is among the gravest of war crimes. The IDF reportedly blowing up one of the few places the injured and wounded can seek medical treatment and shelter during a war is horrific."
Meanwhile, some other progressive heroes are speaking out on behalf of Israel, leaving the anti-Israel left even more isolated.
"It's truly disturbing that Members of Congress rushed to blame Israel for the hospital tragedy in Gaza," said U.S. Sen. John Fetterman (D-Pa.) "Who would take the word of a group that just massacred innocent Israeli civilians over our key ally?"