CONCORD — Despite a hard push from Gov. Chris Sununu, all four GOP members of the Executive Council voted against $27 million in federal funding for COVID-19 vaccine distribution. The council's lone Democrat, Cinde Warmington, voted yes.
The Council voted in a delayed session after Sununu chose to shut down the regularly scheduled Council meeting on September 29 rather than confront a handful of rowdy protesters. After bipartisan criticism over his decision to back down, Sununu took the unusual step of holding Wednesday's vote literally surrounded by law enforcement at the Police Standards and Training Council in Concord.
Hundreds of anti-vaccine, and anti-vaccine mandate protesters converged on the hearing again Wednesday. Nine protestors were arrested, including Terese Grinnell and Frank Negus Staples, who were ringleaders at the prior protest.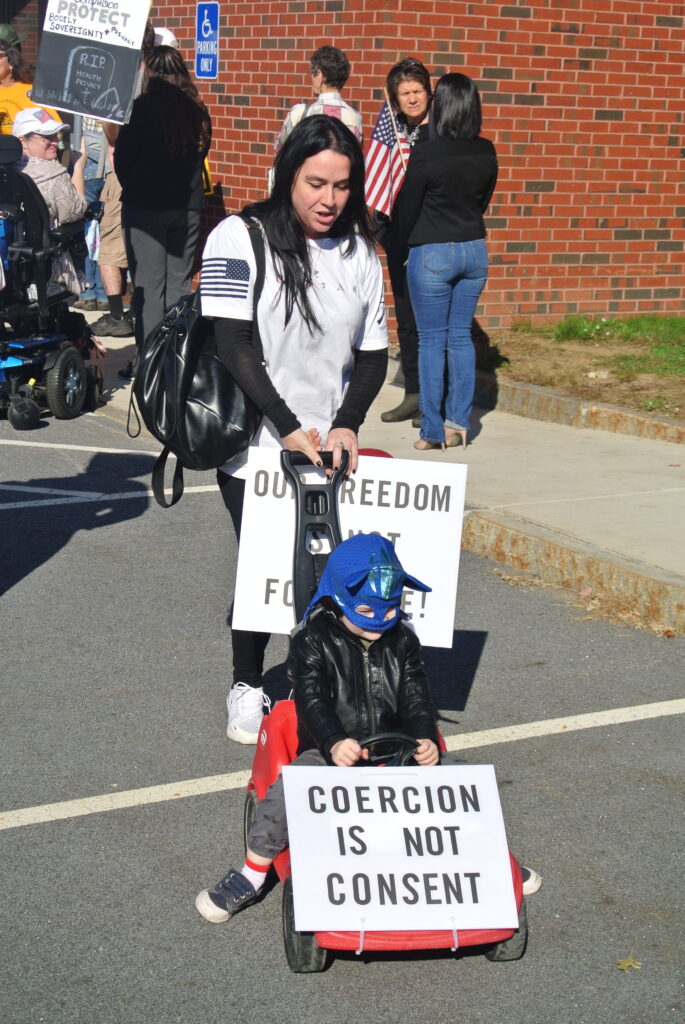 Despite the drama, the outcome of the vote was a foregone conclusion. Still, Sununu pressed his case to his fellow Republicans, arguing there was no rational argument against the contracts. He referred to a legal memo New Hampshire Attorney General John Formella released on Friday stating there is no constitutional concern in the state accepting the contracts. That did little to allay concerns of the councilors. Wheeler called the memo "garbage" soon after it was released.
When Republican councilor Joe  Kenney said he had reservations about voting for the federal funds, Sununu replied, "I appreciate you have reservations, but they are based on fantasy."
Sununu also pushed back on Kenney and Executive Councilor David Wheeler (R) when they suggested the state should stop private businesses from issuing vaccine mandates, noting they were asking for big-government interference in private behavior.
"That's not even socialism, that's communism," Sununu said. 
In the end, Councilors Dave Wheeler, Joseph Kenney, Ted Gatsas, and Janet Stevens all voted down the funding. Lone Democrat Cinde Warmington was the sole vote in favor of the contracts.
Sununu was expecting it. His office released a prepared statement almost immediately.
"The Attorney General and Department of Health and Human Services addressed all of the Councilors' concerns, and still they voted to send $27 million of our taxpayer dollars back to Washington instead of spending it here to help get our state out of this pandemic," Sununu's statement read. "The vote showed a reckless disregard for the lives we are losing while they turn away the tools our state needs to fight and win this battle against COVID."
The outcome was cheered by anti-vaccination activists like Andrew Manuse with ReBuild NH. His group has organized many protests against Sununu, and he thanked the council for its vote. "The founders of New Hampshire created the Executive Council as a check on the governor's authority, and today's vote shows the wisdom of that system," 
Manuse also claimed the arrests were without cause and proof that "Sununu is the tyrant we've claimed all along."
During a press conference after the vote, Sununu dismissed those complaints, saying the people arrested were trying to disrupt the meeting and hold up the people's business. Sununu characterized the attempts to stop the meeting as anti-democratic and unAmerican.
"I have full confidence that there were no individuals there that were arrested without cause," Sununu said.
Sununu also called out the Republican councilors for making false claims about the contract and its impact on the state. "They were pushing out a lot of misinformation based on these contracts. You can't say, as an elected official, whatever you want when it's not true, and not expect pushback," Sununu said.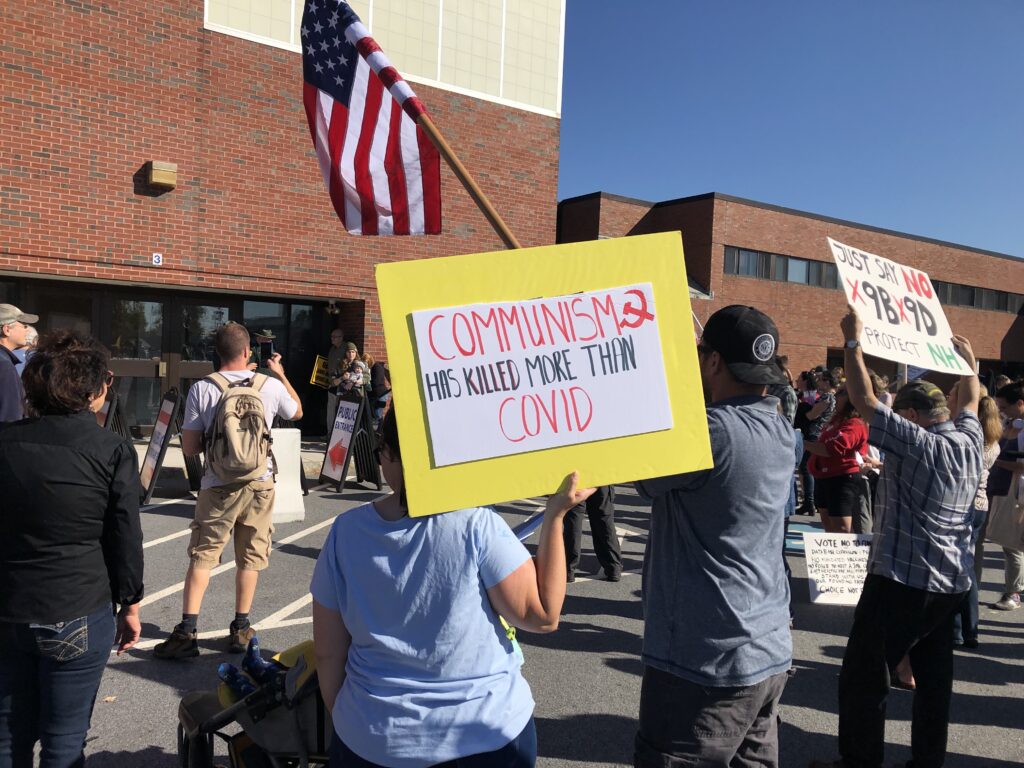 However, Sununu rejected the idea that the New Hampshire GOP is now the party of conspiracy theories, anti-vaccine protest, and mob rule. He said most of the protesters are not Republican at all.
"I don't believe most of the people standing with the public in that room were part of the Republican Party," he said. "They were anti-government, shut-it-down, no-government-at-all-costs type of individuals."
Sununu blamed both the "woke left" and the anti-government extremists for crossing lines of civility.
"Whether it's the ultra-left woke culture that wants to cancel everyone and protest on one side, or it's this anti-government culture on the other, it's the exact same thing and they've all joined forces together," he said. "And the line of appropriate behavior and decency has been crossed."
Wednesday's vote will likely be used by Democrats to go after Sununu, who had campaigned for the GOP council members. Democratic U.S. Rep. Chris Pappas (D) said the vote puts the state at risk.
"Once again, an extreme majority on the Executive Council has made a reactionary decision based on politics, not on sound science, saving lives, or public health," Pappas said on Twitter. "New Hampshire lags the region in vaccinations, and rejecting these federal funds puts our state at risk."
House Democratic Leader Rep. Renny Cushing (D-Hampton) said Sununu has no control over his party, and that is endangering lives.
"Once again, Republicans have let extremist anti-vaxxers prevent the government from doing its job to help bring New Hampshire out of the pandemic. Clearly, Gov. Sununu cannot control the circus within his party and it's costing Granite Staters their lives," Cushing said. 
Sununu argues the fact that he's being protested by activists shows voters where he stands.
"My job is to make sure the facts are clear," he said.