Dartmouth College Democrats are denouncing a planned on-campus appearance by NH-01 Republican primary candidate Karoline Leavitt and two other pro-Trump Republicans this Sunday. College Republicans tell NHJournal they're expecting significant protests from the left-wing student body.
At issue is an upcoming "Discussion About the Future of the GOP" at Filene Auditorium featuring Leavitt, U.S. Rep. Madison Cawthorn (R-N.C.) and GOP strategist Alex Bruesewitz.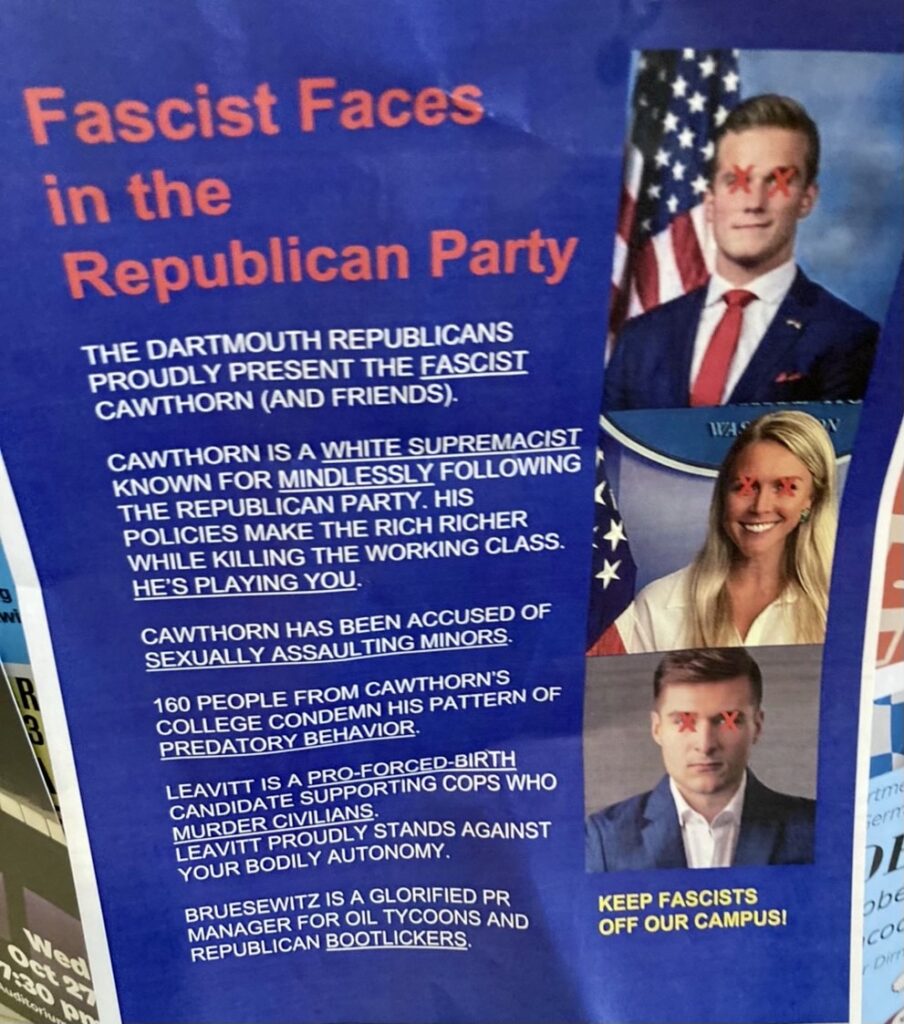 "All three speakers perpetuate harmful rhetoric against immigrants and minority communities, continually question science, and deny that President Biden won the 2020 election," Dartmouth Democrats said in a statement.
Representatives for the College Democrats could not be reached on Thursday. While the statement does not outright call for the event to be canceled, the Dartmouth Democrats said the event will create a "negative environment."
"It is our belief that these speakers will contribute to division, encourage prejudice on campus, and foster a negative campus environment not conducive to open, honest, and mutually respectful conversation," the statement reads.
Cawthorn is being invited to speak at the Hanover campus on Sunday by the Dartmouth College Republicans.
One poster sent to NH Journal lists all three as "fascists," accuses Cawthorn of predatory behavior, and calls Leavitt "pro-forced birth" for her pro-life position. It is not clear who made the posters.
Chloe Ezzo, with the Dartmouth College Republicans, said her organization's posters for the event have been torn down and vandalized across campus. Lewd messages scrawled on some, and parody posters put up in their place. She said at least one female conservative student has been physically assaulted while putting up posters for the event and intimidated by left-leaning students.
"Dartmouth is an overwhelmingly left-leaning college, so I knew that our ideas were unpopular. But what shocked me was the lack of nuance or interest in engaging in an intellectual discussion. The students behave like radical leftist caricatures that you see online," Ezzo said.
Ezzo is also planning a pro-life demonstration for the same day, inspiring even more blowback from liberal students.
"A student cut up one of the (pro-life) posters, chopping off the baby's head, and gleefully said, 'Look, now she's had an abortion,'" Ezzo said.
Diana Lawrence, Dartmouth's vice president for communications, confirmed that at least one student made a complaint about the poster controversy, but she said the school will work to make sure the event can happen safely.
"A student did file a complaint about a poster being removed. A handful of posters on campus have been defaced, both related and unrelated to this event. We host a wide variety of speakers from across the ideological spectrum and work in partnership with our student groups to implement protocols designed to give everyone the freedom to speak," Lawrence said.
Ezzo said the school's left-wing students who claim the speakers will hurt the campus environment are not engaging in any conversation themselves. Instead, they are attacking the event and the organizers.
"It's disheartening that the only tactic they know is to try to destroy things, harass people and attempt to cancel the event," Ezzo said.
Leavitt, who served in the Trump administration as part of the White House communications team, responded to the controversy by inviting Dartmouth Democrats to come hear her speak.
"I will not be intimidated by their outlandish accusations that are not based in truth, but rather in their intolerance for conservative values. In fact, I would like to personally extend my warmest welcome to the College Democrats. Perhaps if they attend our event, they will learn some truths that their liberal professors refuse to teach them," Leavitt said in a statement.
Dartmouth has been on the front lines of the fight over free speech on campus for years.
In 2015, Dartmouth came under fire over its creation of "bias incident reporting" protocols. Dartmouth's Office of Pluralism and Leadership defined bias incidents to include "telling jokes" on campus, and "stereotyping."
"If every joke or provocative remark about politics, religion, or culture is potentially subject to a formal investigation, Dartmouth students are not truly free to speak their minds," the pro-free-speech group FIRE wrote at the time.
In early 2018, Dartmouth imposed an IT policy prohibiting users from posting or sending "offensive" or "hateful" content. Under pressure from FIRE, the school eventually withdrew its policy.
Last month, FIRE put Dartmouth #63 in its rankings of schools based on their campus culture for open discourse and intellectual tolerance. UNH came in number three nationwide.