CSX Corp. announced Friday it has submitted an amended and supplemented application to the Surface Transportation Board (STB) as part of the previously announced deal to acquire New England's Pan Am Railway Inc. (Pan Am). The proposed merger is opposed by Amtrak but backed by scores of local political leaders across New Hampshire and New England like Sen. Susan Collins (R-Maine) and Gov. Chris Sununu (R-N.H.)
"The proposed transaction is an 'end-to-end' acquisition that will integrate the New England rail network owned by Pan Am into CSX's national rail network, creating seamless single-line service," James M. Foote, president and chief executive officer of CSX said in a statement. "This will provide substantial benefits to shippers with low-cost, environmentally-friendly rail service with truck-like reliability."
The CSX-Pan Am deal would have a significant impact in northern New England, bringing Class I rail service to shipping centers like Portland, Maine, and Portsmouth, N.H. and making them more competitive.
"This transaction would be beneficial to New Hampshire because it would provide a continuous, single-line rail service and provide additional resources to market the line with the potential to bring additional freight service to New England markets," Sununu said in a letter of support. "The ability to create more opportunity for freight service in New Hampshire could possibly take additional trucks off the road which would be beneficial for both the economy and the environment."
And while Washington debates the fate of an infrastructure spending deal backed by New Hampshire's Sens. Maggie Hassan and Jeanne Shaheen, supporters of the merger see private infrastructure investment for the region's local rail network coming right away.
CSX, which spent nearly $1.4 billion in private dollars in 2020 to update its infrastructure, has indicated that as part of their transaction they would make a five-year commitment to improving the Pan Am infrastructure. The company cited their plans to upgrade many of the Pan Am's 10-mph mainline track miles to 25-mph standards as a tangible example of this investment that would benefit customers, shippers, and even passenger rail in the region.
Based in North Billerica, Mass., Pan Am owns and operates about 1,200 miles of rail and also owns a partial interest in the more than 600-mile Pan Am Southern system.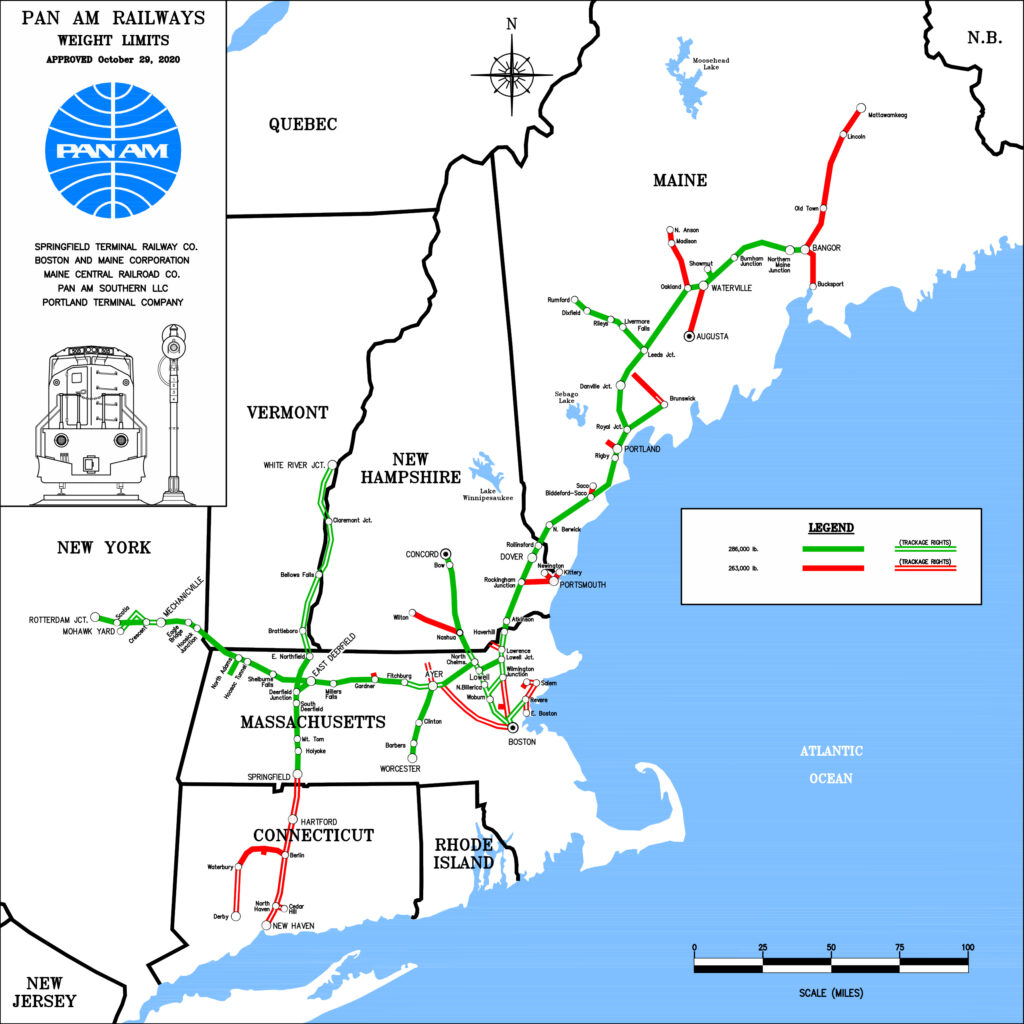 Pan Am's CEO David Fink said on Friday that "Pan Am remains excited about this merger with CSX, a North American leader in rail-based freight transportation." He continued, "We have continued to receive support from our customers about the transaction as they know that CSX's investment in the region will benefit not only New England shippers but also those who will have new access to their goods and products through the direct connection into CSX's national rail network."
CSX already operates a network spanning 23 states. They say the merger would expand rail service in the Northeast and provide much-needed benefits to the region making the rail network generally more efficient and safer for operations, communities, and passenger rail.
"CSX's operating model will benefit passenger and commuter carriers in New England as well as shippers as the company commits to maintaining or improving existing passenger service that operates on Pan Am," the company said in a statement. "CSX has a long-standing history of working cooperatively with Amtrak and other passenger rail partners as evidenced by the significant improvement in contractual on-time performance with Amtrak since CSX has implemented its new operating model."
Amtrak CEO Bill Flynn has expressed concerns over the impact of the Pan Am-CXC merger on Amtrak's service in the region.
"As currently proposed, the acquisition of Pan Am by CSX represents a significant threat to the American traveling public which relies on Amtrak and our state partners to deliver frequent, reliable, and sustainable intercity passenger rail service," Flynn said last month. The "Amtrak Connects US" proposal released in March aims to provide new rail service to over 160 more communities and 20 million more passengers annually by 2035.
However, on Thursday, the Northern New England Passenger Rail Authority (NNEPRA)'s executive director Patricia Quinn, which has oversight of Amtrak's service in much of the northeast, including the Downeaster service from Boston to Maine seemed to counter Amtrak's concerns telling Mainebiz in an interview that they support the merger, stating "We think this is a good deal for the state, for both passenger and freight service."
Similarly, the Maine Department of Transportation also expressed optimism about the revised application and what it could mean for the region. Nate Moulton, director of freight and passenger services for the Maine Department of Transportation told Mainebiz that the state remains: "… supportive of the transaction. We are still confident it will happen, and we think it's good for Maine."
The support for the merger extends beyond New Hampshire and Maine. In neighboring Massachusetts, the Worcester Regional Chamber of Commerce added their support in a letter to federal regulators overseeing the merger: "Single-line CSX service offers best-in-class service with new standards of service performance with higher velocity, faster equipment turns, and greater consistency. CSX will also enhance competition through lower costs, better service, and improved access to the rail network in the eastern United States."