Editor's Note: For another viewpoint, see Point: Right To Work Protects Our Freedoms While Growing Our Economy
On Thursday, March 25, the New Hampshire House Labor Committee held a seven-hour committee hearing on SB-61, legislation that attempts to make New Hampshire the first "Right-to-Work" state in New England.
In total, 61 witnesses testified. Out of the 61, only nine testified in support (excluding the prime sponsor and legislators). And out of those nine, all but three were lobbyists for out-of-state special interests. Not a single New Hampshire worker voiced their support for this piece of legislation. Not one.
On the contrary, those who did testify in opposition to SB-61? Fifty-six New Hampshire union members, more than 40 New Hampshire business representatives, including Liberty Utilities, members of the faith community, workers, and their families.
They included a father, who spoke about how his union gave him the tools to support his two kids through college. They included a local union leader, who spoke about how his 5,000 members depend on the safety protocols provided by their collective bargaining agreements to protect them on the job. And they included me, who spoke on how this bill is nothing more than an attack against blue-collar workers that opens the door for increased government interference into private business.
Proponents of the measure claim it protects employees from being forced to join a union. But everyone already knows that federal law prohibits this. No one is required to join a union in the United States—period. During the House hearing, a witness testifying in support of "Right-to-Work," from the Mackinac Center for Public Policy, admitted this. He said, "You heard one of the previous people testify saying that no one has to join a union. They are absolutely right. No one, right to work state or not, has to be forced to join a union."
Those supporting this bill will argue "Right-to-Work" is in the best interests of workers, but it's simply not. According to Bureau of Labor Statistics data, an unbiased and legitimate source, the average worker in a "Right-to-Work" state makes about $8,500 less per year than the average worker in New Hampshire. And 11.9 percent of people under 65 in "Right-to-Work" states don't have access to healthcare, compared to 7.6 percent here. Most devastating of all, the workplace fatality rate among "Right-to-Work" states is 227 percent higher than it is in New Hampshire.
Supporters of "Right-to-Work" paint it as a catch-all solution for bringing businesses to NH, yet they cannot name a single company that is willing to do so.
The reality is that "Right-to-Work" is not better for the economy. "Right-to-Work" states have an average poverty rate that is more than three times higher than the rate here, and median household income in "Right-to-Work" states is more than $20,000 lower than it is in New Hampshire.
"Right-to-Work" is about making the rich richer at the expense of workers. And if you don't take my word for it, just listen to West Virginia Gov. Jim Justice, a pro-business Republican, who said twice now, on record, that enacting "Right-to-Work" in his state was a mistake.
"Really and truly, let's just be brutally honest," the governor said during a Feb. 25 town hall. "We passed the Right-to-Work law in West Virginia. And we ran to the windows looking to see all the people that were going to come — and they didn't come."
I'll end with this: This legislation has come forward every session for 40 years and every time it has been defeated in a bipartisan manner because New Hampshire's employers and workers know that we don't need out-of-state special interests telling us how to do our business.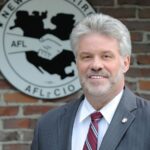 Glenn Brackett is the President of the American Federation of Labor and Congress of Industrial Organizations New Hampshire.