A conservative advocacy group is taking aim at Rep. Chris Pappas and 14 other House Democrats over their support for taxpayer-funded political campaigns. All 15 are in congressional districts believed to be potential pick-ups for the GOP in next year's midterms.
At issue is H.R. 1, which Democrats call the 'For the People Act,' a sweeping election reform proposal co-sponsored by every House Democrat. According to the bill's preamble, its purpose is "to expand American's access to the ballot box, reduce the influence of big money in politics, strengthen ethics rules for public servants, and implement other anti-corruption measures for the purpose of fortifying our democracy and for other purposes."
Critics say Democrats are attempting to achieve these goals by undermining local control of elections and giving campaigns tax dollars to fund their negative campaigns.
"A better description of this bill would be a federal takeover and nationalization of the running and administration of elections, basically taking it away from the states," said Hans von Spakovsky, a former member of the Federal Election Commission and now a fellow at the Heritage Foundation. "And on the ethics and campaign finance rule changes, it's designed to restrict and chill speech, political speech and political activity."
Despite the partisan debate, one thing everyone agrees on is that H.R. 1  gives public money to political candidates to fund their campaigns. And that's where the American Action Network is targeting Rep. Pappas.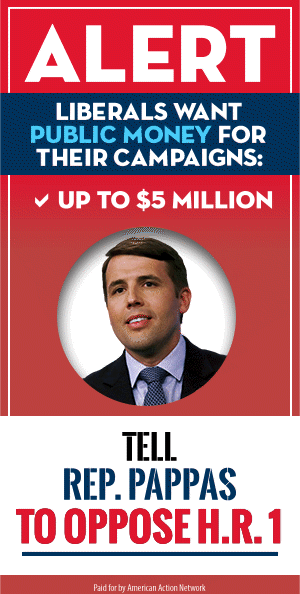 An ad that will run on digital platforms in New Hampshire points out H.R. 1 would pour up to $5 million in public money into his campaign coffers.
"This bill is nothing more than a shameful attempt by Chris Pappas and Congressional liberals to shovel public funds into their campaign coffers," AAN spokesman Calvin Moore told NHJournal.
"Especially in a time of unparalleled health and economic crisis, public funds should be used to help end the suffering of this pandemic – not to help Washington politicians get re-elected."
The ads will also be going up in 14 other Democrat-held districts targeting Reps. Tom O'Halleran, Stephanie Murray, Carolyn Boudreaux, Cindy Axne, John Sarbanes, Jared Golden, Tom Malinowski, Susan Wild, Matt Cartwright, Lizzie Fletcher, Vicente Gonzalez, Colin Allred, Elaine Luria, and Ron Kind.
In addition to using taxpayer funds for political campaigns, H.R. 1 would also ban state voter ID laws, force states to implement early voting, automatic voter registration, same-day registration, online voter registration, and no-fault absentee balloting.
It would also require states to restore voting rights for felons, force states to allow ballot harvesting and take away the ability of states to draw their own congressional districts.
Not surprisingly, state election officials tend to take a dim view. When Reps. Pappas and Annie Kuster voted for this same legislation in 2019, NH Secretary of State and fellow Democrat Bill Gardner told NHJournal, "We don't have early voting, and we don't have automatic voter registration," both of which are mandated by H.R.1.  "And in the last presidential election [2016], we had the second-highest turnout based on the voter-eligible population. On the voting-age population, we were third. They are trying to fix problems we don't have."
New Hampshire GOP Chairman Steve Stepanek told NHJournal the bill would endanger the First In The Nation primary, and he called out Pappas and Kuster for backing it. "Either they're naive to this reality or they don't care about our FITN Primary – either way, they're out-of-line and out-of-touch with the Granite State. Every elected official in New Hampshire should be bipartisan in supporting our FITN Primary, but Reps. Kuster and Pappas are willing to throw New Hampshire under the bus to keep Nancy Pelosi happy."
Last week, Maine Secretary of State Shenna Bellows testified before Congress in support of H.R. 1, saying "it eliminates barriers and lifts up the voices of ordinary people in our democracy."
The Maine Clean Elections program currently allows public financing for state elections in Maine. During the 2020 election cycle, then-Sen. Bellows used tax dollars to finance her state Senate campaign, then vacated the seat in short order after the legislature appointed her Secretary of State.
Rep. Bryan Steil (R-WI) criticized Bellows' testimony saying"In Maine, you used public financing and ultimately chose to leave the seat that you ran for in the state Senate to take this appointment to Secretary of State. It seems like a great position for you, but taxpayers spent $74,000 [on your campaign]."