For months, New Hampshire Democrats have been calling out NHGOP Reps. Dawn Johnson and James Spillane over posts of anti-Semitic content on social media. Democrats like House Minority Leader Renny Cushing have demanded the NHGOP leadership remove these members from office. As recently as April 28, NH Democratic chair Ray Buckley was on Twitter decrying the lack of action by GOP House Speaker Sherman Packard.
That's how seriously New Hampshire Democrats take anti-Semitism. When it's from Republicans.
From their fellow Democrats, that's a different matter.
This week, as Hamas terrorists fired thousands of rockets at Israel, Democrats took to the floor of the House and to social media to attack the Jewish state for defending itself. The most famous Democrat in America, Rep. Alexandria Ocasio-Cortez, smeared Israel as an "apartheid state," and denounced President Biden's announcement of support for Israel's right of self-defense.
Rep. Ayanna Pressley compared Israel's recent actions to the use of nooses to terrorize Black Americans. She added: "Palestinians are being told the same thing as Black folks in America: There is no acceptable form of resistance." 
Some might say that indiscriminately firing rockets hoping they will kill random people isn't, in fact, an acceptable form of resistance. But none of those people would be NH Reps. Annie Kuster or Chris Pappas, or any of the NH Democrats who've attacked the obscure GOP house members for their memes.
Meanwhile, Rep. Rashida Tlaib has accused the nation formed in response to the Holocaust of "ethnic cleansing," and Rep. Ilhan Omar called its elected leader, Prime Minister Benjamin Netanyahu, an "ethno-nationalist" from the floor of the House.
Omar is an interesting case. Soon after entering Congress, she was caught repeatedly making anti-Semitic comments for which she was forced to apologize. One comment about Jews and money was denounced by Speaker Nancy Pelosi. In another case, Rep. Eliot Engel, chairman of the House Foreign Relations Committee, denounced her "vile, anti-Semitic slur." But not a single member of the NH delegation condemned her
Instead, just months after her "vile slurs," Omar was the featured speaker at a New Hampshire Young Democrats event in Manchester, where she campaigned with some of the same Democrats now demanding the local GOP legislators be tossed from office. No elected NH Democrat spoke out publicly against  Omar's attendance at the event. In fact, then-NH Senate Majority Leader (and 2020 candidate for governor) Sen. Dan Feltes sent out an email urging Granite State Democrats to "get your tickets now" for the event.
So perhaps it should come as no surprise that neither Kuster nor Pappas have issued a statement of any kind regarding the current Mideast turmoil. They have, however, spoken out in the media about Rep. Liz Cheney (R-Wy.) losing an internal Republican Party leadership position — a topic the Democrats literally have no connection to, but which Rep. Pappas discussed at length on WGIR as the rockets fell on Israel last week.
It's possible to defend Kuster and Pappas' silence on Israel by noting that there are so many important news events it's unrealistic and unfair to expect them to comment on each and every one. Perhaps bike paths and wood-fired boilers are more their speed.
Except that among the Democrats who have spoken out are Sens. Maggie Hassan and Jeanne Shaheen.
"Hamas' rocket attacks against Israel must cease & both parties must take immediate steps to deescalate the crisis and put an end to this violence," Shaheen tweeted last week. "Israel has a right to defend itself from these attacks, and the lives of innocent Palestinians must not be caught in the crosshairs."
Hassan was even more forceful: "I condemn Hamas' attacks on Israeli citizens — they must stop, and Israel has a right to defend itself. I urge de-escalation before more lives are lost."
Cue the outrage from New Hampshire progressives. The New Hampshire Progressive Coalition wants Hassan to retract her statement "concerning the ongoing attacks on the people of Palestine and the continuing atrocities being committed by the Israeli Government." Her views, they say, are "not in line with" her constituents.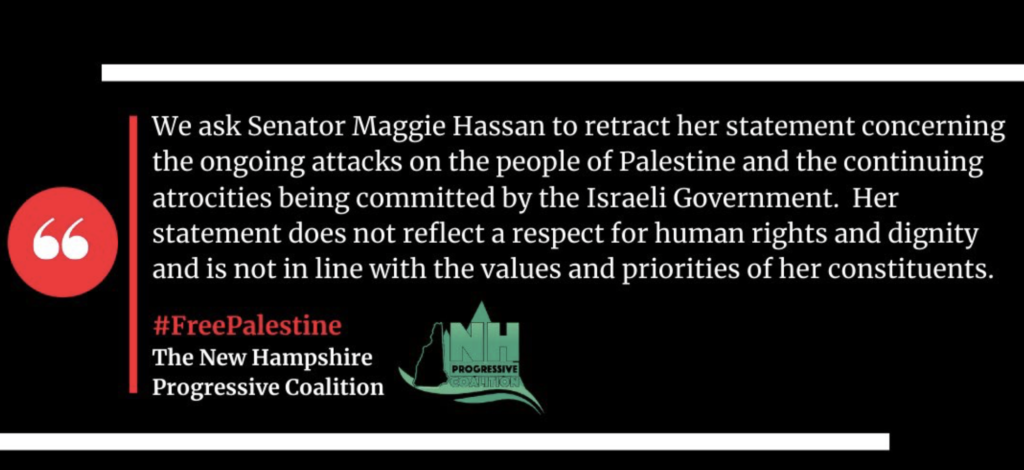 A representative of the NH Youth Movement urged progressives to call her office and complain, and Asma Elhuni of the group NH Rights and Democracy summed up the Left's mood: "Let's get her out of office. She is officially a supporter of genocide. This is not a conflict it's an occupation."

About 90 percent of the more than 250 replies and quote tweets to Hassan's comments were negative. The reaction to Shaheen's tweet from Granite State liberals was similar.
Does this mean NH Democrats have an anti-Semitism problem? Using the standard they apply to the NHGOP — absolutely.
But setting aside partisan posturing, the left-leaning New York Times wrote about the anti-Israel attitudes on the rise among Democrats. "Divisions within the party have burst into public view" since the rockets were launched last week. They quote a Pew poll showing declining support for Israel among Democrats.
"The Pew survey showed that among Republican Jews, nearly three-quarters said they felt a strong attachment to Israel, while only 52 percent of Jewish Democrats expressed the same belief. Jewish Democrats are also much more likely to say that the United States is too supportive of Israel."
For some Democratic members of the House outside, however, it's still an easy call.
"Please don't be fooled by false choices: Israel or Hamas," Representative Ted Deutch, a Democrat from Florida, said in a floor speech. "If I am asked to choose between a terrorist organization and our democratic ally, I will stand with Israel."