New Hampshire Democratic state party chair Ray Buckley has a reputation for never backing down from a political fight. But as the blowback over his controversial comments about New Hampshire parents continues, the usually-outspoken political operative has gone full "no comment."
Buckley is receiving national media attention for his claim that parents pose a danger to their children who might be questioning their gender or sexuality and, therefore, should be kept in the dark by school officials. When GOP congressional candidate Karoline Leavitt held a press conference opposing the Manchester School District's policy of refusing to give parents information they request about counseling their children might be receiving, Buckley fired back: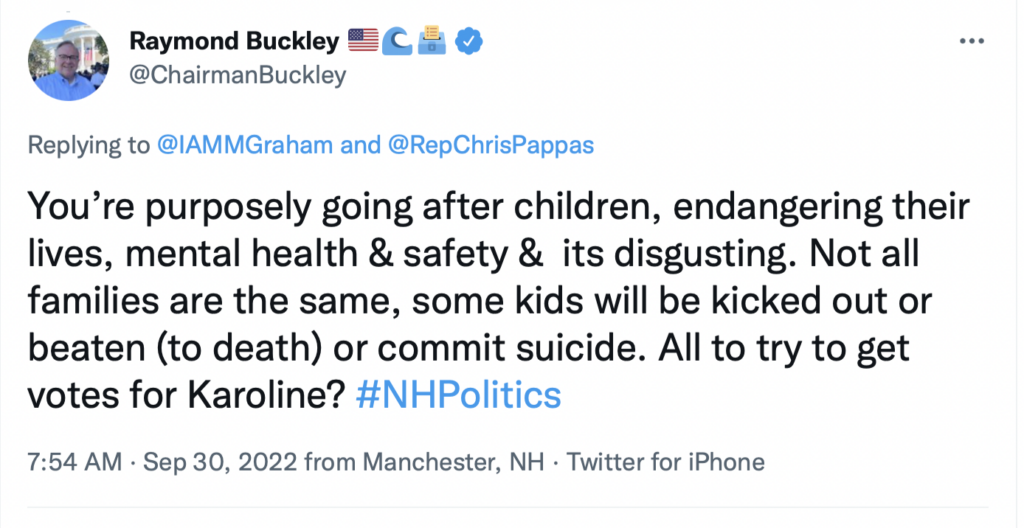 Republicans like Leavitt are outraged by the district forbidding teachers from sharing information with parents
There are no police records or public accounts of a New Hampshire child "beaten to death" by their parents after revealing they were questioning their sex or gender in this century.
Buckley has doubled down on his views via Twitter, but the pugnacious party chief who prides himself on handling the press has refused to respond to multiple media requests about his statement. Meanwhile, more elected officials are stepping forward to denounce the Democrat's description of parents as potential threats to their own children.
On Drew Cline's radio show Wednesday morning, Gov. Chris Sununu called Buckley's comments "horrible and disgusting. He needs to apologize, he needs to own them. It's terrible what he said."
Maryland Gov. Larry Hogan, in New Hampshire to speak at a Politics and Eggs breakfast, called Buckley's comments "crazy."
"Shame on Chairman Buckley for his egregious comments that schools need to keep secrets from their students' parents or else they'll be physically harmed," said the Republican State Leadership Committee in a statement. "Do New Hampshire state Democratic legislative candidates side with him, or with parents?"
While Buckley has declined multiple requests for comment, he did send out his communications director, Colin Booth, to smear the party chairman's critics as homophobic.
"The @NHGOP love shadowy, highly invasive 'parental rights' laws because it allows them to demonize the LGBTQ+ community and dismantle public schools at the same time," Booth said via Twitter. "That's why they've made one of NH's top gay Democratic leaders the target of attacks all week."
None of the news articles about Buckley's comments or press events held to protest the public school policy have mentioned Buckley's sexual orientation.
While Buckley's strategy may be to hide out until the controversy blows over, several Republican sources tell NHJournal that is not going to work. They say GOP candidates for State House offices intend to put their Democratic opponents on the record in the coming days on Buckley's statement and the Manchester school policy. Republicans are likely to raise it in debates and public forums when they appear with their opponents as well.
Thus far, not a single Granite State Democrat has publicly condemned, or even disputed, Buckley's statement about parents and violence.
"If Granite State Democrats want to be the party of Joe Biden and Ray Buckley, that's fine by us," said. Rep. Ross Berry (R-Manchester)