Their president is the most unpopular in the history of modern polling.
Gas prices on their watch are about to hit $5 a gallon — and then keep rising.
Inflation is higher than it has been in 40 years, and shoppers are being forced to cut back on basics.
At the southern border, record numbers of undocumented immigrants are pouring into the country. At the northern border, moms are driving to Canada to find baby formula for their children.
Crime is rising, parents are fleeing public schools, and COVID is still infecting thousands every day.
And then there's Afghanistan, China, Iran, and Russia.
Welcome to the Democrats' Thunderdome 2022.
To casual followers of politics, the news for New Hampshire Democrats is bad. But for political pros and pollsters, it is disastrous.
"Every midterm has been bad for the president's party since 2006, and this cycle shows every sign of following that pattern," said UNH political science professor Dante Scala. "What's striking to me in the latest UNH poll is how few New Hampshire folks think the country is on the right track – just 15 percent, a 20-year low. Even most Democrats feel the country is going the wrong way. When your own party is depressed…"
GOP strategist Jim Merrill, who worked on two Mitt Romney presidential campaigns, has seen good political times and bad.
"It is hard to imagine a more hostile environment for incumbents at the federal level to run in," Merrill said. "My prediction for what Democrats face in the 2022 midterms is the same as Clubber Lang's prediction in Rocky III: 'Pain.'"
Numbers Don't Lie.
One of the key indicators of how federal candidates like Sen. Maggie Hassan or Rep. Chris Pappas are likely to perform in a midterm is the approval rating of the incumbent president. According to data expert Sean Trende at RealClearPolitics, "the single most determinative factor in midterm outcomes is the president's job approval."
And at this point in a presidency, nobody — literally no other president — has had an approval rating this low. As The Washington Post reported on May 27, "Of the 13 presidents during the polling era, none has been in worse shape at this point in his first term, almost 500 days into a presidency, than Biden's 40.5 percent approval rating."
That's right: Biden's approval rating is lower than Donald Trump's. Ask Republicans how that worked out in 2018. (They lost 40 seats and control of the House).
Two NHJournal polls taken about a week apart both put Biden in the same ballpark here in New Hampshire: 42/55 percent in the first poll (-13) and a jaw-dropping 39/57 percent (-18) in the second.
That is not good news for Hassan. According to an election model developed by Trende, "At 42 percent [presidential job approval], the model envisions virtually no chance for Democrats to hold the Senate and predicts a loss of four seats as the most likely outcome."
In other words, based on history, Biden's dismal approval rating alone could be enough to cost Democrats control of Congress and incumbents their seats here at home.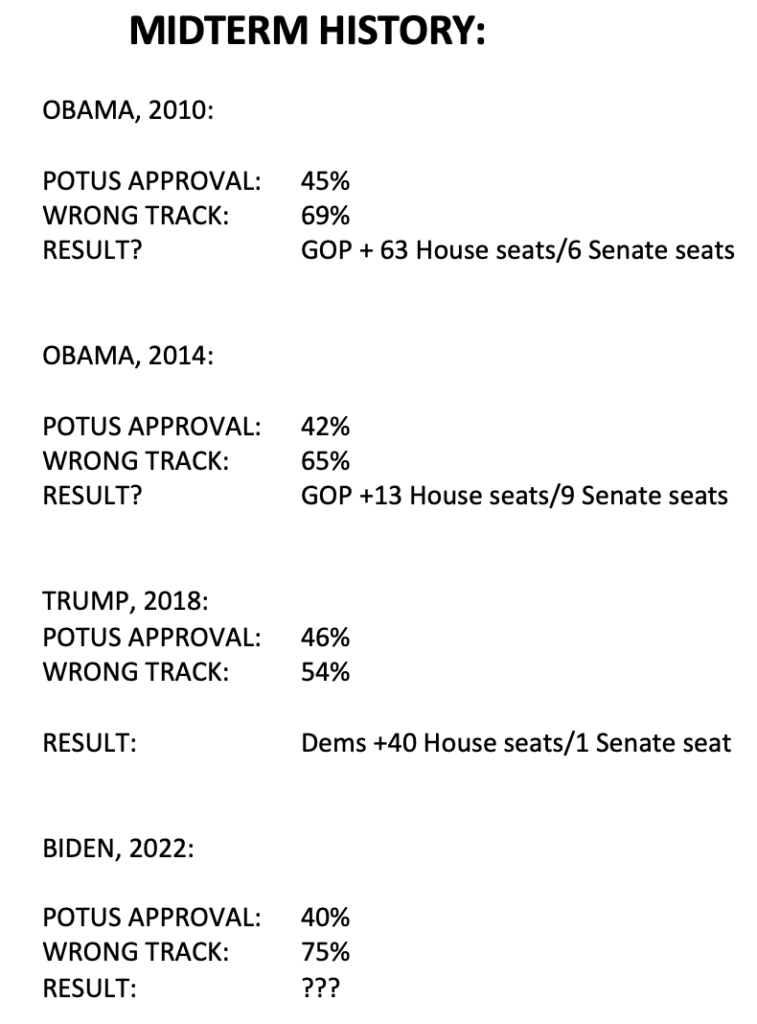 At Issue: Inflation.
But it is not just presidential approval ratings. Democrats are also facing an issue set this cycle that is absolutely brutal for their party.
Polls consistently show the top issue impacting voters — by far — is inflation, followed by the related concerns of gasoline prices and the overall economy. In a new ABC News/Ipsos poll released Sunday, 83 percent of Americans say the economy is a top issue determining how they will vote. And 80 percent said inflation will play a key role.
The same in the NHJournal polls, where 59 percent of Granite Staters said fighting inflation or lower gas prices was their top issue. Just 14 percent said abortion, which has been the issue Democrats have made front and center. The New Hampshire delegation has held four all-member press events in the past year related to abortion.
How many have they held addressing inflation? Zero.
Which may not matter because these polls also show voters don't trust Biden or his party to handle inflation or the economy. In the new Ipsos poll, Biden's approval on the economy is just 37 percent. On inflation, it's 28 percent, and on gas prices, it's down to 27 percent approval.
And an ABC News/Washington Post poll released last month found Americans trust the GOP more than Democrats on inflation by 19 points and the economy overall by 14 points.
Democrats like state party chair Ray Buckley insist all is well. "In the wake of Town Meeting Day Democratic sweeps, special election victories, and last year's overwhelming wins in local elections statewide, it's clear that Democrats at every level are building momentum that is going to lead us to huge wins this year and for years to come," Buckley wrote in the Union-Leader on Thursday.
And he echoed a common theme among Granite State Democrats (none of whom would go on the record with NHJournal): New Hampshire is just different.
"In cycles that weren't favorable to Democrats nationally, New Hampshire Democrats consistently outperformed national trends and won," Buckley claimed. "In 2014, a year where Democrats all across the country lost seats up and down the ticket, New Hampshire held strong and re-elected Sen. Jeanne Shaheen, then-Gov. Maggie Hassan, and Congresswoman Annie Kuster. We constantly buck national trends, and overperform no matter what the national narrative is."
Except, it isn't true. In 2006, 2010, 2016, and 2018, New Hampshire's vote largely tracked the national numbers. Red waves nationwide were felt in New Hampshire, and the same for Democratic swings, too. It is true that particularly popular incumbents like Shaheen and Gov. Chris Sununu have defied national trends. (Kuster's Democrat-friendly seat is hardly a bellwether).
But here is an example: Nationwide, Trump got 46.1 percent of the vote in 2016. In New Hampshire, he got 47.2 percent. In 2020, Trump's national number was 46.9 percent, and in New Hampshire 45.4 percent. All within a point and a half or so.
There is no evidence Hassan and Pappas have the sort of popularity that would keep them safe from a GOP surge of the size most experts expect. Democrats respond it is still early and anything can happen. But as veteran strategist Doug Slotnick wrote in a memo to his fellow Democrats last month, time is running out.
"In the last four midterm elections, by June the public had made up its mind about the leadership in Washington and how they were going to vote in November. According to Gallup, Trump's 39 percent job approval in early February 2018, Obama's 41 percent approval in June 2014 and 45 percent approval in June 2010, and Bush's 38 percent approval in March 2006 all matched their job approval on Election Day."
Each of those presidents "suffered significant defeats and lost control of at least one branch of Congress" in the midterms.
BIDEN'S BIG PROBLEM?
And then there is the Democrats' biggest challenge of all: Joe Biden himself.
"What strikes me this cycle is that the Biden presidency already feels worn out," Scala said. "He's like a second-term president. Progressives are looking past him. Conservatives are looking past him.
"It's partly because of all the very big, very negative news: Inflation! Pandemic! Ukraine! But also because Biden seems to be a hostage to current events," Scala said.
And, according to an NHJournal poll in April, it is also because of his age. In April, 54 percent of Granite Staters said they were not confident Biden is mentally or physically up to the job should a crisis hit. Respected pundits are writing that Biden is too old for the job, and the White House is leaking like a sieve with stories of staffers forced to clean up his misstatements and mistakes.
There are not many rock-solid predictions that can be made in American politics, but here's one: Joe Biden will not get a single day younger between now and November.
What can Democrats do? The strategy thus far appears to be to talk about social issues like abortion and gun control and ignore the economic elephant in the room. It has been a month since the alleged Alito opinion indicating Roe v. Wade will be overturned was leaked. Abortion is still a minor issue at best. Do Democrats expect calls for gun bans to do any better?
If history is any indication, there is not much Democrats can do except raise money and hope Republicans nominate fringe candidates that scare away voters. Not a bad strategy given the current state of the GOP.
But it also is an admission that Democrats have already lost this election. They're just hoping Republicans will lose it back to them before November.