New Hampshire progressives gathered in Manchester Monday to advocate for an expanded federal election law at a "press conference" that featured plenty of political rhetoric…but no press.
While the press release invitation read, "New Hampshire For the People Act Coalition Hosts Press Conference Ahead of Expected Senate Vote," reporters arrived to discover the participants would not be taking questions from the press as part of the program. Instead, the emcee — Liz Tentarelli, president of the League of Women Voters — said journalists were free to roam among the crowd and ask speakers if they would be willing to answer questions.
At least one speaker was not.
Rep. Chris Pappas literally fled the scene, his aides physically blocking the press, when approached by a New Hampshire Journal reporter with a question. ("Representative Pappas, your fellow Democrat, Secretary of State Bill Gardner, says you've never spoken to him about HR 1. Is that true?")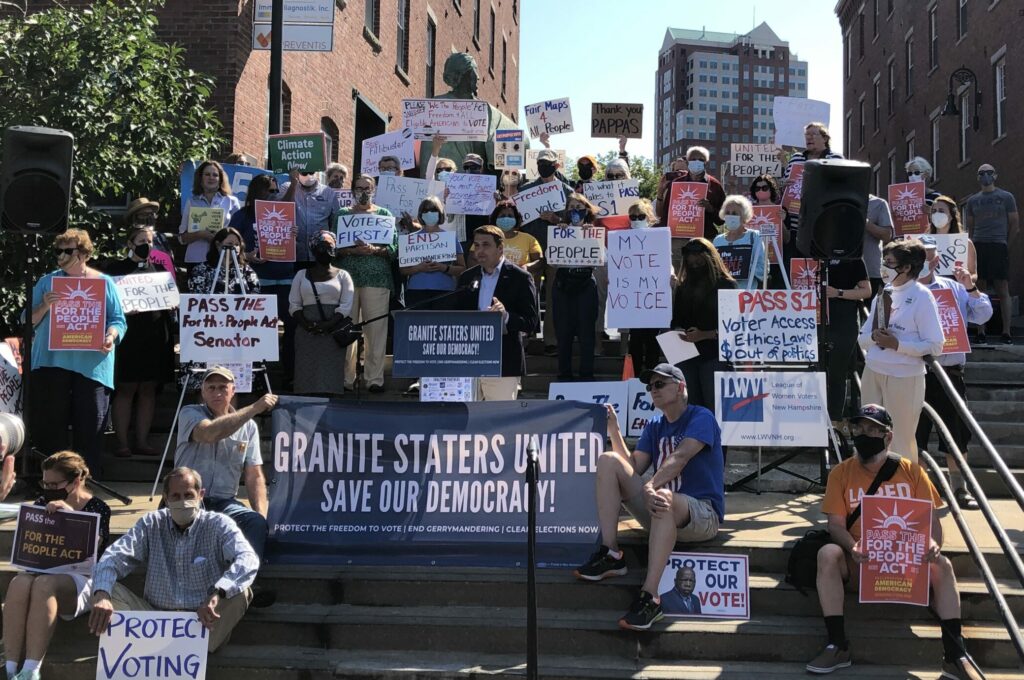 The lack of press scrutiny in front of the cameras allowed the speakers, ranging politically from the left to the far left, to advocate for the Democrats' "For the People Act" without fear of being challenged over facts or details.
And so, for example, when Pappas said he supported H.R. 1 because "we are stronger as a state and as a country when everyone's voice is heard in our democracy," reporters were unable to ask about the fact that the bill he supports would limit Granite Staters' voices being heard in the democracy. H.R. 1 is designed to override state election laws, limiting the ability of local voters and their legislators to run their own elections.
Should New Hampshire allow early voting? Should it allow unrestricted mail-in ballots? Should New Hampshire require voter ID? Those decisions would be made in Washington, D.C. under H.R. 1., as many news reports have noted.
Supporters say federal power is needed to protect voters from allegedly anti-democratic laws passed in states like Texas and Georgia. Grace Kindeke of the American Friends Service NH, another speaker at Monday's event, claimed the "country continues to spiral backward," which is why we need H.R. 1.
"We must act to protect our multicultural society against these voter suppression schemes," Kindeke said.
According to The Atlanta Journal-Constitution, 95 percent of adults in Georgia are registered to vote under their current law, one of the highest rates in the U.S. Most of the growth in registration was among African-Americans.
Several speakers said the new bill is needed to deal with the corrupting force of campaign donations. Pappas claimed H.R. 1 would "get the undue influence of big, special interest money out of our electoral system once and for all."
According to OpenSecrets.com, Democrats far outspent Republicans in dark-money campaigning. In addition, H.R. 1 doesn't stop any American citizen from donating as much as they want. A millionaire or billionaire like George Soros or Mike Bloomberg would still be free to bankroll candidates who care about their issues.
What H.R.1 does do, however, is create an alternative funding system for members of Congress who choose to use it, paid for with public money. If H.R. 1 becomes law, the plan is expected to cost $160 million a year.
According to one estimate by a politically conservative group, Pappas could receive around $5 million in public money to spend on campaign attack ads, travel, and staff for his own re-election.
Because there were no questions, it was impossible to ask Pappas for his views on that portion of H.R.1.
On Tuesday, Republican lawmakers will gather in Concord to discuss their opposition to President Joe Biden's vaccine mandate.
According to the announcement, "The press is invited for a Q+A segment following the press conference."