Political playtime is apparently over at the New Hampshire Division of Public Health Services (DPHS).
After two tweets in 24 hours from the state's public health agency had to be pulled due to disinformation, Gov. Chris Sununu has decided enough is enough.
"The governor has spoken directly to the leadership at public health and has been assured that additional checks will be put in place to ensure appropriate messaging moving forward," according to a statement from Sununu's office.
Both tweets advanced misinformation associated with the political left, a surprise from an agency that is part of a Republican administration and funded by a GOP-controlled legislature.
Over the weekend, the health department — which is a subsidiary of the Department of Health and Human Services — posted a tweet claiming that climate change has led to "more frequent and severe" natural disasters. This claim has been repeatedly debunked.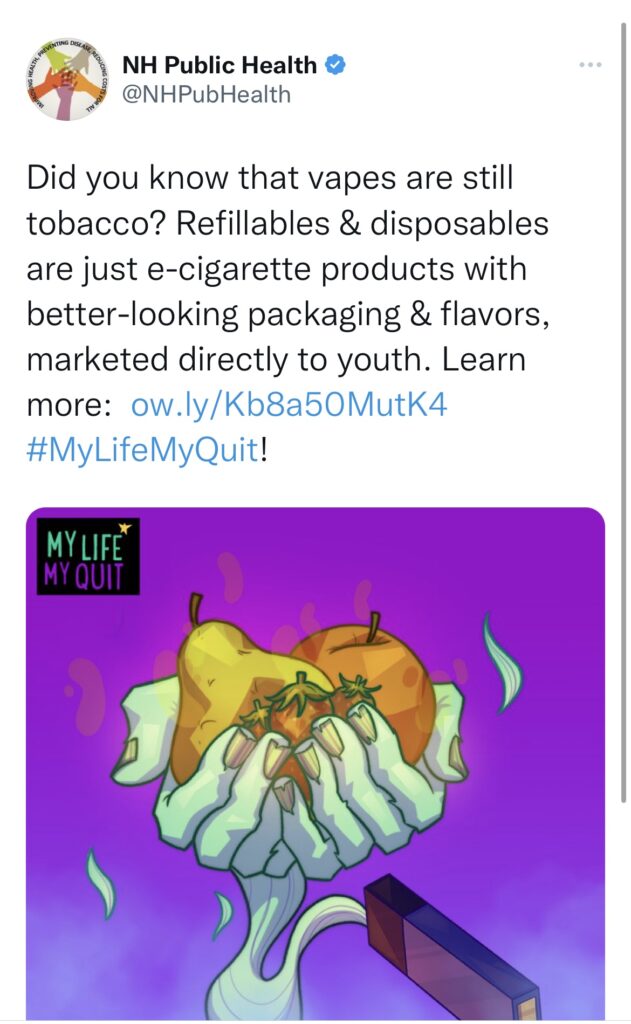 After defending the tweet as "within the department's mission," someone at DPH deleted it on Wednesday after NHJournal began our reporting. DHHS spokesman Jake Leon declined to identify who was responsible for posting or removing the statement.
Just hours later, someone at DPHS posted a tweet declaring "vapes are still tobacco."
"Refillables & disposables are just e-cigarette products with better-looking packaging & flavors, marketed directly to youth." The tweet linked to a health department site addressing teen vaping and tobacco use.
As with the previous tweet, that one also contained a glaring factual error. Vapes are not tobacco, and the vast majority of commercially-sold vape products in the U.S. do not contain tobacco. Instead, there is a major international push to get smokers to abandon "combustible cigarettes" and switch to alternatives like vaping and "heat not burn" alternative products.
"This is so terribly irresponsible," said Dr. Michael Seigel with the Tufts University Department of Public Health and Community Medicine.
"I am willing to give a break to organizations that call e-cigarettes a tobacco product,' only because it is true that under the Food, Drug, and Cosmetic Act, they are considered to be 'tobacco products.' However, to say that vapes are tobacco is just a lie," Seigel told NHJournal.
"And in fact, it's essentially the opposite of the truth. The whole point of vapes is that they are not tobacco. If they were tobacco, they would have zero market share, because the only real reason that vapers vape is that they are trying to avoid the tobacco.
"I'm glad that the New Hampshire health department had the sense to remove the tweet," Seigel added.
Within an hour of being contacted by NHJournal, the DHPS deleted that tweet as well. Asked who was responsible and why the tweet was removed, Leon told NHJournal, "A tweet this morning had a typo so it was deleted."
Leon declined to identify the typo.
Republican legislators have spoken both publicly and privately about their frustrations with the performance of DHHS in general, and the DPHS in particular. Some lawmakers would like to see DHHS broken up into smaller agencies with more accountability instead of the current maze of agencies and responsibilities.
Patricia Tilley, Director of the Division of Public Health Services for the New Hampshire Department of Health and Human Services, told legislators Thursday she is tightening procedures and increasing training for employees who handle social media to avoid more mistakes in the future.
DHHS has been a source of some left-leaning policies within the Sununu administration. During the height of the COVID pandemic when the vaccine supply was extremely limited, Elizabeth R. Daly, then chief of the state's Bureau of Infectious Disease Control, announced the department was setting aside 10 percent of the Phase 1B vaccines for distribution based on race and ethnicity.
"We have a commitment of equitable allocation of the vaccine," Daly said. "And part of that plan involves meeting the needs of those people who've been disproportionally impacted by COVID-19. This includes people who are in racial and ethnic minority groups."
The best practice at the time was to prioritize the elderly and vulnerable.
"If your goal is to maximize the preservation of human life, then you would bias the vaccine toward older Americans," former Food and Drug Administration Commissioner Dr. Scott Gottlieb said at the time.