President Trump's approval rating in New Hampshire is hardly something to brag about.  After narrowly losing the Granite State to Hillary Clinton in 2016, Trump is now underwater in New Hampshire by -13, at 42 percent approve/55 percent disapprove. Sounds pretty bad.
But compared to Trump's numbers in the rest of New England, New Hampshire is practically #MAGA country.
According to the new Morning Consult state-by-state breakdown, Trump is underwater in the six New England states by an average of -21 points. By comparison, in the four swing Rust Belt states of Pennsylvania, Ohio, Michigan and Wisconsin, Trump is a net -9 points.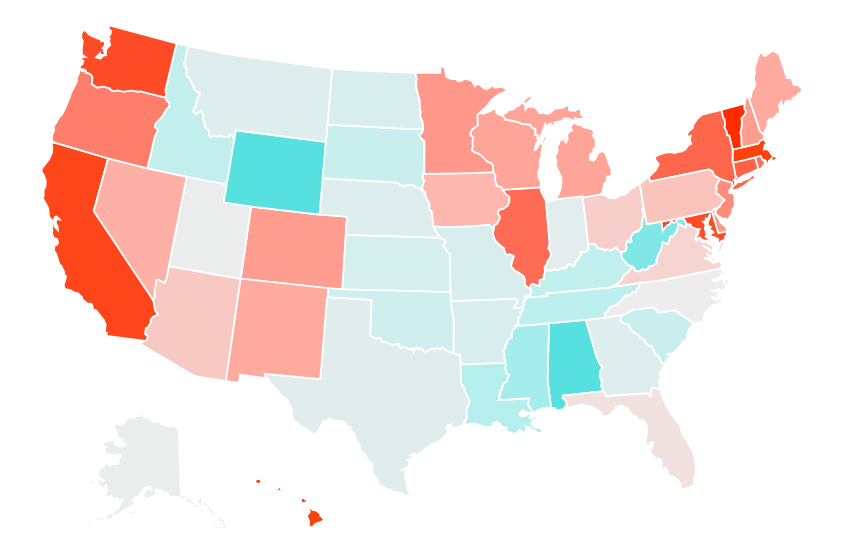 Trump top performer in New England is Maine, where he's at 43 percent approve/54 percent disapprove (-11).  Vermont, on the other hand, is Trump's worst state (32-65 percent) — not just in New England,  but in the entire nation.   Simply driving across the White River Junction from West Lebanon NH to Hartford, VT means a 19-point drop in Trump's approval.
Massachusetts is a close second (63-34), tied with Hawaii in its Trump hatred. In fact, four of the top 10 worst states for Trump are in New England.
The Trump campaign insists that New Hampshire is on their target list for 2020, but with math this bad, why bother?  While it's true that Trump did win an Electoral College vote–just one–by carrying Maine's Second Congressional District, it's also true that after the 2018 #BlueWave bloodbath, there isn't a single elected Republican member of the House of Representatives northeast of New York City.  There's just one U.S. Senator– the embattled Maine moderate Susan Collins.
Wouldn't it make sense for Team Trump to write off New England as a lost cause (no Republican has carried a New England state since George W. Bush won New Hampshire in 2000) and focus Trump's energies on the Great Lakes and Mountain West?
On the other hand, Trump's numbers in Maine and New Hampshire are close to his national numbers. And  Alan I. Abramowitz of the University of Virginia "Crystal Ball" site reports that, using political and economic data that have consistently predicted the outcome of presidential elections, "the model predicts that Trump would receive between 263 and 283 electoral votes." Which means New Hampshire's four Electoral College votes could be vital to holding the White House.
It's too early to say, but when being down by 13 points is considered good news for the GOP, you know things in New England are very, very bad.