Remember Donald Trump's line about shooting someone on Fifth Avenue? He may have been onto something.
A new Reuters/Ipsos poll found more than one-third of Republicans said they would still vote for Trump if he were convicted of a felony. Another 28 percent said Trump would get their vote even if he were behind bars on Election Day.
The results are based on a poll of 1,005 adults taken between August 2-3, 2023.
Asked if they would vote for Trump for president if he were "convicted of a felony crime by a jury," 45 percent of Republicans said no, while 35 percent said yes.
And if that conviction sent Trump to prison, 52 percent of Republicans said they would not vote for him, compared to 28 percent who said they would.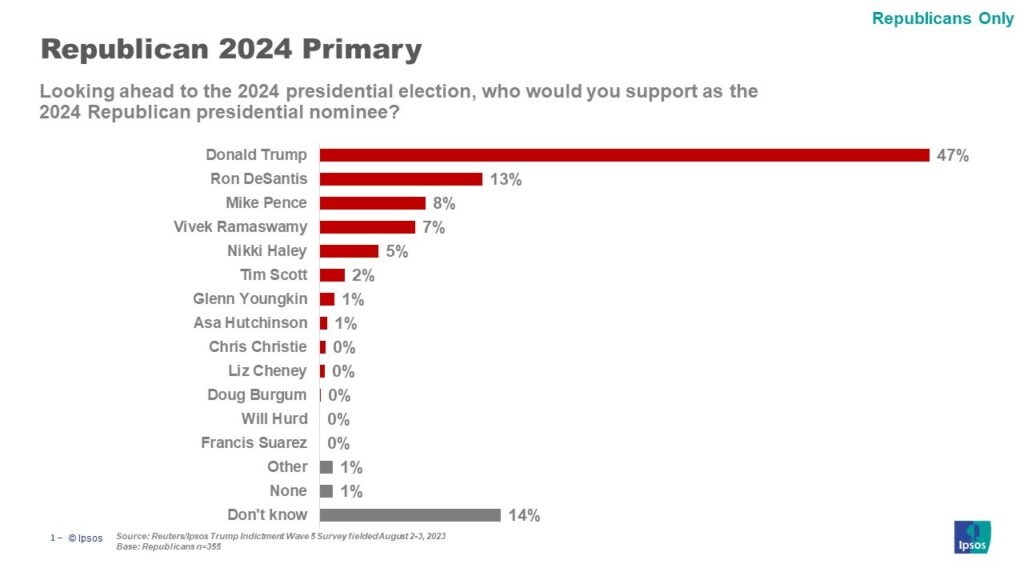 Overall, Trump had the support of 47 percent of Republican voters, well ahead of Gov. Ron DeSantis' 13 percent. Mike Pence was at eight percent, Vivek Ramaswamy at seven percent, and Nikki Haley was at five percent.
In fact, more Republicans say they would vote for Trump if he were behind bars (28 percent) than support DeSantis as a free man (13 percent).
Some Republicans, like Pence and Chris Christie, have been attacking Trump over his actions on January 6th, 2021. This poll indicated that might not be a good idea.
"Most Republicans and those who say they plan to vote for Trump in the primary feel he behaved appropriately around the 2020 election and January 6th," according to the poll.
Meanwhile, candidates like Ramaswamy, who have defended Trump as the victim of an out-of-control, partisan Justice Department, may be where the voters are.
Seventy-five percent of Republicans polled said they believed the charges against Trump were "politically motivated." Twenty percent disagreed, and the rest said they didn't know.
And 66 percent of  Republicans described as "not believable" the accusation in Trump's latest indictment that he solicited election fraud.