Democrats appear to have the inside track in the upcoming special election for the Cheshire County District 14 House seat, but they're not taking any chances. That means plenty of door knocking, lots of fundraising and — erasing Joe Biden?
A campaign push by the Democratic Legislative Campaign Committee on behalf of its nominee, Harrisville's Andrew Maneval, describes him as "a community leader, small business owner, and former chair of the Harrisville Broadband Committee." It features a photo of him looking ruggedly handsome in a sweatshirt and jacket.
But the original of that photo, taken in October of last year and obtained by NHJournal, shows someone photo-shopped a Biden-Harris logo off the shirt and out of the image.
What happened?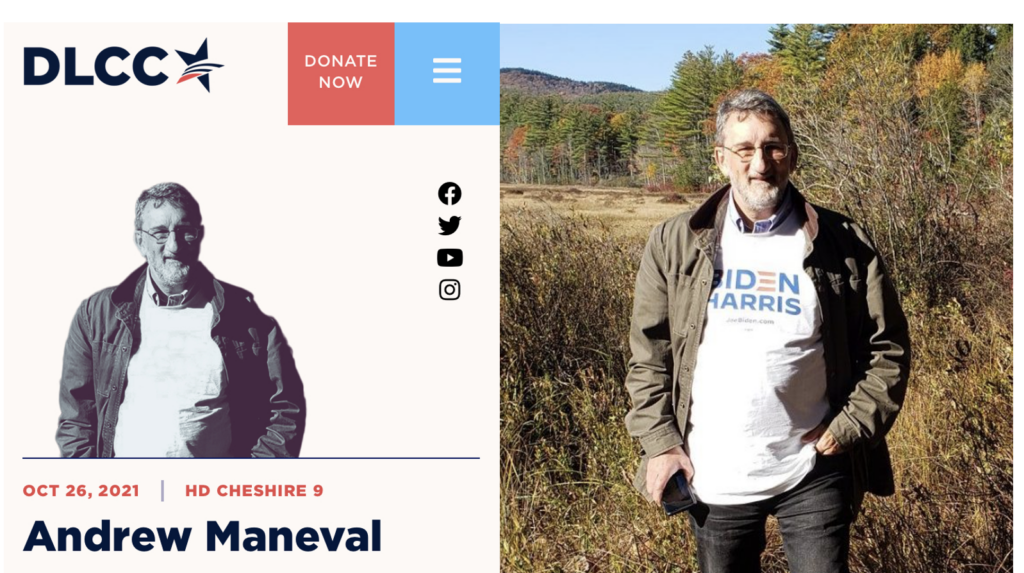 Neither the DLCC nor Maneval responded to repeated requests for comments from NHJournal.
Given that Biden defeated Donald Trump in the four towns in the district — Dublin, Harrisville, Jaffrey and Roxbury — by 27 percent of the vote last November, hiding Biden may seem an odd strategy.
However, the Biden of 2020 is not the Biden of 2021. A recent Granite State Poll conducted by the University of New Hampshire Survey Center shows he's underwater with New Hampshire voters 46 percent approve/53 percent disapprove.
On Wednesday, the new Gallup poll hit with the headline, "Biden's Approval Rating Hits New Low of 43%."
"Independents have shown the greatest variation in their opinions of how Biden is doing. Biden's current 37% approval rating among independents is his lowest to date and 24 points below his personal high of 61%," Gallup's Megan Brenan wrote.
"Among elected presidents since World War II, only Trump has had a lower job approval rating than Biden does at a similar point in their presidencies," Brenan added.
The reason for Biden's bad poll numbers is no secret. He's committed a series of high-profile blunders, from leaving Americans behind Taliban lines in his botched pullout from Afghanistan to the flood of migrants flowing across the southern border in record numbers to the mishandling of COVID-19 messaging as infection rates soar.
To be clear, the photo was posted by the DLCC, not the Maneval campaign it supports. However, the DLCC is one of the most significant players in New Hampshire House races, spending tens of thousands of dollars in each of the special elections thus far this year.
According to disclosures, it spend $34,000 in the Democratic win in Bow/Dumbarton, $29,424 in its loss in Merrimack, and a stunning $78,367 in the Democrats' surprise win in Bedford earlier this month.
"It is clear that like the Democrats running before him, Andrew Maneval will be fully dependent on money from Washington, D.C. to try and buy this election," said Rep. Ross Berry, Vice Chairman of the Committee to Elect House Republicans. "But the question must be asked, why are D.C. Democrats de-Bidening him?
"Are they afraid that Cheshire County voters will learn the truth- that Maneval will be a puppet for the Biden agenda in Concord? If President Biden is so popular in New Hampshire, why go out of the way to hide it from the voters? If Mr. Maneval is such a proud Biden supporter, then he should immediately demand that the DLCC stop photoshopping him or reject the tens of thousands of dollars they will surely spend to prop up his campaign."