During her first visit since launching her 2020 presidential bid, Sen. Elizabeth Warren weighed in on the Granite State's current debate over replacing Columbus Day with "Indigenous People's Day," backing Democrats' efforts to make the change.
When asked about the issue by a reporter from the Concord Monitor,  Sen. Warren–who has been embroiled in controversy over her unproven claims of Native American ancestry–supported efforts by states like New Hampshire to dump Columbus Day in favor of an Indigenous People's holiday.
2020 WATCH: Asked by @ConMonitorNews if she supports a NH House bill to rename Columbus Day as indigenous people day, @SenWarren says "why would we not want to honor indigenous people… I'm in favor of honoring. I think that's a good thing for us to do" #nhpolitics #FITN #mapoli pic.twitter.com/OBiAESFb5F

— Paul Steinhauser (@steinhauserNH1) January 12, 2019
"My feeling is why would we not want to honor indigenous people?" Warren said. "These are the people who in Massachusetts, reached out and helped the first settlers, and helped them survive those first harsh and rugged years.  I'm in favor of honoring, I think that's a good thing to do."
"I think we ought to honor those who were here first and the extraordinary sacrifices that they were forced to make," Warren said.
The reporter noted a tweet Warren sent out last Columbus Day: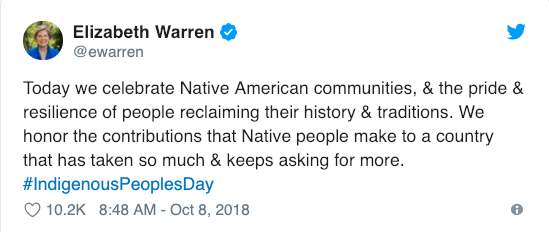 The Native American issue has been problematic for the Massachusetts senator since her political career began. Warren's recent decision to take a DNA test to bolster her claims of minority status during her career as a law school professor was widely criticized, and even her political allies have acknowledged that it was likely a mistake.
Warren has also interjected herself in other Native American legislative issues, most notably a casino project involving the Mashpee Wampanoag tribe of Massachusetts. The project has been surrounded by controversy due to the involvement of a multi-national gaming conglomerate, Genting Malayasia, which is linked to a massive corruption scandal in Kuala Lompur and has nearly half a billion dollars invested in the Mashpee tribe.  Warren, a longtime opponent of casino gambling, is believed to be backing the project in part to repair her reputation on the Native American issue.
The New Hampshire bill to replace Columbus Day faces strong resistance, including from some Democrats, and is not expected to get out of committee.