South Carolina Republican Sen. Tim Scott is known for his sunny, optimistic political personality, and he had plenty to smile about during a town hall in Salem, N.H. Tuesday night.
The University of New Hampshire Survey Center released its latest Granite State Poll, a States of Opinion Project, earlier that day. For the first time. Scott was in third place — though he was still in single digits (8 percent) and well behind both former President Donald Trump (37 percent) and Florida Gov. Ron DeSantis (23 percent).
It was a significant shift from the 3 percent support Scott had just two months ago. And it puts him ahead of former New Jersey Gov. Chris Christie and North Dakota Gov. Doug Burgum (both at 6 percent), and entrepreneur Vivek Ramaswamy and former U.N. ambassador Nikki Haley, who are at 5 percent.
The rest of the candidates, including former Vice President Mike Pence, are at one percent or less.
Scott's performance at the Salem-Derry Elks Club highlighted what appears to be the most appealing aspects of his candidacy: Likeable, capable, and optimistic.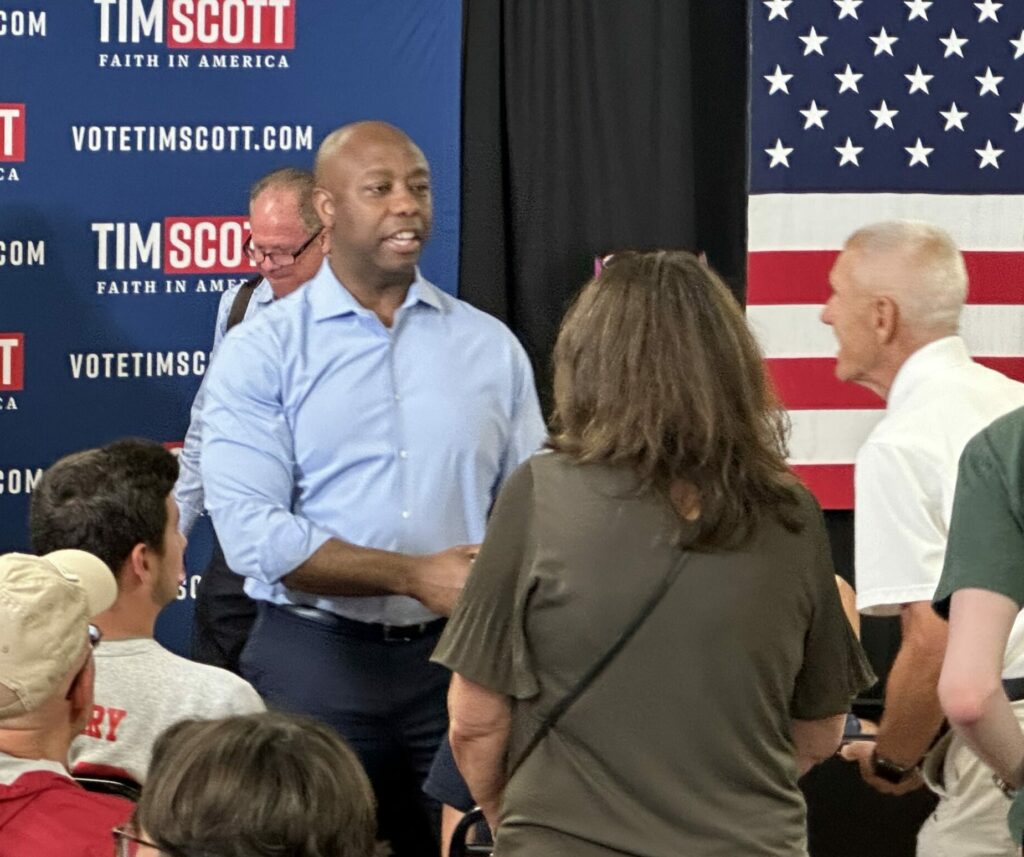 "He crushed it. The best town hall performance I've seen in a long time" said GOP communications professional Matthew Bartlett, who is unaffiliated with any campaign. "He was funny and friendly, and his answers were well thought out. The Tim Scott who showed up today can play in the Granite State."
As he has at his previous Granite State stops, Scott began with his biography: Growing up poor in rural South Carolina as the son of a single mom. Yet unlike his early campaign events, the big "Faith in America" banners were missing, and there were no references to Scripture. Instead, Scott talked about conservative values like hard work, patriotism, and responsibility rather than his personal religious beliefs.
When he got to issues, Scott's first topic was the impact of fentanyl on New Hampshire families and the Biden administration's failure to stop the deadly drug's flow. Scott's solution would be to use U.S. financial tools to cut off the cartels' finances and increase border security to stop fentanyl at the border.
The town hall audience, which was sizeable but not massive, fired questions at him ranging from digital currency to fixing the Department of Justice.
The first question — not surprising at a GOP political event — was on what Scott described as "election integrity." Rather than talk about Trump's repeatedly-debunked conspiracy theories about a stolen election, Scott instead talked about how Democratic-controlled states used the COVID emergency to change election laws at the last second, creating confusion and feeding suspicion. He reminded the audience about the Democrats' HR1 legislation, their first priority after Biden took office, which would have overridden election laws in states like New Hampshire and banned voter ID mandates.
And he defended states like Georgia that reformed their election laws in response to the 2020 controversies.
"Joe Biden said the Georgia election law reform was 'Jim Crow 2.0' That is a lie from the pit of Hell," Scott said. And, he added, it was an insult to compare what the victims of Jim Crow, like his grandfather, went through to the minor changes in election calendars and restrictions on partisan groups handing out food or water near the polls.
"Imagine comparing my grandfather having to count jelly beans in a jar to waiting in a line," Scott said.
And Scott didn't sidestep controversial issues like U.S. financial and military support for Ukraine as it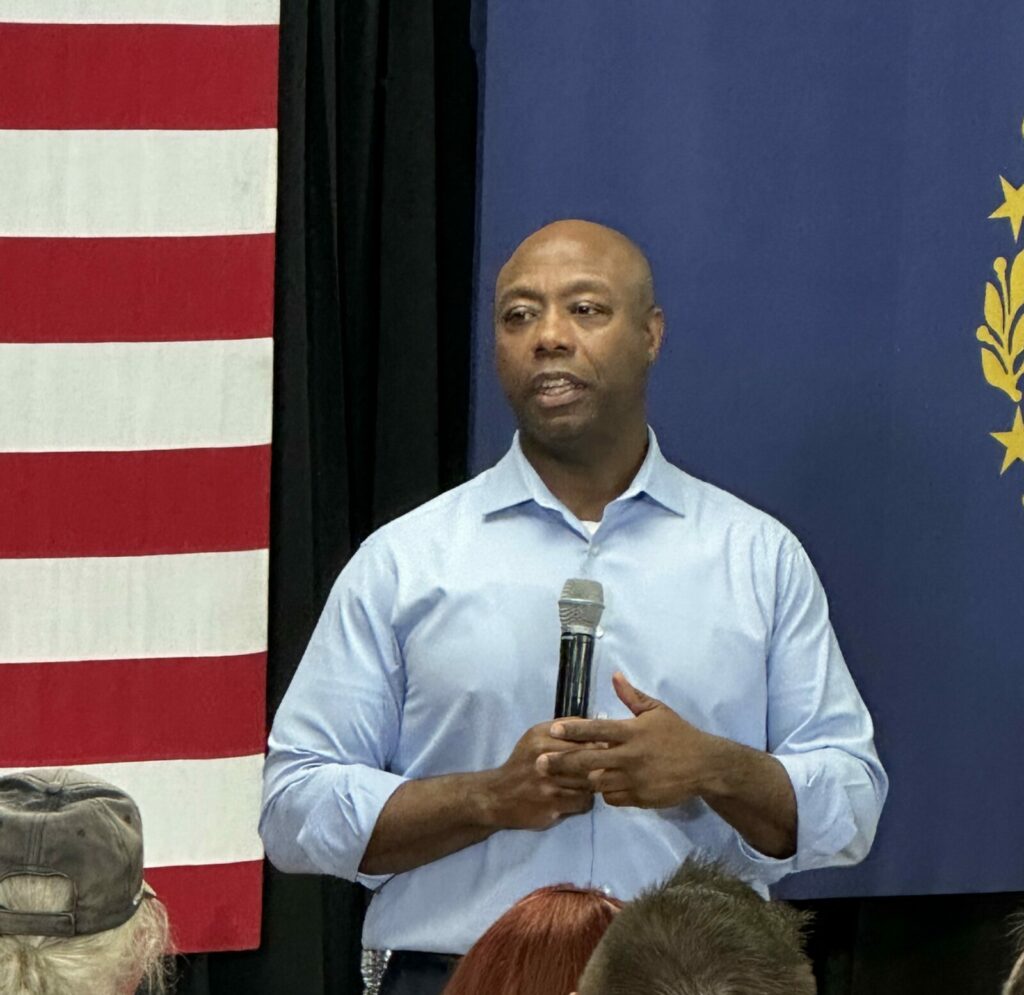 attempts to fight off Russia's invasions. Scott blamed Biden for any decline in support for America's Ukraine policy, complaining that the president has never explained clearly why supporting Ukraine at the Russian border means protecting the U.S. homeland.
"Our interest in Ukraine is degrading the Russian military," Scott said. "The strongest military outside the U.S. today was the Russian military. They have 6th generation jets, hypersonic weapons, and advanced nuclear weapons." Scott acknowledged China is the more significant long-term competitor the U.S. must face ("They're prepared to build more new ships in the next decade than we have in our entire fleet"), but Russia is the most immediate threat — or was until it made the mistake of invading Ukraine.
"By degrading the Russian military, we defend the homeland," Scott said. "Remember, if Russia invades any NATO country, we have pledged to defend our allies. That means Americans fighting Russians in Europe."
Scott was clearly enjoying himself, and the crowd seemed to be having a good time as well. When an attendee asked him about the controversy over a bag of cocaine found inside the White House, Scott quickly responded, "All I know is it wasn't mine."
But he also offered some Republican red meat when asked about the Secret Service announcing it was closing its investigation into the cocaine without coming to a conclusion.
"You can't finish an investigation if you never start an investigation."
Scott's improved performance over his earlier visits might explain national news reports that major GOP donors who are becoming increasingly worried about the DeSantis campaign are taking a fresh look at the South Carolina senator. He has already had fundraising success, with the second-most cash on hand among the GOP candidates. And on Tuesday, the Scott-allied Trust In The Mission Super PAC announced $40 million in ad reservations through January.
Dave Carney, a veteran GOP strategist, was at the town hall and liked what he saw.
"He handled the questions with direct answers, humor, and humility. It was my first time seeing him in person, and I'd give him high marks."
Several attendees told NHJournal that Scott's performance made an impression on them.
"I thought he was terrific. I think he would be a terrific president," said Ron Kobrenski of Salem. "I appreciate him talking about the fentanyl crisis — I was impressed that he recognized it was a problem and he wants to do something about it."
Ron and his wife Barbara are also planning to attend a Nikki Haley event in the near future. "I want to hear more talk about the rest of the field besides Trump," Ron said.
"Who wants to see Biden vs Trump again? Who wants that? I don't want to see that."