Two new polls released Monday put retired Gen. Don Bolduc on Sen. Maggie Hassan's heels in the New Hampshire U.S. Senate race.
The first poll, from Insider Advantage and conducted for the pro-Trump group American Greatness, has the race essentially tied with Hassan at 47.6 percent and Bolduc at 47.1.
There was a massive gender gap in the responses with Bolduc beating Hassan among men, 57 to 38 percent, and the numbers reversed for Hassan among women.
The Insider Advantage poll also gave Gov. Chris Sununu a 54-37 percent lead over his Democratic challenger, state Sen. Tom Sherman. (Actually, according to the published toplines, the question mistakenly asked about a match-up between Sherman and former Gov. John H. Sununu.)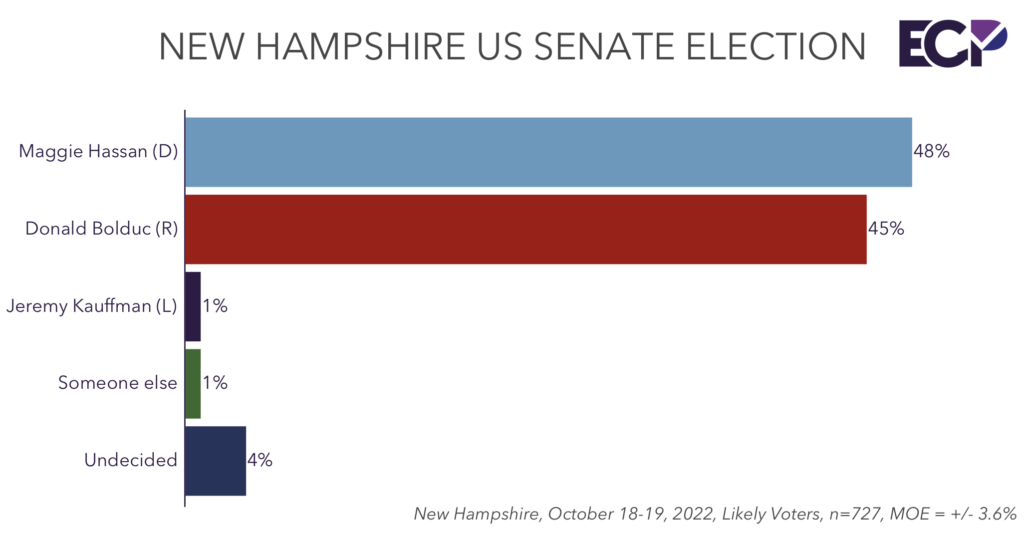 A few hours later came more good news for the GOP: A new Emerson College Polling/WHDH 7 News survey gave Hassan just a three-point lead, 48 to 45 percent. One month ago, Hassan was leading Bolduc 51 to 40 percent in the same poll. Momentum appears to be moving solidly toward the GOP.
Other highlights from the Emerson Poll:
The economy was the most important issue for 40 percent of New Hampshire voters, followed by abortion access (22 percent), and threats to democracy (15 percent.)
President Joe Biden's approval rating among Granite Staters was a dismal 40 percent, while 52 percent disapproved of Biden's performance.
Nearly half (49 percent) viewed both Hassan and Bolduc favorably, while 46 percent viewed Bolduc unfavorably and 49 percent viewed Hassan unfavorably. In other words, even after a barrage of attack ads targeting Bolduc's campaign miscues, he was still (slightly) less unpopular than Hassan.
Emerson also polled the governor's race, and Sununu (Chris T., not John H.) has a solid 52-40 percent lead.
Emerson's director of polling Spencer Kimball sees the same gender gap in his poll as in the InsiderAdvantage contest:
"Men and women split in opposite directions for U.S. Senate candidates: Men break for Bolduc 53 to 41 percent, while women break for Hassan 54 to 38 percent. In the Governors' race, Sununu leads men by 25 points and women by one percentage point."
Kimball added, "Hassan has the majority and plurality of support of voters under 35 and voters over 65, whereas Bolduc's support is strongest among voters between 35 and 65, with whom he holds the plurality of support."