Donald Trump's treatment of his former spokesperson, Fox News host Kayleigh McEnany, has cost him the support of a New Hampshire GOP state representative. And, NHGOP insiders say, the repercussions from his attacks on his longtime aide and ally continue to reverberate.
Rep. James Spillane (R-Deerfield) was on stage with President Trump at the Doubletree in Manchester on April 27 when the former president announced that more than 50 GOP House members had endorsed his candidacy. 
But on Thursday, Spillane told NHJournal he was pulling his public endorsement of Trump and backing Florida Gov. Ron DeSantis in response to Trump's treatment of the popular Fox News personality.
"I can no longer continue endorsing former President Trump," Spillane said. "I am officially withdrawing my endorsement, as his most recent attack on Kayleigh McEnany is beyond comprehension and explanation. Against my deepest hopes that Trump had learned some measure of control, he has attacked those who have been his staunchest supporters with no regard for their loyalty."
Spillane is the fourth state representative to flip from Trump to DeSantis in the past few weeks.
Trump slammed McEnany on his Truth Social account Tuesday night after an on-air report she made on Fox News regarding his poll numbers against DeSantis.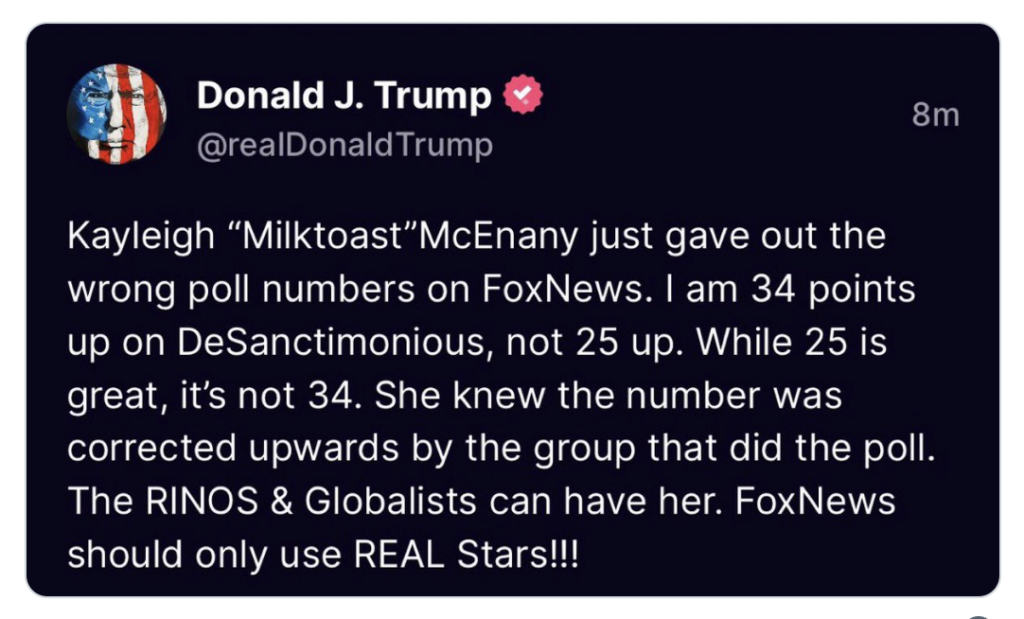 "Kayleigh 'Milktoast' McEnany just gave out the wrong poll numbers on FoxNews," Trump posted. "I am 34 points up on DeSanctimonious, not 25 up. While 25 is great, it's not 34. She knew the number was corrected upwards by the group that did the poll. The RINOS & Globalists can have her. FoxNews should only use REAL Stars!!!"
McEnany served as Trump's fourth and final White House spokesperson, including through the difficult COVID-19 period. She has repeatedly and publicly supported Trump over the past two years.
Trump's attack on such a loyal and outspoken ally inspired harsh backlash in New Hampshire's conservative and MAGA GOP circles, to the point that several local Trump supporters have been claiming Trump's post is actually a 'deep fake' from DeSantis.
"I've got [Trump] die-hards telling me they don't believe it, and they say it's fake, that he didn't post it," said Kate Day, a DeSantis supporter and former chair of Cheshire County Republicans.
For Spillane, Trump crossed a line with his own base of supporters.
"The people of New Hampshire, and the people of this nation, deserve messages of positivity and hope, not negative attacks and degradation as we have seen is the hallmark of the Biden administration," Spillane said.
"I cannot condone the vitriol and disregard for others that Trump has been exhibiting, and I withdraw my endorsement immediately. I am endorsing Ron DeSantis for president in 2024. I pray for the nation that DeSantis remains true to his positive messaging and continues on to win the Republican primary with his vision of positive American success," Spillane said.
The DeSantis and Trump camps have been playing endorsement tug-of-war for weeks. One state representative, Juliet Harvey-Bolia (R-Tilton), started as a Trump backer, switched to DeSantis, and when confronted over her reversal, claimed she was endorsing both candidates. Harvey-Bolia is now back with Trump, she said.
Spillane's announcement comes as DeSantis is campaigning across New Hampshire with stops in Laconia, Rochester, Salem, and Manchester.