The latest Morning Consult poll of President Trump's state-by-state approval has political observers again asking: Why does the Trump campaign keep talking about New Hampshire?
For weeks the Trump campaign has been talking about "expanding the 2020 map" and targeting a handful of states he lost to Hillary Clinton in 2016. Politico reports that "Trump officials are zeroing in on New Mexico, Nevada and New Hampshire." This echoes previous public comments from Trump 2020 campaign chair Brad Parscale, who said on Face The Nation: "I think New Mexico is in play in 2020. I think New Hampshire. I think we continue to grow the map. I think Nevada. Even Colorado."
RNC Spokesperson Nina McLaughlin told NHJournal today that Trump is "in a strong position to carry New Hampshire especially when contrasted with the socialist approach espoused by 2020 Democrats." And during a Granite State visit in April, Trump's daughter-in-law, and campaign advisor, Lara Trump told NHJournal that Trump "is laser-focused on winning here."
"We fully expect to win New Hampshire in 2020," she said.
If Trump does win New Hampshire, he would certainly be exceeding current expectations. According to Morning Consult, Trump remains extremely unpopular with New Hampshire voters with just 39 percent approval and 58 percent disapproval. "Since Trump took office, his net approval in New Hampshire has decreased by 20 percentage points," Morning Consult reports.
Being -19 in any state is bad, but for an incumbent Republican president in New Hampshire, it's terrible. As the data-analysis site FiveThirtyEight notes, when compared to the partisan lean of the state (which they claim is GOP +2), Trump is underwater by -21 in the Granite State — one of his five worst performances in the country.
In fact, of the states mentioned by the Trump campaign as targets to flip from blue to red, New Hampshire is by far Trump's worst, based on current polling and partisan lean:

"Every penny Trump spends in New Hampshire on such a fool's errand is money not spent in a winnable state," New Hampshire Democratic Party Chairman Ray Buckley tells NHJournal. "No poll has shown Trump with a 50 percent approval in NH since his election."
And even if Trump's approval were higher, Buckley believes Democrats would have the upper hand in New Hampshire.
"No Republican presidential nominee has received 50 percent or more of the vote here since 1988 when the New Hampshire GOP was strong and the Democrats were disorganized — the opposite of today," Buckley said.
His GOP counterpart, Steve Stepanek, believes Buckley's got it all wrong. He tells NHJournal:
"The New Hampshire Republican Party and our allies are building a grassroots operation in New Hampshire that will target disenfranchised potential voters to get them out to vote in 2020," he said. "Republicans are committed to winning New Hampshire this cycle, and the contrast between President Trump and the out-of-touch candidate the Democrats nominate in 2020 will be stark."
Stepanek, like most Trump backers in New Hampshire, also dismisses the polls, pointing out that the general election is still 17 months away and, they say, the polls completely blew it in 2016.  There's no debating the calendar, but a review of the polling in the final week of the 2016 campaign shows that, for the most part, the polls accurately predicted a close race in the Granite State: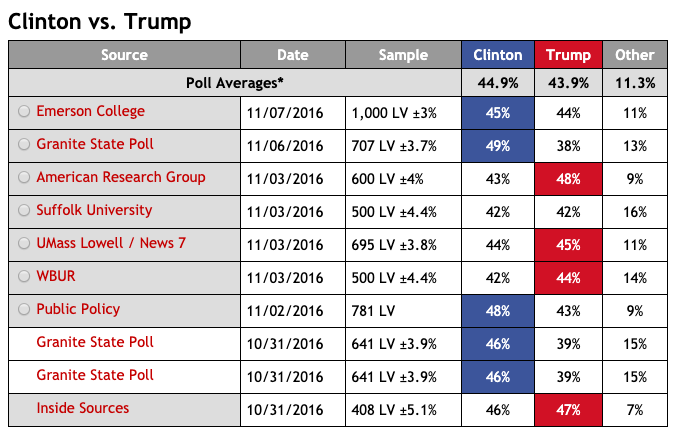 By every objective measure, Trump has an uphill climb in the Granite State. However, not all Democrats are as sanguine about 2020 as Buckley. His predecessor, Kathy Sullivan, tells NHJournal that "Democrats rarely get a 'gimme' in New Hampshire. It's almost always close. And Republicans still have a lead in voter registrations over Democrats, though there are more unaffiliateds than either one."
So does Donald Trump have a chance to pick up these four Electoral College votes?
"That's why we have elections. You never know," Sullivan said.