Coronavirus may have trapped thousands of Granite Staters in their homes, but according to Team Trump, their campaign to re-elect the president here in New Hampshire has hardly slowed down.
Like millions of Americans, the Trump campaign (aka "Trump Victory") has been forced to transition to the internet. Boots on the ground and neighborhood door-knocking have been replaced with Zoom online training sessions and app-driven voter phone calls. They believe it's working.
"Our grassroots army isn't slowing down or stopping. Instead, we are adapting to continue the work we have been doing to benefit both President Trump and GOP candidates up and down the ballot since 2016," Chris Carr, Political Director of Donald J. Trump for President told NHJournal. "Pivoting to a completely virtual focus within 24 hours is unprecedented, and it only highlights the strength and ingenuity of the team that will lead us to victory this November."
And, Trump Victory staffers in the Granite State say, they've got the numbers to back it up. During their national week of training, which ended on March 19, Trump volunteers nationwide made 1,782,776 calls — more than they had in all of 2018 at this point. One reason for the boost in numbers is an impressive phone app that guides volunteers through their calls. No more lists of names and phone numbers on a clipboard, says RNC spokesperson Nina McLaughlin. The Trump Victory tech is simple and intuitive, part of a $350 million data operation.  And the campaign is using the (now ubiquitous) Zoom website to train volunteers remotely on how to use the app.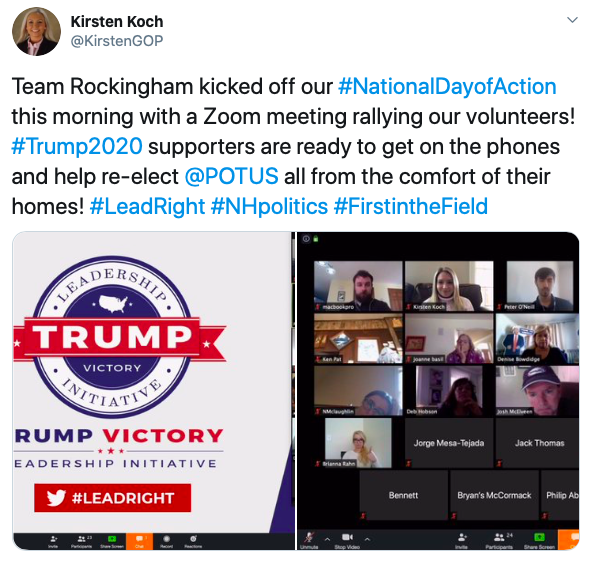 "Joe Biden spent four days in his basement figuring out how to set up a Facebook Live stream. In 24 hours, we transitioned entirely to virtual training from home," McLaughlin said. "It's been a huge success thus far."
Not that the campaign is ignoring the coronavirus — far from it. "When we call voters, the first thing we do is check in. We ask them, 'How are you doing? Is everything OK?' We talk to them about [coronavirus] resources at their disposal here in New Hampshire. Then we share with them some of the things President Trump is doing to combat the coronavirus pandemic and ask for their feedback.
"And in every call we remind people — wash your hands, social distance, sanitize. It's a specific message for a specific time," McLaughlin says. And when volunteers call and get a voicemail, the app allows them to leave the targeted voter a special recorded message:
"Hi, this is Lara Trump. I am calling to give you an important update on President Trump's response to COVID-19, the Coronavirus, and provide important information on how you can help slow the spread of the coronavirus as we all work together to keep America safe," the president's daughter-in-law says in the recording. She, too, reminds Granite Staters to "practice social distancing…and wash your hands," and sends them to Coronavirus.gov for more information.
According to the campaign, they're training new, local volunteers nearly every day. Based on Trump's latest poll numbers in New Hampshire, he's going to need it. In the latest ARG poll, Trump is underwater here by 12 points: 41 percent approve, 53 percent disapprove. In the latest UNH poll — taken the same week as the Trump campaign's national week of training — Trump is in even worse shape: 41 percent approve of his handling of the crisis, while 57 percent disapprove.
Still, if the campaign's numbers are correct and they've made 175,000 voter contacts here in New Hampshire (the national campaign's one-millionth door was knocked here, McLaughlin says), Trump could be within striking distance on Election Day. Given how close he came in 2016, Democrats have to assume New Hampshire is in play.
"When we call, voters tell us they are very appreciative. They are supportive of the president and the fact that we've reached out to them," McLaughlin says.
"I truly believe what Trump Victory is doing is unprecedented. It's historic."