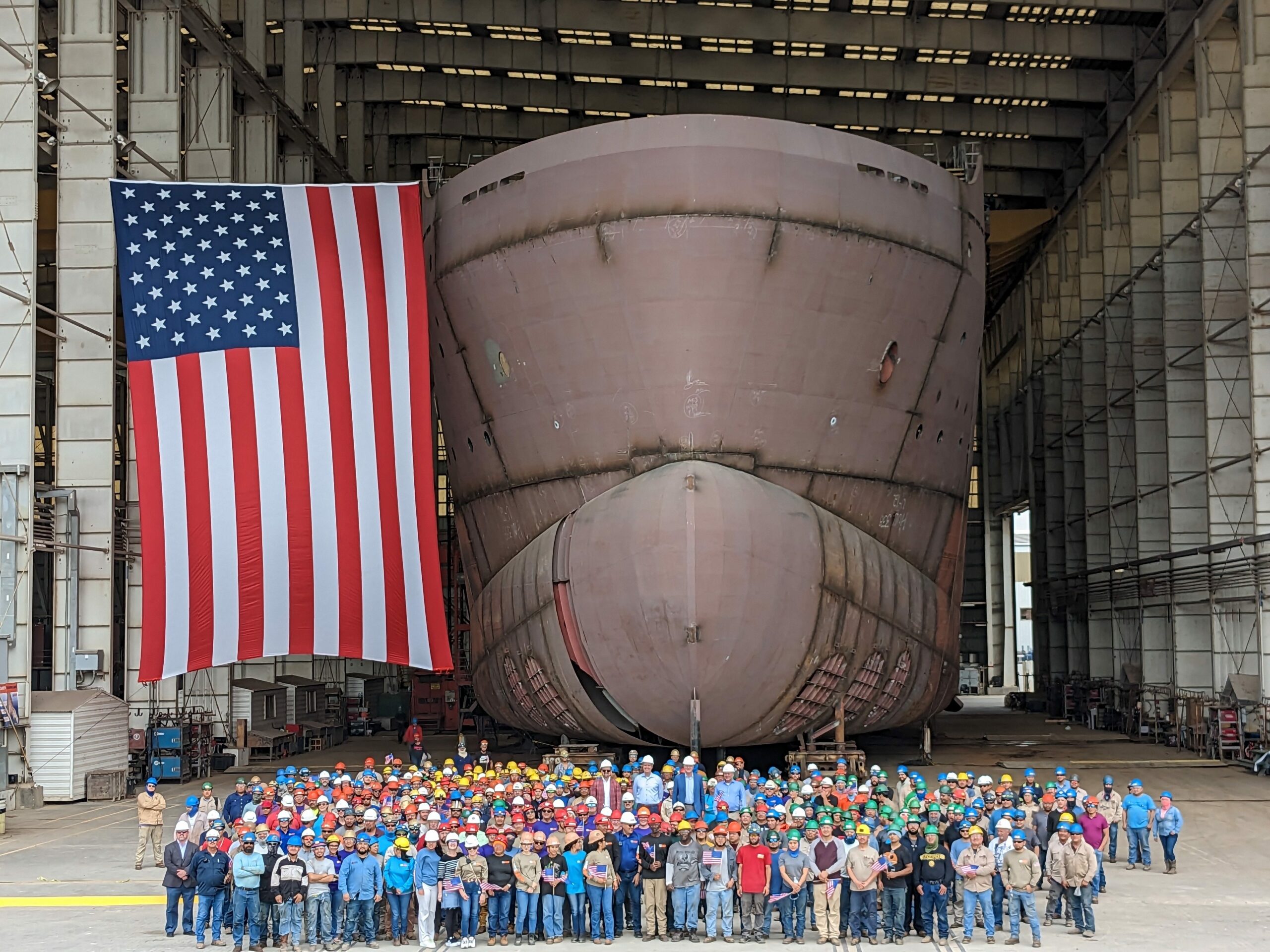 A new ship that will function as an at-sea headquarters for the workers maintaining some 200 wind turbines off the New England coast is nearing completion, part of an Eversource project to expand the reach of renewable energy in the region.
The Eco Edison, a 262-foot-long service operations vessel, is more than halfway built at the Edison Chouest Offshore shipyard on the Gulf of Mexico in Louisiana. Once launched, the ship will be a floating, year-round home base for 60 of the first American offshore wind turbine technicians. They will work at sea over the life of the wind farms, servicing and maintaining the wind turbines. 
It's a big step toward Eversource's renewable energy goals, according to Mike Ausere, Vice President of Business Development at Eversource.
"Offshore wind is a key driver of economic growth, creating well-paying jobs in states across the country and forging a new, domestic supply chain that, together, will position our nation as a global leader in the industries of tomorrow, today," Ausere said.
The Eco Edison, built by Edison Chouest, is a first-of-its-kind vessel to serve the crews who work on and maintain wind farms. 
The ship will be crewed by around five dozen workers drawn from the northeast region to which it will be providing power. The onboard technicians, who the company says will work two weeks on/two weeks off schedules, will have access to on-ship entertainment and recreation facilities, including a gym and a movie theater.
Eversource partners with Ørsted, a leading offshore power supplier, to bring power from several Northeast wind farms. The two companies are investing hundreds of millions into the new shipbuilding venture to service those projects.
Ausere said the Eco Edison is, as long as the Superdome is tall, able to host 60 wind turbine technicians–all of whom will benefit from the vessel's state-of-the-art accommodations to keep them safe and well-cared for while at sea; and ready to support the long-term operations and maintenance of Eversource and Ørsted's portfolio of offshore wind farms.
Eversource's current lease with Ørsted is for 4,000 megawatts, with the option to double that amount. That means the Ørsted partnership can power up to 2 million homes in New England. Ørsted's wind farms are currently located in New Jersey, Rhode Island, New York, Maryland, and Connecticut.
Eversource is also working with Sunrise Wind and Revolution Wind on wind farm projects off the Massachusetts coast that will generate more power for customers.
The large-scale renewable energy projects represent significant investments and new jobs in a readily growing industry, said David Hardy, the executive vice president, and CEO for America at Ørsted.
"This first American service operations vessel represents the ingenuity of businesses like Edison Chouest to build upon their legacy in offshore energy and to supply a cutting-edge vessel that will allow workers to safely and effectively operate offshore," Hardy said. "The offshore wind energy industry is utilizing the talented and expert Gulf Coast workforce, and we're proud that this first-of-its-kind vessel will support the production of more American energy, strengthening our national security and powering millions of American homes." 
Renewable energy currently comprises just over one-fifth of all electricity generation sources in the U.S., according to data from the Department of Energy. Fossil fuels—overwhelmingly coal and natural gas—make up 60 percent of the U.S. energy profile.
Wind, meanwhile, represents nearly half of the total U.S. renewable electricity capture, with 10.2 percent of renewable energy coming from wind farms. Hydroelectric comes in second at 6.2 percent.