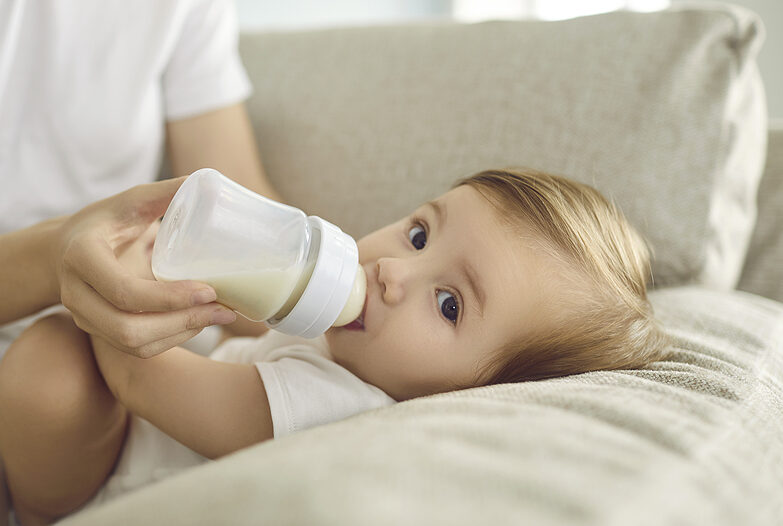 Matt Mowers, his wife Cassie, and their 10-month-old son Jack got up early on Mother's Day and rushed to their local drugstore on a mission: Find one of the last few available containers of baby formula. 
"She literally ran into CVS while I waited in the car with Jack. Happy Mother's Day," Mowers said.
The Mowers family has been scrambling for baby formula for months, and the situation keeps getting worse. Mowers, who is running in the GOP primary to unseat Democratic U.S. Rep. Chris Pappas, has been using his downtime on the campaign trail to search for baby formula. One recent day of campaigning had Mowers checking three different stores in three different towns. And he still came up empty-handed.
"It's very difficult to find what he needs," Mowers said. "We usually use one of the sensitive formula brands because it's easier for him to keep it down."
The Mowers family isn't alone. Nationwide, 40 percent of baby formula brands are now simply out of stock. Major retailers are restricting the amount of baby formula people can buy. The shortages and buying limits reverberate to people in desperate circumstances.
Alyssa Dandrea, with the New Hampshire Coalition Against Sexual and Domestic Violence, said women with infants who flee an abusive home for a shelter don't have the formula they need.
"We've heard from our crisis centers throughout the state that survivors are having an increasingly difficult time finding baby formula for their children," Dandrea said. "Although not all of our programs have infants in shelters, advocates shared that new store policies now limit how much formula one person can buy and that has added to this challenge. Survivors of domestic violence already face so many economic barriers, and the lack of food and other essential products present additional challenges for survivors seeking to reestablish their lives."
Kevin Daigle, president and CEO of the New Hampshire Grocers Association, said customers are anxious as the supply is inconsistent.
"It's hard to come by. Grocers are getting customers out there inquiring about it, and they're worried and concerned. They're not able to get their hands on it," Daigle said.
While there are the familiar COVID-19 supply chain issues, like labor shortage and supply chain slowdowns, Daigle said there is more to the baby formula crisis.
A big part of the problem is the February recall that shut down a major manufacturer, Abbott Nutrition. It makes formula under several brand names, including generic brands. After the bacteria Cronobacter sakaaakii was found in one brand, Abbott shut down its Michigan plant. It still has not reopened.
"They still haven't found the sourcing for it," Daigle said.
However, Daigle said, the problems with the baby formula supply were known before the recall. Inflation and difficulty in sourcing ingredients were already impacting the industry.
Economists lay part of the blame at the feet of the federal government — in particular the Women, Infants and Children (WIC) program that supplements food for poor families. As part of the program, WIC essentially subsidizes the baby formula industry, warping the free market in the process.
"The overarching problem is that price signals in the baby-formula market don't work well to begin with," wrote National Review's Dominic Pino. "A 2010 study from the USDA's Economic Research Service estimated that 57 to 68 percent of all baby formula sold in the U.S. was purchased through the Special Supplemental Nutrition Program for Women, Infants, and Children (WIC)" Pino wrote. "That means over half of the baby formula that's consumed in the U.S. isn't really bought and sold on a free market at all."
Libertarian Reason magazine finds the government's trade and tariff policies also partially to blame. Tariffs mean key baby formula ingredients are too expensive for American manufacturers, and American consumers are locked out from buying formula made overseas because of FDA regulations.
"Last year, for example, the FDA forced a recall of approximately 76,000 units of infant formula manufactured in Germany and imported into the United States. The formula wasn't a health or safety risk to babies but merely failed to meet the FDA's labeling standards. In this case, the products were banned for not informing parents that they contained less than 1 milligram of iron per 100 calories," Reason states.
President Joe Biden's administration claims it will solve the problem by having government officials working with manufacturers to ramp up production.
Mowers said his family goes through at least one container of formula a week for their baby and prices have more than doubled. He recently paid about $30 for a 32-ounce container of baby formula.
"We try to be careful. We don't want to buy out the store because you want to leave some for other families. But that means every week you're always running around looking for it," Mowers said.
They tried doing an internet order, but that hasn't worked either.
"We're waiting weeks for one can," he said.
Mowers said the last time he experienced a baby formula shortage was his time working in the State Department and the U.S. was getting food aid to Venezuela.
"This is something you see in failed states, not America," Mowers said. "The FDA should have seen it coming. The recall happened in February, and they knew it was going to lead to shortages. This isn't getting any better."