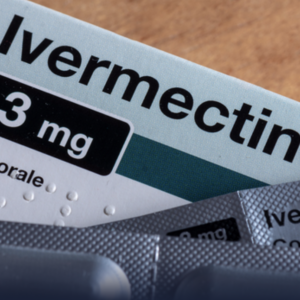 A state House committee Tuesday debated a proposal to allow Granite Staters to get the anti-parasitic drug Ivermectin without a traditional doctor's prescription. The drug has been embraced by some Americans, particularly in the anti-vaccination community, as a treatment for COVID-19, despite the lack of supporting evidence.
"Ivermectin is not indicated to treat COVID-19 and prescribing it for such is dangerous and totally out of line with standard of medical care around the world," Dr. David Levine of Dartmouth-Hitchcock Medical Center said in written testimony to the House Health, Human Services, and Elderly Affairs Committee. "I would never want this medication prescribed to myself or my family and would take legal action against anyone who recommended this to my loved ones."
The committee heard testimony on HB 1022, which would allow doctors or advanced practice registered nurses to issue standing orders to pharmacies that allow patients to get Ivermectin to treat COVID-19 without first seeing a doctor. The law, co-sponsored by Rep. Leah Cushman (R-Weare), would also prohibit pharmacists from discouraging the use of Ivermectin to treat COVID-19. The bill further prevents medical professionals from being punished for administering Ivermectin for COVID-19.
New Hampshire doctors and hospital officials made their opposition clear.
"Ivermectin is not authorized or approved by the FDA for use in preventing or treating COVID-19. While the effectiveness of Ivermectin relative to COVID-19 is currently being assessed through clinical trials, we cannot overlook the fact that the Centers for Disease Control and Prevention (CDC), the Food and Drug Administration (FDA), and the National Institutes of Health (NIH, as well as other federal agencies charged with protecting public safety,) have all stated that Ivermectin is not recommended to prevent or treat COVID-19," Steve Ahnen, president and CEO of the New Hampshire Hospital Association, said Tuesday.
Dr. William Palmer, governor of the New Hampshire Chapter of the American College of Physicians, added another issue. "I would also be concerned, given how overwhelmed our New Hampshire healthcare system is, about where patients go and who will cover the care for any Ivermectin-induced side effects," he said in written testimony. "Please vote this bill down."
The pro-HB 1022 side did bring a doctor to testify, Dr. Paul Marik with the Front Line COVID-19 Critical Care Alliance. Marik falsely claimed the COVID-19 vaccines were responsible for 200,000 deaths during his testimony, and he recommended taking vitamin D in order to ward off COVID-19.
Marik recently resigned his position as Professor of Medicine and Chief of Pulmonary and Critical Care Medicine with Eastern Virginia Medical School after he was reprimanded by the Virginia Board of Medicine for prescribing drugs like phenobarbital, oxycodone, tramadol, alprazolam, and diazepam to people who were not his patients, according to news reports.
Some members of the left-leaning media have inaccurately described the drug as a "livestock dewormer." In fact, the drug is widely prescribed to humans to treat parasitic diseases like river blindness. In 2015, two key researchers in its development won the Nobel Prize for their work.
Rep. Jerry Knirk (D-Freedom), who is also a doctor, told the committee that while Ivermectin is a good drug to deal with parasites, it is not proven to work against COVID-19. He worries that allowing people to use it for COVID-19 might result in the infected not getting appropriate medical care in time.
"I have nothing against Ivermectin. But there is no credible evidence that it is effective," Knirk said.
Knirk added people are much better off getting vaccinated against COVID-19 than experimenting with Ivermectin.
The Union Leader reported Monday that former conservative state Rep. JR. Hoell and his family are under investigation by the Division of Children, Youth, and Families after Hoell treated his children with Ivermectin when they had COVID in late November. DCYF has been attempting to take custody of Hoell's two minor children since early December when a nurse practitioner reported Hoell's ivermectin usage to the agency, the paper reported.
Podcaster and comedian Joe Rogan, a vaccine skeptic who trades in misinformation about the pandemic, treated himself with Ivermectin and other drugs prescribed by his doctor last year after he contracted the virus. At the time, Rogan was mocked in the media for taking a "horse drug."