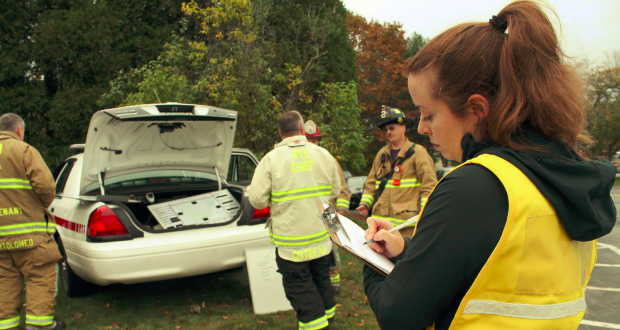 As the nation reels from another school shooting, New Hampshire's fund to improve security in public school buildings is nearly empty. 
The Public School Infrastructure fund spent close to $30 million since its inception in 2018. While there is a little more than $2 million left in it, no more grant applications are being accepted and any major reinvestment is yet to be formally approved.
That may change as the Public School Infrastructure Commission is set to meet next week for the first time since 2020 to decide on possibly continuing the program.
"New Hampshire has been quietly funding school building security upgrades for years, at the state and local levels, and we've made some real progress. But there's a lot left to do," said Drew Cline, chair of the state Board of Education.
The Public School Infrastructure Commission approved hundreds of grants to schools to pay for things like improved security cameras, stinger doors and windows, and other facilities improvements to make schools more secure. The fund was created as part of Gov. Chris Sununu's efforts to make schools safer following the Parkland, Fla. shooting when 17 people were killed by a lone gunman who entered the school building.
Sununu put together a task force to study school safety issues. It found many old buildings where Granite State children learn are outdated when it comes to basic life-safety features. The report also found a need to create more secure entries at the schools so staff can control who gets in and who stays out.
"Facilities upgrades focus on controlling access to the school, identifying the people in the school, and slowing the progress of an assailant while help arrives. It is important to note that creating a more secure school has benefits beyond the physical safety of staff and students. Research shows that students have a fundamental need to feel safe in school, and they derive that feeling in part by feeling physically protected from threats. In this way, a mental health benefit is derived from increasing school security," the task force report states.
Sununu told NH Journal he wants to see more money put toward making schools safer.
"From our historic school safety task force report to our first-of-its-kind $30 million fund to help every school strengthen safety in their schools — ensuring kids can be safe in school has been a priority for years, and we are committed to making additional investments in order to keep our children safe," Sununu said.
It's not "mission accomplished" yet. New Hampshire schools continue working on their safety plans and districts make regular updates to the state.
"You simply cannot put a price on a life, whether that is a child or an educator," said Department of Education Commissioner Frank Edelblut. "School districts have made great strides to produce safe and secure buildings, expand preparedness resources, implement new technologies and offer training – all to ensure that."
Schools are required to submit Emergency Operations Plans to the state for review, and Edelblut said that has been part of the plan to enhance security and safety in New Hampshire schools.
"Safety is neither reactionary nor an afterthought in New Hampshire and keeping our children safe is the absolute number one priority," Edelblut said.
Details are still emerging from the Robb Elementary School shooting, where a lone gunman armed with an AR-15 rifle shot dozens of students, killing 19 children and two teachers. There have been conflicting reports about the initial response, but it appears he was able to barricade himself in the school building for close to an hour as heavily armed police stood outside the building.
The political debate after the shooting is following the familiar script, with Democrats calling for more gun control and ignoring solutions to the terrifying issue.
The Florida commission that investigated the mass shooting at Marjory Stoneman Douglas High School recommended some teachers be allowed to carry firearms during the school day, an idea that U.S. Rep. Chris Pappas (D-Manchester) mocked when it was broached after the Parkland shooting.
"I can't think of a more ridiculous idea than what's been pushed by the Trump administration and Betsy DeVos to use federal dollars to arm teachers," Pappas said.
Former Chief Justice John Broderick, who served on the task force, said that while New Hampshire schools have become safer over the last few years, the real danger is being ignored.
"The problem with school shootings is almost always social-emotional health," Broderick said.
Broderick is a mental health advocate and has talked to students at hundreds of middle schools and high schools about mental health. He said a shockingly high number of students deal with depressing and suicidal ideation.
"We invest a lot of money, in every state in the country, in failure," he said. "I mean we spend a lot of money building bigger jails and prisons, and usually by the time people get there a lot of damage has been done."