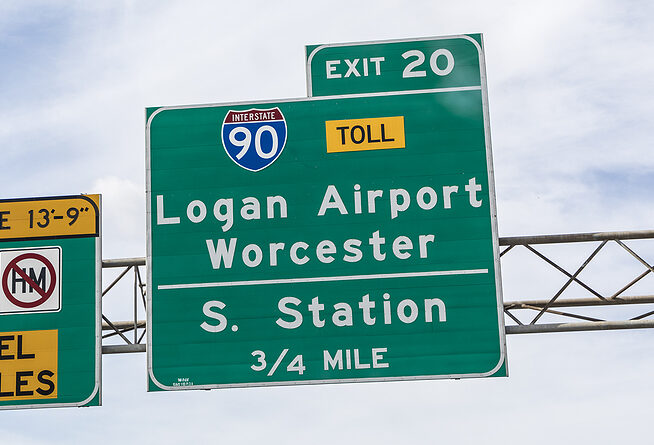 As frustrated travelers trying to catch flights out of Boston's Logan International may already know, the airport rates as one of the worst among major airports when it comes to delays. An analysis by the Family Destinations Guide, using data from the Bureau of Transportations Statistics, ranked Boston the ninth worst in the nation.
According to federal data, nearly a quarter of all flights leaving Logan were delayed (22.9 percent), compared to top-performer Salt Lake City, where 85 percent of departures were on time. And nearly four percent of Logan departures were canceled entirely, the third-highest rate on the list.
Logan spokeswoman Jennifer Mehigan said Logan's delay rate isn't that bad, relatively speaking.
"When you look at Logan's 22.9 percent delay rate, we did better than a number of other airports," Mehigan said.
Orlando International Airport was the worst in 2022, with a delayed rate of close to 29 percent of all flights, followed by Newark Liberty International at 26.5 percent. Newark also has the highest cancellation rate: 5.94 percent of all flights.
Defenders of Logan note Boston flights must contend with brutal northeastern winters. "We can't control the weather," Mehigan said.
But snow is hardly an oddity in Utah, Minneapolis, or Detroit, three of the best-performing big airports.
At the same time, smaller New England airports also struggled to get flights out on time.
Manchester-Boston Regional Airport had a 24.16 percent delay rate in 2022, and a cancellation rate of 4.26 percent according to federal data. Both are higher than Boston Logan.
TF Green International Airport in Providence left flyers waiting 23.69 percent of the time, but it had a lower 3.79 percent cancellation rate.
Christina Lawson, spokeswoman for Manchester-Boston Regional, said the New Hampshire airport still offers good service despite the delay rate. The ability to fly out of an airport in New Hampshire, rather than having to first get to Boston or Rhode Island, is also a big plus, she said.
"In the winter, MHT is often open and operational during bad weather that can cause other airports to divert or delay flights," Lawson said. "Choosing to fly MHT allows our passengers ease of travel and a higher confidence that their trips will go according to plan. Our passengers don't have to worry about traffic or long lines—MHT is easy to get to, easy to get through, and makes it easy to get going."
Another challenge is the fact that New England's flight paths are in the northeast corridor, which is among the country's busiest airspaces Mehigan said.
"The volume is typically high and it's another thing we don't have control over," Mehigan said.
Combining the high volume in the northeast and the fact that most air carriers don't generally have direct flights, favoring the use of hub airports to connect travelers, a delay in another part of the country can spell trouble for people flying out of Logan, Mehigan said. Logan officials try to let customers know as soon as possible about possible issues that could slow them down.
"For travelers in New England, we'd like them to be educated. If there's a major storm in Florida, we get the message out to Boston passengers about potential delays," Mehigan noted.
Given the regional challenges, Mehigan said some delays are a fact of life for flyers. That's why Logan is serious in its effort to at least make the wait nicer for people who are delayed.
"The things that we can control, we have been improving the customer experience while they are at the airport is a large priority for us," she said. That means faster, more secure WIFI, enhanced options for food and drinks, art displays, and even activities for children
"We're constantly trying to think of what could make a better experience for our passengers if they do get delayed at the airport," Mehigan said.