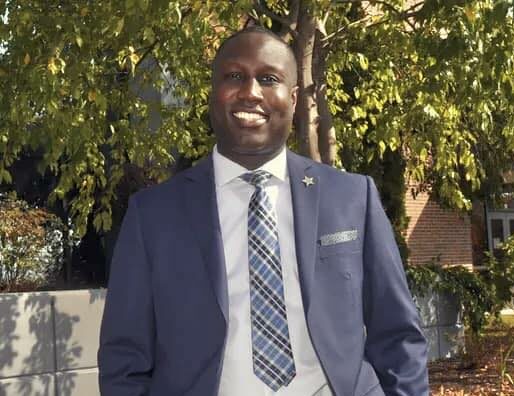 Jamie Brave, the wife of progressive Strafford County Sheriff Mark Brave, is in trouble with the law after she was arrested this weekend for driving drunk. 
Jamie Brave, 44, was stopped in the early morning hours on Saturday as part of a New Hampshire State Police saturation patrol of the Portsmouth area, according to a State Police release. Jamie Brave was one of 11 people charged during the special operation, and she is charged with driving under the influence of alcohol.
Neither Jamie nor Mark Brave responded to a request for comment.
Mark Brave (D-Dover) became the first Black sheriff elected in New Hampshire's history when he beat Republican Paul Callaghan in 2020.
As a candidate, Mark Brave told Seacoast Online when he was elected that his top three priorities were "open the dialogue with the community and the social services the office can help provide; increase transparency through things like implementing body-worn cameras for the office's civil unit, which he'd then use as a community response team to support local school resource officers; and community policing efforts."
Brave also signed a list of demands created by the Seacoast chapter of Black Lives Matter regarding policing policy. Among the demands are:
No more school resource police officers.
Banning the possible use of tear gas.
Government monitoring of police officers' personal Facebook, Instagram and other social media accounts for "threatening or potentially violent posts."
Ending qualified immunity, stripping police of protection from lawsuits.
However, Brave said he did not support all of the demands on the list. He has said he does not support removing police from schools — he would like the sheriff's office to help small towns add their first school resource officers — and he only wants qualified immunity "reexamined," not eliminated.
And the new sheriff did not want to end the controversial practice of transporting people detained by U.S. Immigration and Customs Enforcement and holding them at the county jail.
According to the Rochester Voice, the specific location and circumstances of Jaime Brave's arrest were not disclosed by State Police.
The high-visibility DUI patrols, comprising NHSP Troop A Barracks, the New Hampshire State Police Special Enforcement Unit, and Portsmouth Police Officers, were conducted Friday night into Saturday morning. Such patrols are typically announced to the public and local law enforcement in advance.