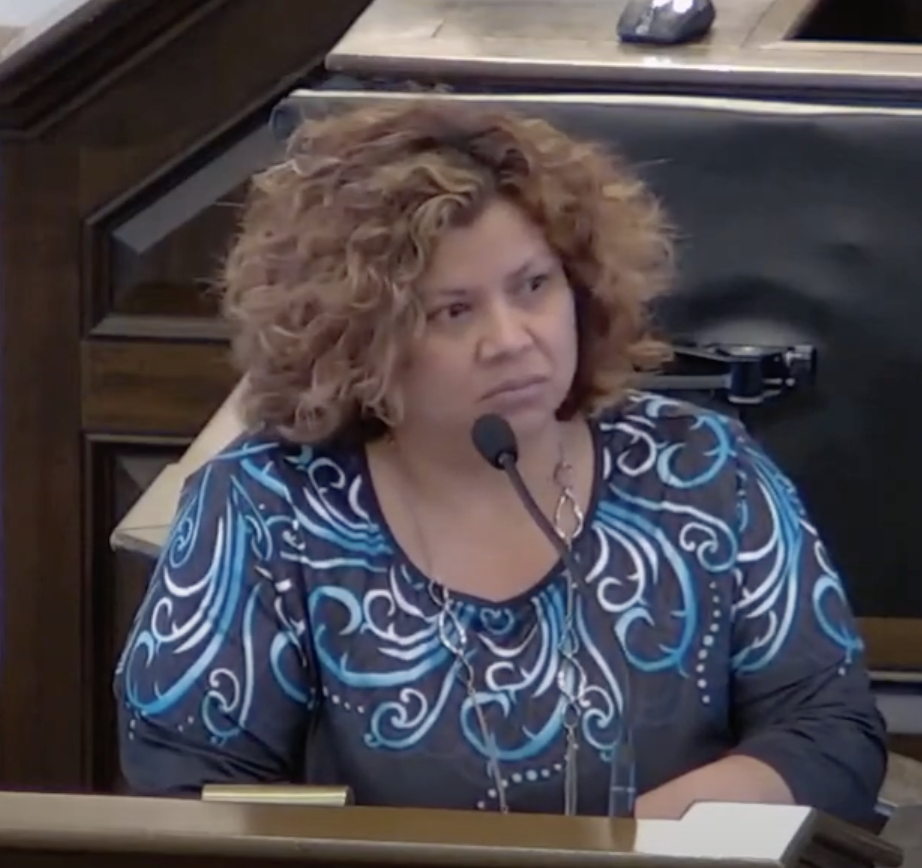 In an emotional speech from the floor of the New Hampshire House, Rep. Maria Perez accused members of the state's federal delegation of treating voters of color like "tokens" while supporting Trump-era immigration policies.
"I will say to the congressional delegation who's been criticizing the previous administration about going to the border and speaking negatively about immigrants — What happened to you? You tokenized us to talk negatively about the previous administration, but now you're utilizing immigrants to win some votes. Shame on you!" Perez said.
Perez echoed complaints from the New Hampshire Democratic Asian American Pacific Islander Caucus which is critical of U.S. Sen. Maggie Hassan and Rep. Chris Pappas' right turn on immigration.
"All of us feel like we're tokens," said Shideko Terai, a member of the New Hampshire AAPI Caucus. "This is not okay. You can't use us and abuse us."
According to multiple sources, leaders in the state Democratic Party have been pressuring Black and Brown activists to remain silent as Pappas and Hassan push for Trump-era immigration policies like building more of the border wall and continued enforcement of Title 42 authority against would-be migrants at the U.S.-Mexico border.
"I feel very disgraceful to calling myself a Democrat because a lot of Democrats have been calling people [of color] onto the carpet saying just to say 'do not go out in public, do not talk about it,'" Perez said Thursday. "Shame on you! Shame on you for trying to silence our voices."
Terai says she received the same message from Granite State Democratic Party leaders. "I was told, 'We have to be really careful. We need Sen. Hassan's fundraising,'" Terai said.
Last week, the New Hampshire Democratic Party Latino Caucus resigned from the party en masse over Hassan and Pappas's new policies. Now, Perez said, it is a non-partisan organization promoting issues important to her community.
"I had to take a hard decision for my caucus to leave the NHDP," Perez said. "We left the executive committee of the Democratic Party because my caucus doesn't feel welcomed by the Democratic Party. I believe our community has been tokenized, and it's time for us to win the respect."
Hassan's reversal on immigration, from repeatedly voting against Trump's border wall to calling for more of it to be completed, has caught the attention of national media. According to Politico, Hassan is one of a handful of embattled Senate Democrats whose prospects for re-election are in trouble and are trying to distance themselves from Biden and his policy.
"On social media, where they shy away from praise of the president and instead focus on their efforts to prod the White House to action, it's hard to tell they've voted in line with Biden no less than 96 percent of the time," Politico reported Thursday. And, they add "Democratic operatives" say Hassan is making the right move politically by supporting tougher immigration policies, "even if it's at the expense of alienating some progressives."
Some of those progressives at the national level are speaking out.
"Attn: Sen. Hassan. We need you in the Senate, but going after GOP anti-immigration voters and introducing a bill to keep Ukrainian and LGBTQ migrants out will lose you more voters than you gain," tweeted Douglas Rivlin, communications director with the progressive immigration group America's Voice.
In a later tweet, he added: "Sen. Hassan [is] defining Dems as the party in support of Stephen Miller's approach to excluding immigrants, and refugees."
Stephen Miller was President Donald Trump's lead immigration policy advisor.
New Hampshire's lead immigrant's rights advocate, Eva Castillo, is outraged by Hassan's pro-wall politics.
"It was a slap in the face for us Latino immigrants," said Castillo, director of the New Hampshire Alliance for Immigrants and Refugees. "She could have talked about anything other than the stupid wall.
"That's not an issue for a New Hampshire incumbent senator to be running on. I'm sick and tired of people playing politics with immigration, on both sides. And it's especially annoying when it's the Democrats that are supposed to be friendlier to immigrants," Castillo said.
Hassan apparently needs the help. A new UNH Survey Center poll found Hassan is in a statistical tie with her potential GOP rivals retired Gen. Don Bolduc, state Sen. Chuck Morse, and former Londonderry Town Manager Kevin Smith, despite the fact they have very little name ID.
Also problematic for Hassan: Just 35 percent of voters have a favorable view of the incumbent senator, while 51 percent view her unfavorably.