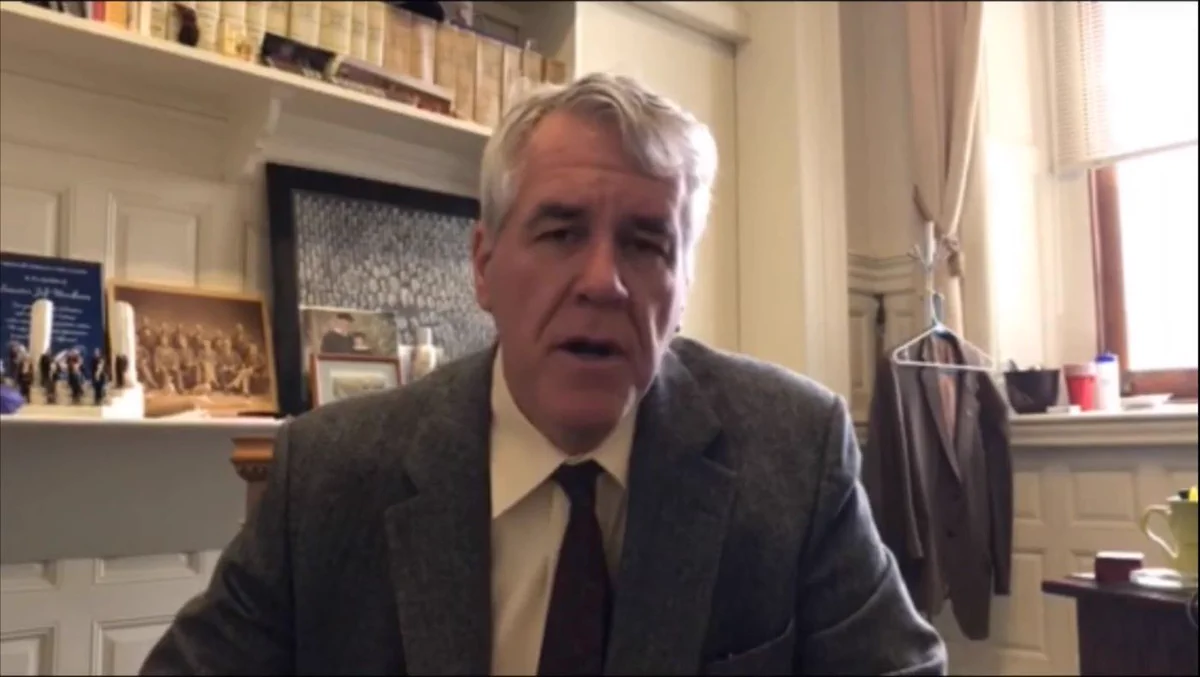 Disgraced former State Sen. Jeffrey Woodburn is not being allowed to introduce evidence that he claims shows the alleged victim had a history of causing the kind of fights that led to his alleged crimes.
Woodburn, once one of the highest-ranking elected Democrats in state government, continues to fight hard against the domestic violence charges that have hung over him since his 2018 arrest. He is heading for a new trial on one count of domestic violence and one count of simple assault after the New Hampshire Supreme Court ruled he was denied the ability to argue self-defense.
On Friday, Coos Superior Court Judge Peter Bornstein denied Woodburn's request to introduce evidence of prior instances that "physically interfered with his attempts to avoid conflict."
Woodburn's attorney, Mark Sisti, filed a motion to allow this evidence, even though it detailed incidents that predate the alleged violence for which he had originally been convicted. 
"Testimony concerning Jeff Woodburn's prior attempts to avoid conflict and the alleged victim's behavior about those attempts are admissible and relevant to his mental state at the time of this alleged offense," Sisti wrote.
Assistant Attorney General Zachary Wolfe's objection pointed out Sisti and Woodburn supply no details about this "vague, amorphous" evidence, making it impossible to counter in court or even prove they actually happened.
"The defendant's motion fails to identify not only the specific instances of conduct he wishes to introduce, but also any specific legal grounds justifying his request," Wolfe wrote.
While the Supreme Court ruled Woodburn can use evidence demonstrating his claim of self-defense for the actions covered in the trial, Bornstein wrote in his order that it does not open the door for what is essentially the unspecified evidence Woodburn is claiming.
"Among other things, the defendant has not identified any of the alleged victim's prior acts as to which he seeks to introduce evidence or the approximate date(s) on which he alleges occurred," Bornstein wrote. 
The simple assault and domestic violence convictions stem from Woodburn's violent actions related to three separate incidents, according to court records. In the first instance, Woodburn and the woman arrived in separate vehicles at a Dec. 15, 2017, Christmas party, and the woman agreed to drive him home so that Woodburn could drink at the party. During an argument on the drive home, Woodburn had the woman pull over, and during a struggle over his phone, he bit her hand, according to court records.
On Christmas Eve that same year, Woodburn kicked the door to the woman's house when she refused to let him inside. In August 2017, he reportedly kicked her clothes dryer earlier that year, breaking the appliance, according to court records.
The woman went on record telling Bornstein that at one point during one of her struggles with Woodburn, she tried to grab his phone without permission. Bornstein stated in court that it did not rise to the level of behavior allowing Woodburn's self-defense claims.
Woodburn's new trial on the two charges is slated for next year. The North Country Democrat has already been convicted on two counts of criminal mischief and is facing 30 days in jail. He is also free while he appeals Bornstein's August ruling denying a new trial on these charges.
Woodburn is just one of several Granite State Democrats embroiled in legal scandals. Strafford County Sheriff Mark Brave is on paid leave and facing charges of stealing tax dollars to pay for trysts with a series of paramours. Former state Rep. Stacie Laughton (D-Nashua) is in jail awaiting trial on child pornography charges. And two-time Democratic candidate for governor, former Portsmouth Mayor Steve Marchand, has just been called out for a second time by the state attorney general over illegal campaign tactics he used in local political races.
In addition, both U.S. Sen. Maggie Hassan (D) and the state Democratic Party are still holding on to cash donated to them by notorious fraudster Sam Bankman-Fried after he allegedly stole it from clients. Hassan and the NHDP were two of the top recipients of the more than $100 million in political campaign contributions federal prosecutors say Bankman-Fried made before the 2022 midterm elections.