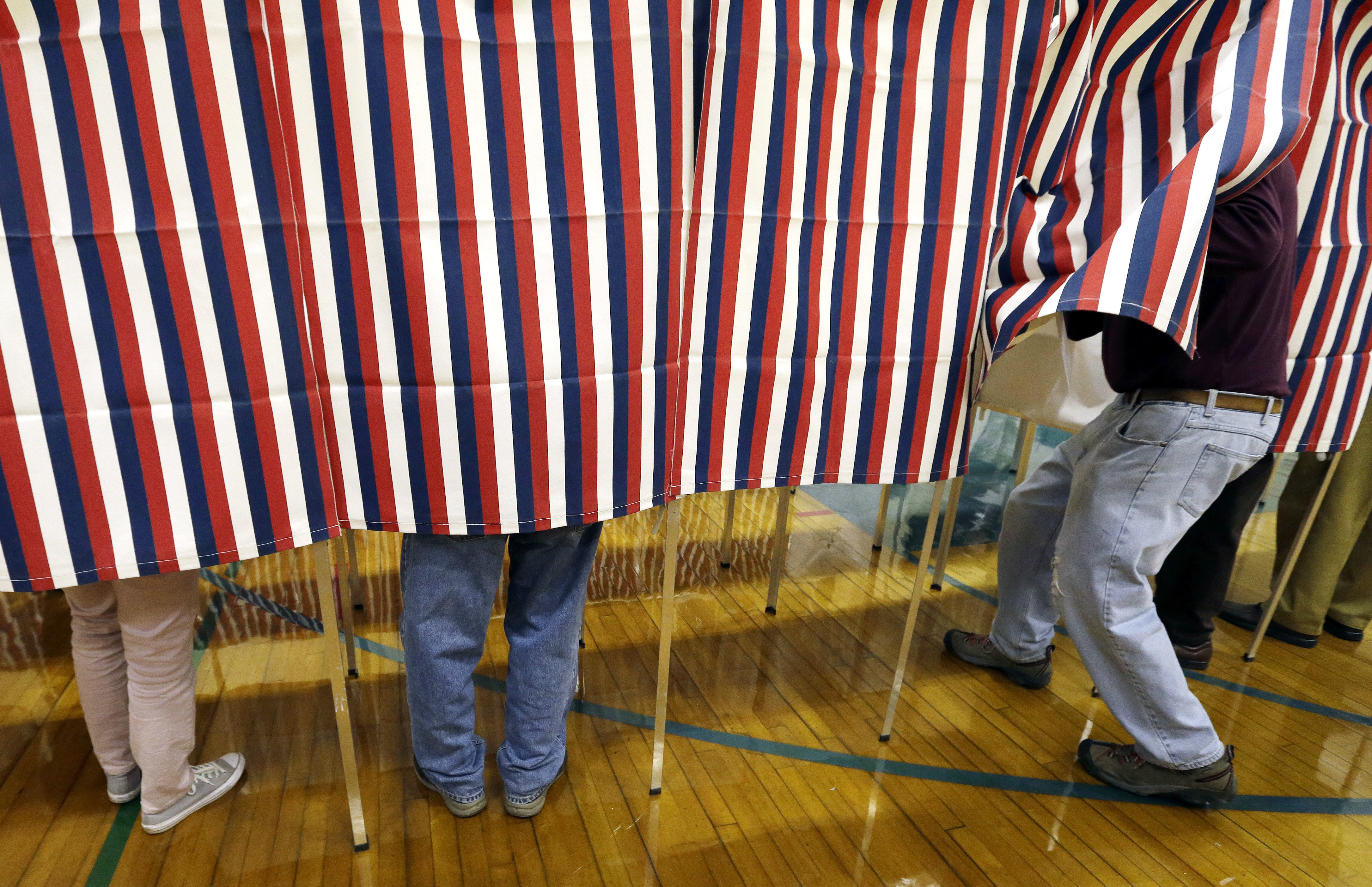 A Democratic member of the Federal Election Commission isn't going to let President Donald Trump go without providing evidence that there was voter fraud during the 2016 presidential election in New Hampshire.
In yet another letter to Trump, FEC Commissioner Ellen Weintraub is asking Trump to provide proof of his claim that thousands of Democratic Massachusetts residents were bused to the Granite State on election day to illegally vote against him.
"This allegation of a vast conspiracy, involving thousands of people committing felony criminal acts aimed at stealing the election, has deeply disturbed citizens throughout America," she wrote in a Wednesday letter. "I have heard from many of them, including proud and patriotic New Englanders who are shocked by the allegation and feel that it impugns their historic role in our democracy."
She also called on Trump in February to provide evidence for his voter fraud claim.
This latest letter adds fuel to the fire of what's already been a heated debate between Republicans and Democrats in New Hampshire when it comes to the state's election laws. In fact, the Senate is close to voting on a major bill that would close several of the state's voting law loopholes, according to Republicans.
The legend of Massachusetts voters busing into the Granite State to cast a ballot in our elections is not a new tale, but here's a quick timeline of events that led to this sweeping legislation:
Yet, it didn't stop there. Trump kept talking about voter fraud even after his presidential inauguration.
During a closed-door meeting between Trump, former N.H. Republican Sen. Kelly Ayotte, and 10 other senators to discuss U.S. Supreme Court nominee Neil Gorsuch, Trump reportedly started the meeting by discussing the election and voter fraud.  He claimed that he and Ayotte would have both won in the Granite State if not for the "thousands" of people who were "brought in on buses" from Massachusetts to "illegally" vote in New Hampshire.
Stephen Miller, a senior adviser to Trump, made the claim again in an interview with George Stephanopoulos on ABC's "This Week." He said: "This issue of busing voters in to New Hampshire is widely known by anyone who's worked in New Hampshire politics. It's very real, it's very serious."
Even recently, in a TIME Magazine interview published Thursday, Trump stood by his claim that three million undocumented people voted in the national election. He said: "Well now if you take a look at the votes, when I say that, I mean mostly they register wrong, in other words, for the votes, they register incorrectly, and or/illegally. And they then vote. You have tremendous numbers of people. In fact I'm forming a committee on it."
Many Republicans and Democrats are upset that Trump is pushing a false narrative and is making people question the integrity of the democratic voting process. However, his statement perfectly illustrates what his supporters and several Republicans believe is the problem with election laws in New Hampshire: The current laws make it difficult to charge anyone with voter fraud because what's legal here is usually illegal in another state.
Are there lots of illegal votes in NH? No.

Are there lot of legal votes from people who have no business voting in NH? Yes. #nhpolitics

— Greg Moore (@GregMooreNH) November 28, 2016
Hence, Senate Bill 3, which was introduced by Sen. Regina Birdsell, R-Hampstead, to address a lot of those concerns. Of course, the bill is divided on party lines — it's cheered by Republicans who say they are trying to tighten the process and ensure that those who vote in New Hampshire actually live in New Hampshire and criticized by Democrats who say the bill is a form of voter suppression.
One of the issues it focuses on is the definition of domicile, which varies from state to state, and the New Hampshire Legislature is trying to better define the difference between "domicile" and "residence" in this bill. Under current laws, the definition of domicile is "that place, to which upon temporary absence, a person has the intention of returning." Republicans think that's vague and allows campaign workers, who might be in the state for a month or so, to vote in New Hampshire, even if they plan on leaving after the election.
An incident occurred in the 2008 and 2012 elections when Sen. Martha Fuller Clark, D-Portsmouth, allowed Democratic staffers to live at her home. The staffers used her address to vote in the election, and since they were living in the state for at least three months before the election, the Attorney General ruled that it was legal.
Under the new bill, a person who registers to vote within 30 days of an election or on Election Day must show verification that a New Hampshire address is his or her domicile. That can be done by showing proof of residency at a college or university, driver's license, utility bill, among other forms. Those who do not show documentation can still register and vote by filling out a domicile affidavit and registration form, and provide the documentation within 10 or 30 days of Election Day, depending on the community. Someone could get charged with voter fraud if they fail to provide a document verifying his or her domicile within that window.
A previous version of the bill called for police officer to knock on doors to verify a voter's domicile, but that provision was taken out this week. The bill still allows municipal officials to visit those addresses or ask "agents" to do so.
The Senate Election Law Committee recommended Tuesday in favor of the bill by a 3-2 vote on party lines and it now heads to the full Senate for a vote.
Adding to the controversy, the Attorney General's office recently said investigations into thousands of affidavit voters who cast ballots in New Hampshire without identification during the 2012 and 2014 election cycles have been dropped due to the lack of manpower and money to complete the investigations.
How can the Attorney General and Secretary of State's office say there is no evidence of voter fraud if they aren't investigating every potential violation? That's what Republicans are asking.
Sununu's budget didn't fulfill the attorney general's request for roughly $93,000 annually to hire a full-time elections investigator. A Senate bill would provide about $500,000 to the Attorney General's office for with focus on elections, lobbying, and campaign finance law. That bill passed the Senate and is now in the House Finance Committee.
"No matter how you change it, there is not a problem in the state of New Hampshire," said Senate Democratic Leader Jeff Woodburn. "There's been a ruse of illegal voting, and Trump buses, and all of this business. This is nothing but a concerted national attempt to suppress voting and harass voters."
"This is not national trend legislation," Birdsell said this week. "This is homegrown here. It is something that is trying to address what some of our constituents are looking for."
The debate on this bill, and the discussion of voter fraud in New Hampshire, is far from over.