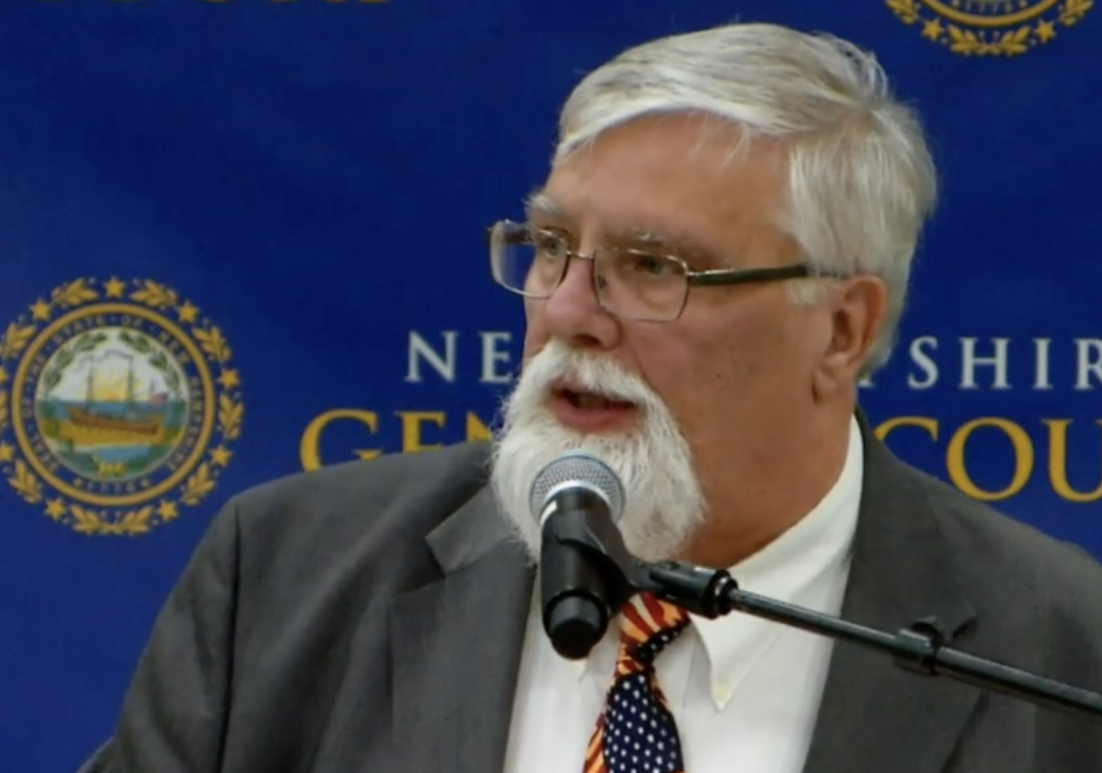 A national Democratic organization that works to win state legislative elections is targeting Concord with the goal of wresting control from the Granite State GOP. But despite its money and aggressive rhetoric, local Republicans say they aren't worried.
"Good luck with that," said New Hampshire GOP chairman Steve Stepanek, a former member of the House himself.
According to a report in the Daily Beast, the Democratic Legislative Campaign Committee (DLCC) is targeting legislatures in New Hampshire, Michigan, and Minnesota.
"We know what we're up against, but we are making a play to undercut GOP power in the Michigan House and Senate, the Minnesota Senate, and the New Hampshire House and Senate," DLCC President Jessica Post said on a conference call with reporters Tuesday.
And while Democrats pushing the plan are angry the Democratic National Committee has refused to fund their efforts, President Joe Biden came through with a direct fundraising appeal on the DLCC's behalf to help fill their war chest.
"State legislatures are the key to stopping Republican abortion bans, attacks on L.G.B.T.Q.+ rights, bills that undercut our democracy by making it harder for people to vote," Biden wrote in an email to the DLCC mailing list. "Not just that, state legislatures are essential — I mean it, essential — to lowering prices for American families and building an economy that works for everyone."
And, the DNC says, it is spending on federal races in New Hampshire and other swing states which will help drive up turnout for every Democrat on the ticket.
State Rep. Matt Wilhelm, D-Manchester, who may be making a play to lead the House Democratic Caucus, touted the state party's campaign to take control in Concord. He said at a recent party gathering that the team behind the Democrats' fall push has put together a data-driven organization focused on winning the House and Senate.
"We have built an unprecedented campaign," Wilhelm said.
But despite the big talk — and big money– House Speaker Sherman Packard (R-Londonderry) told NHJournal he feels very good about his party's prospects to hold both the House and Senate.
"Their chances of flipping the legislature are extremely thin. How anybody could think they could flip the House or Senate with the disastrous fiscal policies Democrats have imposed at the federal level," Packard said. "And if the Democrats did take over here, the terrible fiscal policies of Washington, D.C. would come to Concord. Let me tell you, that's not what the voters of New Hampshire want."
As for resources, Packard says Republicans will have the money they need "to get out the message about what Democrats would do if they take over.
"And that stunt in Rockingham County– where I live –and their claim that it was a printer's mistake? That's beyond laughable. It was a trick and they got caught. Where did the printer get the name of the 'Rockingham Board of Elections?' It's a typical Democratic stunt, trying to fool the voters."
State Rep. Ross Berry (R-Manchester), one of the members working on the House campaign efforts, said state Democrats need the out-of-state cash and all the help they can get, because the Democratic Party is not a winning organization in the Granite State.
"It is not surprising that New Hampshire House Democrats will once again benefit from large out-of-state contributions and D.C. support. In their last report one couple in California gave them $40,000," Berry said.
"If this was a race of New Hampshire money only, they wouldn't have two pennies to rub together," he noted. "The Committee to Elect House Republicans has a record number of donors (over 950), virtually all of whom are from New Hampshire and over three times the number of donors as the House Democrats. Sadly, extremist liberals from New York and California are more than willing to finance the lies and half-truths of New Hampshire House Democrats, but we weathered their storm in 2020 and we will do it again in 2022."
Another asset for GOP legislators? Having popular GOP Gov. Chris Sununu at the top of the ticket. Polls consistently show he is popular with both Republicans and independents, and he is credited with helping his party flip the state House and Senate in 2020, even as Joe Biden was beating President Donald Trump in New Hampshire by about eight points.
With Biden's job approval numbers deeply underwater among Granite State voters, he is unlikely to help Democrats improve their performance over two years ago.
Still, Democratic Party state chair Raymond Buckley sees a blue wave coming, despite recent polling that puts Republicans on top when it comes to the economy, crime, and border security. The national funding could be just what Granite State Democrats need to buck the trends.
"Granite State Democrats more than doubled our voter turnout in this year's Primary Election over the last midterm when a Democrat controlled the White House," Buckley said in a recent email to his fellow Democrats. "Even with a limited number of contested primary races, over 90,000 Democrats turned out and voted, as opposed to 2014's 40,000. There is so much at stake this November, and Granite State Democrats have shown time and time again that we are fired up and are doing what it takes to win."
Both House Democratic Leader Rep. David Cote (D-Nashua) and Senate Leader Donna Soucy (D-Manchester) declined to comment for this story.
The political website CNalysis, one of the few that analyzes state legislature races, reports the New Hampshire State House "tilts Republican" and predicts Republicans are likely to hold onto their majority.
And Packard said he sees a strong showing for the GOP as voters worry about inflation, soaring grocery prices and high energy costs — all under the leadership of Biden and the Democrats.
"People are hurting like hell right now. And if Democrats ran things in New Hampshire and Washington, they would be hurting even more," Packard said.