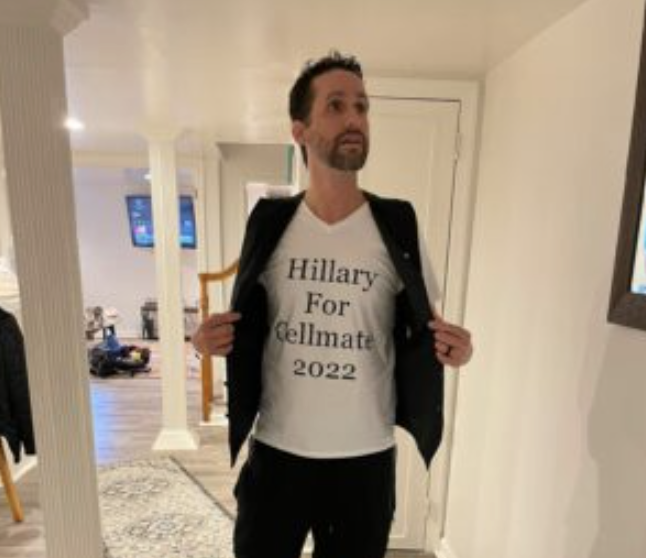 The Keene man arrested after he took selfies inside the U.S. Capitol Building during the January 6 riots is headed to jail, in part because his current run for Congress shows a lack of remorse, according to prosecutors.
Jason Riddle, 34, pleaded guilty last year to one count of theft of government property, and one count of illegal parading in a government building. The charges stem from his actions during the riot on Capitol Hill following a Trump rally.
Riddle is currently seeking the GOP nomination in the 2nd Congressional District.
His defense attorney wanted Riddle to be sentenced to 30 months of probation rather than prison time. Prosecutors told United States District Court Judge Dabney Fredrich the outspoken Riddle deserves jail time as he appears to be attempting to use the notoriety he gained from his illegal actions to further his political career.
Attorney George Eliopolous wrote in the government's sentencing memo that Riddle has displayed a total lack of remorse.
"He has given two news interviews, one was months after his arrest in this case, in which he specifically stated that he did not regret his involvement in the January 6 riot and that he expected to benefit from it and the resulting criminal case when he runs for public office," Eliopolous wrote.
During one of those television interviews, Riddle said he was happy to get the attention that the criminal case brought. 
"In the long run, if you're running for office, any attention is good attention," he told an NBC interviewer.
In the same interview, Riddle appeared unaware that Rep. Annie Kuster is a member of Congress. He indicated he thought she was a state representative who worked at the State House in Concord. 
Riddle has run unsuccessfully for office in Cheshire County since moving to New Hampshire with his husband. He was separated from the United States Navy in 2011 due to alcohol abuse, according to court documents.
Eliopolous also argued that Riddle deserves jail time for destroying evidence after learning FBI agents had begun an investigation. He allegedly deleted photos and videos from his phone — some of the same photos and videos he had already shared with the media. 
Riddle supplied reporters with video and photos he took inside the building, including numerous images of himself. Many of the photos of Riddle are included in FBI Special Agent Kevin Helson's affidavit.
Helson writes that FBI agents interviewed Riddle in Keene on Jan. 22 when executing a search warrant to obtain digital photos and video. During that interview, Riddle admitted to going in as part of a "break in" led by a "big dude."
"Riddle also admitted that he stole a small Fox News football from the same office, but tossed it aside as he exited the Capitol building," Helson wrote.
Riddle told the agents that before they arrived he had tried to delete photos from his phone. 
"Riddle also admitted that at some point after the Capitol incident, he had deleted some messages, photos, and videos of his D.C. trip from his phone, during what he termed a 'delete frenzy,'" Helson wrote.
Fredrich sided with prosecutors and sentenced Riddle to 90 days in jail, three years of supervised probation, and more than $750 in fines and restitution. Staying true to form, Riddle made light of the sentence soon after it was handed down on Monday.
"3 months in jail for 14 minutes of the most beautiful patriotic event in history. Works for me," Riddle posted on Facebook.
Riddle is being allowed to surrender to authorities at a later date to begin serving his sentence.
Riddle took a photo of himself drinking from a bottle of wine he stole inside the building, a photo that he shared with multiple media outlets. He also stole a copy of the Senate Procedure manual and sold the book on eBay, according to court documents.