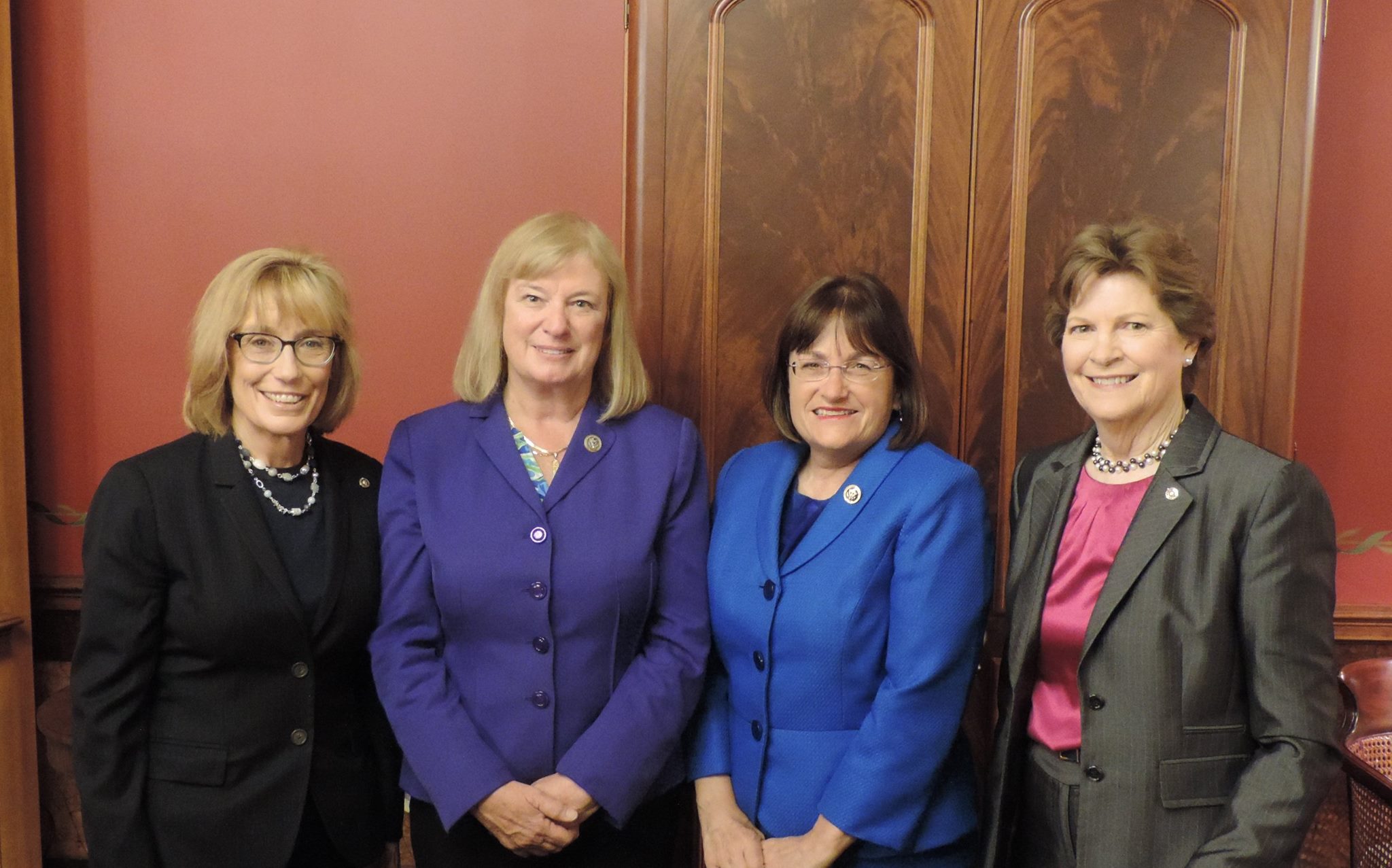 As the New Hampshire Legislature wraps up its session this month, the rest of the year will see more election activity — specifically, with Republicans who want to run for the U.S. House of Representatives. It's expected that Democratic U.S. Rep. Carol Shea-Porter in the 1st Congressional District and U.S. Rep. Annie Kuster in the 2nd Congressional District will seek reelection, leaving the field wide open for the GOP to try to defeat them.
Eddie Edwards, former law enforcement professional and chief of N.H. Liquor Commission's enforcement and licensing division, is the only declared candidate in either district to say he is running for Congress. He announced his candidacy for the 1st District U.S. House seat in April. He said Shea-Porter is "outside of the mainstream of New Hampshire politics."
The 1st Congressional District seat has always been a competitive race. Since 2010, the seat has flipped back and forth in every election between Shea-Porter and former Republican U.S. Rep. Frank Guinta. Guinta has kept a low public profile since his defeat in 2016, so it's increasingly unlikely that he would run against Shea-Porter again for an unprecedented fifth matchup. The 1st District also voted for President Donald Trump in the presidential election, yet political analysts have indicated that Shea-Porter holds an advantage in the district, moving the 2018 race from "toss up" to "tilt Democratic."
Edwards said that during the campaign he will be "traveling throughout the district, listening to voters, and offering my vision for positive solutions to bring new jobs to New Hampshire, cut taxes and reduce the size of government, strengthen national security and provide for our veterans, reduce the burden of student loan debt, and fight the opioid epidemic."
He has been racking up several endorsements since he announced, so the early announcement has definitely moved some people into his corner, but several others are still expected to enter the race. Besides Edwards, here's a look at the top three Republican candidates in each district that are currently mulling a bid to be the Granite State's next U.S. representative:
1st Congressional District:
State Sen. Andy Sanborn, R-Bedford
Sanborn has reportedly been exploring a run for the past few months. It's expected that he would make his decision after June. The fourth-term senator is the chairman of the Senate Ways and Means Committee where he has put his strong fiscal conservatism on public display.
In fact, the timing of a recent fundraising email has some GOP activists wondering if an announcement is imminent. During a committee meeting in May, he voted against his fellow Republicans on general fund revenue estimates for the biennium state budget.
His colleagues voted to go with higher revenue estimates, but Sanborn voted against them saying they were too high. Sure enough, after the meeting, he blasted out a fundraising email from his "Andy Sanborn for State Senate" campaign about what just happened.
"As you would expect, my tax-loving elected friends spent hours trying to artificially raise the estimates of what the state will bring in, all so they can spend more of your money," he wrote. "I am happy to report that, with the thanks to some fellow like-minded senators, we were able to fight off fanciful attempts to drive up more bloated government spending without raising a single tax or fee."
If Sanborn decides to run, he couldn't use the funds from his state Senate campaign, but it does keep his public profile high.
Former State Republican Party Vice Chairman Matt Mayberry
Mayberry, of Dover, has also indicated that he is close to making a decision if he'll run against Shea-Porter. Apparently, he's been strongly considering a run for Congress since he decided not to run for chairman of the New Hampshire Republican Party after Gov. Chris Sununu endorsed former state Sen. Jeanie Forrester for the position.
Mayberry has remained active in the New Hampshire political scene since he left his job as NHGOP vice chairman. He is one of the founder and co-vice chairs of the New Hampshire Log Cabin Republicans, which officially launched in the state last month.
The 1st District U.S. House race is often seen as swing district, so perhaps his moderate Republican values can appeal to independents in the area. Regardless, he's inching closer to a run since he reportedly was making the rounds in Washington, D.C. last week.
"I've been approached and talked with about 100 grassroots activists so far. And they're hungry for real leadership. They want real visibility in their communities. They want somebody who's actually going to work for them," he told NH1 News in May. "What Carol Shea-Porter's done is she's come in, asked for their vote, gone to D.C. and never come back. She appears every two years. They want somebody who's going to work for them."
State Rep. John Burt, R-Goffstown
The fourth term representative is a well-known figure in the N.H. House — mostly because of his Annual Hot Dog Day on June 1 where lawmakers and staff members meet on the State House plaza to eat hot dogs and raise money for animal shelters and humane societies.
But he's also seriously considering a run for the 1st Congressional District seat and said he would make a decision at the end of June.
Burt is one of the most conservative members of the Legislature, scoring a 92 on last year's Americans for Prosperity-New Hampshire legislative scorecard. However, if he decides against a campaign for Congress in 2018, he might challenge longtime state Sen. Lou D'Allesandro, D-Manchester, for his seat.
D'Allesandro has served nearly 20 years in the state Senate. Before that he spent 25 years serving in the N.H. House and on the Executive Council.
"I'm still talking with some people in D.C. and of course with a lot of groups in New Hampshire," Burt told WMUR. "Many of the New Hampshire groups are asking me to stay where I am and run for the state House or the state Senate, believing I would be more effective here than in Washington. I'm looking at all my options."
2nd Congressional District:
The National Republican Congressional Committee has their work cut out for them to defeat Kuster. The incumbent Democrat has been in office since 2013 and GOP candidates in the district haven't been able to drum up enough support.
In the 2016 election, former Republican state Rep. Jim Lawrence did surprisingly well against Kuster despite spending significantly less than her. She won by less than 5 percent of the vote, 50-45 percent. The NRCC is hoping to capitalize on that and recruit a strong candidate in the district.
State Rep. Steve Negron, R-Nashua
The first term state representative told WMUR last week that he's been seriously considering a run for the 2nd District U.S. House seat for many weeks and will make a decision by the end of June.
Negron is the president and CEO of Integron LLC, a New Hampshire engineering firm, and is a retired U.S. Air Force officer.
"I had actually been approached by some people I hold in high regard in the state and in Washington, asking me if I would be interested in taking an opportunity to see if running against Rep. Kuster would be something I'd be interested in," he said.
Negron describes himself as a fiscal conservative and he currently sits on the House Election Law Committee, which has seen a lot of action during this legislative cycle with the GOP-led voting reform.
Former State Rep. Joe Sweeney, R-Salem
The two-term state representative is also the former chair for the New Hampshire Young Republicans. He first entered the Legislature in 2012 and continued when he was a student at the University of New Hampshire.
He previously indicated on WMUR's CloseUP in April that he was looking into a run for Congress and what he lacks in experience due to his age, he makes up for in new ideas and new leadership.
Sweeney has already registered a candidate committee with the secretary of state's office for the Rockingham District 8 seat.
Former State Rep. Lynne Blankenbeker, R-Concord
This potential candidate is one of the most talked about within inner state GOP circles. Blankenbeker won a special election in 2009 in a heavily Democratic Concord seat and served in 2012. She's also an active member of the military, where she has recently been promoted as a captain in the U.S. Navy. She has served in Iraq and Afghanistan as a combat nurse, is a former nurse and risk management specialist at Dartmouth-Hitchcock, and is an attorney.
With those impressive credentials, GOP campaign consultants are heavily encouraging her to give Kuster a run for her money. She's expected to finish up her time in the military in January and they're hopeful she'll hop into the 2nd Congressional District race then.
Blankenbeker recently delivered a speech to the New Hampshire Federation of Republican Women, one of the state's most prominent Republican groups, at its annual Lilac Luncheon on June 2 at the Grappone Conference Center in Concord.
Sign up for NH Journal's must-read morning political newsletter.