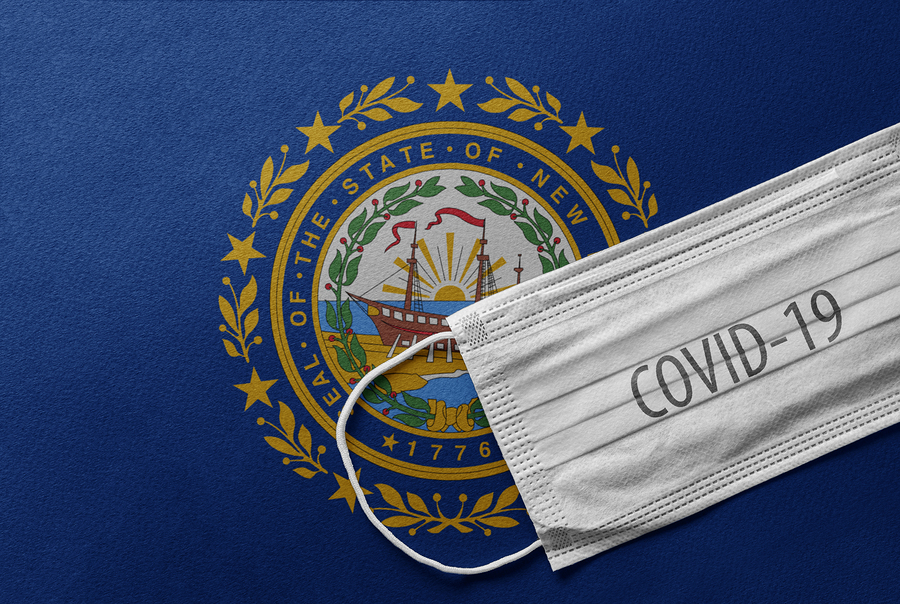 Democrats are vowing to keep up the fight over COVID-19 restrictions at the State House even as more voters are ready for an end to pandemic living.
On Monday, the First Circuit Court of Appeals in Boston denied New Hampshire Democrats an injunction against House Speaker Sherman Packard (R-Londonderry). Democrats have been pushing for Packard to allow for remote attendance for legislators. House Minority Leader Rep. David Cote (D-Nashua) responded by saying he would continue the remote legislation lawsuit.
"While we are disappointed that the First Circuit denied our request for a preliminary injunction, it is important to note that the court did not rule that disabled people must risk death to serve in the legislature and represent their constituents. The court's decision only related to a preliminary injunction, not the Speaker's denial of minimal accommodations for representatives with disabilities," Cote said in a statement.
Cote, 61, lives with cerebral palsy and has not been to Concord for a vote in more than two years. He did not respond to a request for comment on Monday.
Packard successfully argued that as Speaker he enjoys "legislative immunity" and is exempt from following the Americans with Disabilities Act, and therefore the injunction fails.
"This opinion reaffirms the importance of the integrity of the legislature and the legislative process. Both the First Circuit and District Court evaluated the plaintiffs' arguments and ruled against them. My next step is to continue working on legislation that will benefit the state of New Hampshire and keep pushing us forward," Packard said in a statement.
Spencer Kimball, an associate professor at Emerson College and the director of the school's polling center, said the politics of the pandemic have shifted away from favoring Democrats as the virus has become less threatening.
"I have been looking at COVID restrictions and see a big difference nationally between Democratic voters where 38 percent see COVID as a major health threat, while that number is about 17 percent among independents and 14 percent among Republicans," Kimball said.
The COVID-19 virus seems to be in retreat, with cases and hospitalizations dropping drastically in recent weeks across the country and in New Hampshire.
Earlier this week, state Sen. Tom Sherman, (D-Rye) who is running to unseat Gov. Chris Sununu, was asked if he would impose a mask mandate "on day one" after taking office. "It really depends on the numbers," Sherman said. "You have to look at what's called the epidemiology, which is how pervasive is it in the community.
"If the numbers say it is [necessary], then we may need to do that, but that would not be my first response, Sherman added.
Kimball said, with the threat perception changing, COVID restrictions could be a loser for Democrats heading into the midterms.
"Democrats may be overplaying their COVID hand, but if COVID was to increase they may find themselves in a stronger position. Time will tell," Kimball said.
In New Hampshire, most adults have some level of protection against COVID-19, according to recent UNH Survey Center data.
"Currently, one-quarter (of adults) say they have tested positive for COVID since the pandemic began. Six in 10 adults say they are vaccinated and boosted, another 17 percent are vaccinated but not boosted, and 22 percent are not vaccinated at all. Overall, seven in eight Granite Staters likely have some protection against COVID-19 through vaccination or recent infection," The UNH data report states. 
David Paleologos, director of Suffolk University Political Research Center, said Democrats need to be alert to parents who are tired of mask mandates and school lockdowns harming their children.
"It's hard to say whether or not mask advocacy on its own will be a cutting issue in November. More likely is a scenario where Democrats will say mask policies and required vaccinations ultimately saved lives and Republicans will say that mask mandates were an overreach, setting back education a couple of years," Paleologos said. 
Democrats who align with teachers unions, which have backed stricter COVID restrictions like remote learning and masking, have had a rough time at the ballot box.
"Traditionally, education and healthcare are wheelhouse issues for the Democratic Party. If Republicans chip away at these two pillar issues (like they did in Virginia and New Jersey last fall), Democrats may face some dark November days," Paleologos said.
Glenn Youngkin took the Virginia governor's race, in part, because parents were upset with COVID lockdowns. In New Jersey, incumbent Democratic Gov. Phil Murphy barely beat a challenge from Republican Jack Ciattarelli.
Cote took over the leadership after the death of state Rep. Robert "Renny" Cushing (D-Hampton.) Cushing died this month following a two-year battle with prostate cancer. His family told The New York Times Cushing's death was partially brought on by complications from COVID-19.
Cushing first brought the lawsuit to the federal court and pushed for a ruling on the appeal for the injunction ahead of the current legislative session. Even as he was dealing with cancer treatments, Cushing remained active throughout the pandemic, missing few votes over the last two years. 
House Speaker Dick Hinch (R-Merrimack) died from COVID-19 in 2020 shortly after the first socially distanced House session of the biennium at UNH's athletic complex.