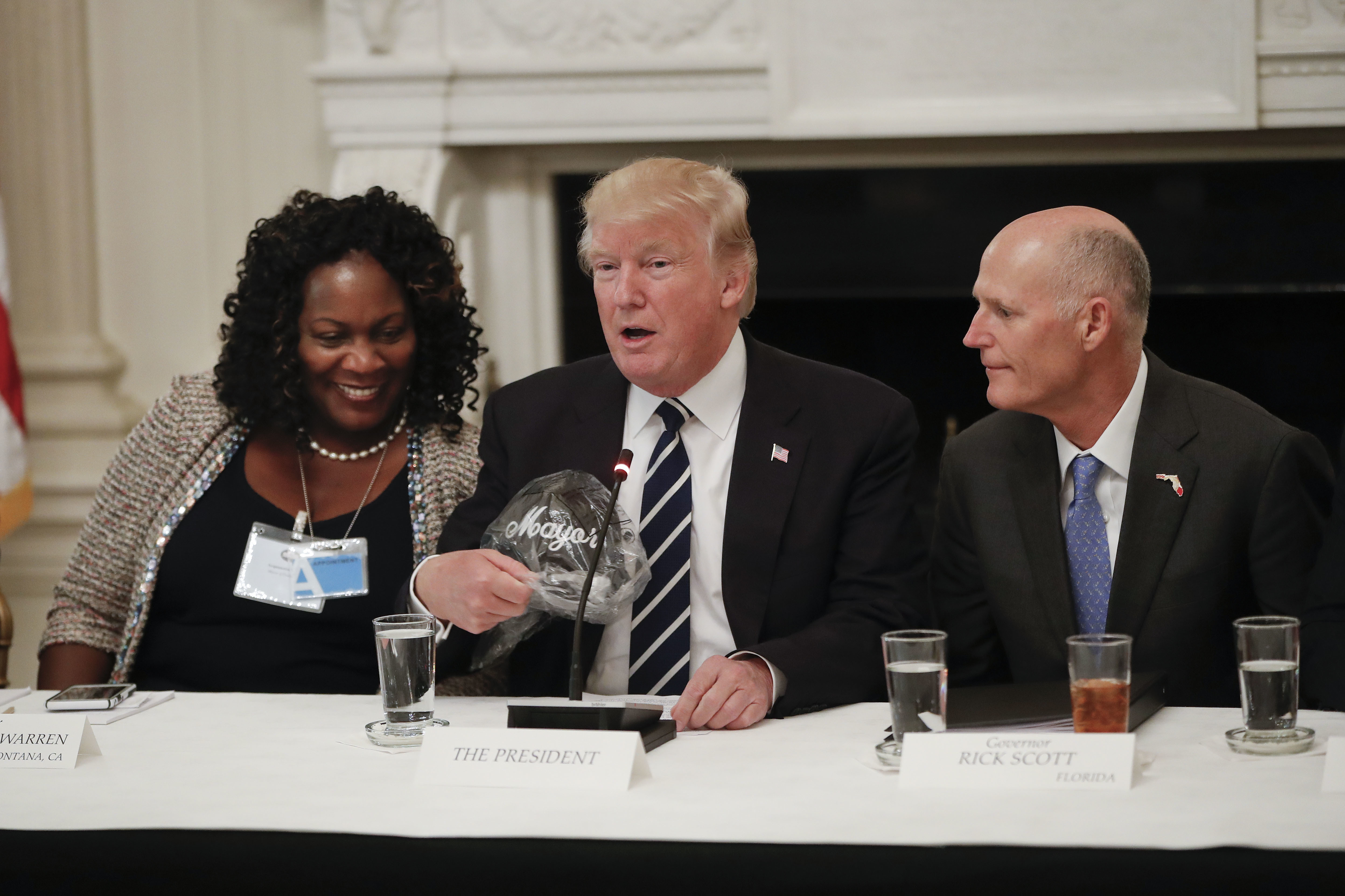 While all eyes were glued to former FBI director James Comey's testimony in Congress last week, it appears that President Donald Trump has moved on to infrastructure reform, and Republican Gov. Chris Sununu and New Hampshire lawmakers are following suit.
Last week, the White House held a series of events to promote its infrastructure policy, including proposals to streamline federal regulations, reform air traffic control, and rebuild the nation's roads and bridges.
Sununu met Thursday with President Donald Trump, other governors, mayors, and tribal leaders at an infrastructure summit in Washington.
"It's going to take off like a rocket ship — moving very quickly. Together, we're going to rebuild America," Trump said according to a transcript of his remarks from the White House.
Trump is pitching a $1 trillion infrastructure bill that would combine about $200 billion in federal funding with an additional $800 billion in state, local, and private money. The bill is not written yet and it's not clear when Congress will take up the issue.
"For too long, Washington has slowed down your projects and driven up your costs, and driven them up beyond anything even recognizable. Those days are over," Trump said. "We are going to move quickly, we're going to move very, very intelligently, and we're going to get the job done, under budget and ahead of schedule — something the government doesn't hear too much."
Sununu told the New Hampshire Union Leader after the summit that he believes a comprehensive infrastructure plan could win bipartisan support on Capitol Hill.
"We have a President who is a builder, someone who not only knows how to get things done and bring plans to fruition but also someone who has faced how federal agencies can slow down or even block his progress," Sununu said. "I think you're going to see this become a major priority of his, making the federal government more of a partner and less of a barrier to these projects becoming a reality."
Critics are questioning how committed Trump is to getting an infrastructure bill passed this year, since he hasn't appointed anyone to key infrastructure positions within his administration yet. Democrats mostly agree with Republicans on infrastructure, but without a bill to judge, they say the devil will be in the details.
Vice President Mike Pence says it's a campaign promise Trump will follow through on since the state of infrastructure in the United States is "not just unacceptable," but "downright un-American."
"This president knows that good infrastructure means good jobs, growth, opportunity, and prosperity. But as all of you well know, our nation's infrastructure is in a truly sorry state," Pence said. "You see it when you drive to work, you hear about it from the people who elected you. The truth is that our roads, bridges, and airports are crumbling in too many cases. And America, as a result, has been falling behind."
Granite Staters are very familiar with the delay and cost increase of infrastructure in the state. Take the widening of Interstate 93 from Massachusetts to Manchester as an example. Sununu's father, former Gov. John H. Sununu, started the process to widen the 20-mile stretch of highway to eight lanes when he was in the Corner Office in the mid-1980s. The estimated cost at the time was about $200 million.
Due to permitting delays, a lack of a stable funding source, and environmental studies, the project has been delayed for more than 20 years and the cost is now expected to be about $812 million.
"We made the point to the administration we'd take 70 percent of resources the federal government gives us now if that money would come without the inevitable delays in permits and the time to get into compliance with federal rules," Sununu said.
According to a survey from the American Society of Civil Engineers (ASCE) released earlier this year, the state's overall infrastructure grade was a C-minus, due to the lack of time and investment the state has made into its projects. The score was only slightly higher than the United States' grade, which was a D-plus.
The GOP-controlled legislature agreed on a number of bills last week to improve upon the state's crumbling infrastructure.
The Senate concurred with a House amendment that would send $38 million from last year's budget surplus back to cities and towns, so they can use it for road and bridge work. The state currently has about 150 red-listed bridges that are in poor condition and must be inspected every two years. The ASCE found that 492 of New Hampshire's 3,848 bridges — approximately 13 percent – were structurally deficient.
The N.H. Department of Transportation will spend $6.8 million on those red-listed bridges and the rest will be sent directly to the communities.
The legislature also agreed on Senate Bill 57 that would spend $250 million from the state's Drinking Water and Groundwater Trust Fund to allow businesses with contaminated well water to get state loans to hook up to public water supplies.
"This bill allows the state to make good on its commitment to pay for water contamination mitigation projects from years ago that had been suspended. Communities across the state continue to face a growing issue of contaminants in their drinking water," said Senate Majority Leader Jeb Bradley, the prime sponsor of the bill.  "It is imperative that our residents have access to clean drinking water for the future of our public health and as we continue to grow business and jobs in the state."
Those bills now head to Sununu's desk for his signature.
Sign up for NH Journal's must-read morning political newsletter.