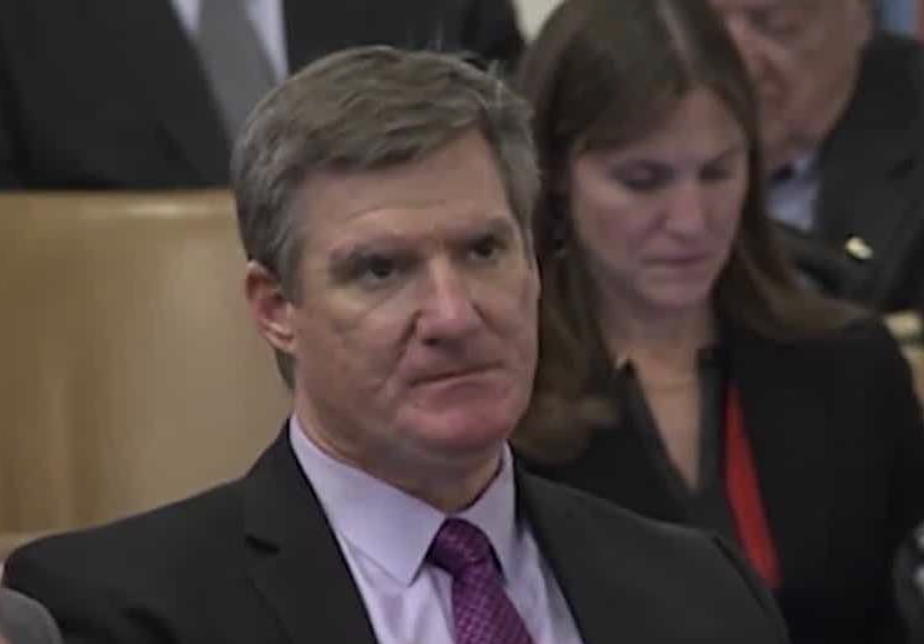 You can't beat the house, so former state Sen. Andy Sanborn is going to court for better odds.
Sanborn, the controversial Bedford Republican and owner of the Concord Casino, filed a lawsuit late last week to stop the New Hampshire Lottery Commission's hearing into allegations he is unfit to hold a casino license. Sanborn is accused of misusing $844,000 in COVID relief money.
Sanborn claims he did nothing wrong. But court documents show a state audit found he allegedly overpaid himself hundreds of thousands in rent, bought sports cars for himself and his wife, state Rep. Laurie Sanborn (R-Bedford), and used the federal funding to plan a new casino. State officials call it an "airtight case," according to court records.
Sanborn asked Judge Martin Honigberg in Merrimack Superior Court to set the Lottery Commission hearing for December once his lawyers have had time to go through the evidence. 
"Defendants have violated Plaintiff's due process rights by refusing to allow Plaintiffs time to prepare for a hearing and refusing to allow an impartial adjudicator to preside over the proceedings," Sanborn's lawsuit states.
Sanborn additionally wants Lottery Commission Chair Deborah Douglas removed from the case, claiming she has prejudged his case. He is asking to have an independent presiding officer appointed and to be reimbursed for his attorney fees.
Honigberg granted Sanborn an emergency temporary restraining order delaying the planned Oct. 13 Lottery Commission hearing, but the judge did not make any rulings on the complaint's merits. The state and Sanborn are now due in the Concord court on Oct. 20 to argue when the commission hearing should occur.
A state audit detected the alleged COVID relief fraud in May 2022. Court records indicate concerns about Sunburn go back further. The previous year's audit found problems with the casino's record-keeping and internal financial controls. According to court records, both Laurie and Andy Sanborn had been disciplined and fined by the commission for breaking state casino rules.
Along with two Porsches and a Ferrari allegedly bought with COVID money, the May 2022 audit found Sanborn was paying himself rent for the casino. While the casino is owned through Sanborn's Win, Win, Win LLC, the Main Street property in Concord is owned by another Sanborn LLC, The Best Revenge LLC.
The lease agreement between Best Revenge and Win, Win, Win has the casino pay the property $6,000 a year in rent, paid out at $500 a month. According to the audit, Sanborn wired $163,500 from Win, Win, Win to Best Revenge between January and August 2022 to cover the rent. 
That was more than $20,000 a month for the $500 a month rent. To put it another way, Sanborn paid himself for more than 27 years of rent in eight months.
According to the audit, Sanborn's casino was losing money, and the business was down to a little more than $900 available cash before the COVID relief money came through.
Sanborn disputes those facts, claiming the audit looked at the wrong accounts and he had about $150,000 available. He states that while the business lost money in 2020, things had picked up in 2021. Sanborn claims the casino generates $400,000 a month in revenue.
The commission had concerns about Sanborn before the May 2022 audit. Records show his suitability to hold a casino license was being questioned. The commission worried about his stint as a state senator when crude jokes resulted in allegations of sexual harassment in 2013 and an investigation into a bribe to hush up a witness in 2018.
Sanborn was cleared of the bribery accusation and acknowledged making a crude joke in front of an intern. While the exact joke has not been disclosed, records indicate he was discussing oral sex. One woman told investigators she was warned not to be alone with Sanborn when she started her job in the State House.
The commission was also concerned about the lawsuit brought by creditors in his business bankruptcy filing. Sanborn filed for bankruptcy in 2004 as his business, Brannigan's Cycleworks, was failing. According to court records, he was sued by creditors who accused him of moving money ahead of the bankruptcy.
Sanborn first got the casino license in 2018 and was up for renewal when the alleged fraud was found.
Laurie Sanborn was forced to step down as chair of the new state gambling commission after New Hampshire Attorney General John Formella announced the fraud allegations against her husband in September.
Formella is investigating both Andy and Laurie Sanborn. He has also referred the case to federal prosecutors.