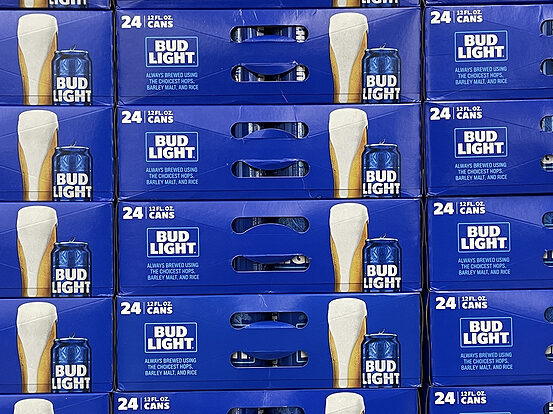 New Hampshire beer drinkers are opting for a light beer that tastes great, is less filling, and isn't combatant in the current culture wars.
That means less Bud Light.
Consistently the best-selling beer in America in recent years,  Bud Light's sales have tanked since the company featured a promotion with transgender social media influencer Dylan Mulvaney. Sales of Bud Light have dropped a staggering 21 percent nationally since the backlash to the Mulvaney promo started.
Anheuser-Busch, a $132 billion company, saw its market value plummet by some $5 billion after the April 1 campaign kickoff.
On Sunday, former President Donald Trump kicked the beer company while it's down, posting a message on his Truth Social site about the brouhaha.
"It's time to beat the Radical Left at their own game," Trump wrote. "Money does talk — Anheuser-Busch now understands that."
The controversy is hitting beer sales in New Hampshire, too. Keith Murphy, owner of Murphy's Taproom restaurants in Bedford and Manchester, said Bud Light sales are down 20 percent in his establishments. The Mulvaney stunt is the main reason his customers are choosing a different brew these days.
"It was an unforced error," Murphy said.
Even his customers who support the transgender movement are skipping the beer now associated with culture war politics and looking for something to simply drink with their meals.
"Some people vehemently disagree with Bud Light endorsing transgenderism; some people don't care. Most people just wonder why Bud jumped into such a controversial issue when there was no reason to do it," Murphy said.
Murphy is the Republican state Senator representing District 16.
Taproom patrons aren't the only ones putting down the Bud Light. A social media video went viral purporting to show baseball fans at Fenway Park last week ignoring the Bud Light concession stands and instead waiting in long lines at nearby vendors. 
Not every local restaurant is seeing the same results, however.
"I drove to all our stores from Concord down to Salem, and I asked all the bartenders if Bud Light sales were down," said Tom Boucher, CEO of Great NH Restaurants, Inc., which owns popular brands like T-Bones and the Copper Door. "They said, 'Meh, not really.' When I told them Bud Light was down more than 20 percent, they couldn't believe it."
The beer crisis started when Bud Light sent personalized cans of beer to Mulvaney to celebrate what the influencer called "365 Days of Girlhood." The cans featured Mulvaney's likeness, and the social media personality showed them off in an Instagram post.
As the promotion drew attention from national media outlets, particularly on the right, Bud Light's customers responded by abandoning the brand. The company has lost $5 billion in market value. 
Within weeks, the Anheuser-Busch executives behind the promotion were forced to take a leave of absence. Emma Ferrara, a marketing strategist, told Fox News Anheuser-Busch hurt itself by engaging in the culture war and alienating its core customers.
"In my career, and from what I've seen, this has been by far one of the most polarizing instances within the social media sphere," Ferrara said.
Ferrara said if the company was determined to make inroads with the LGBTQ community, it should have found someone more genuine than Mulvaney. Or, the company should have first tried to understand its existing customer base first.
"When you're looking to connect with a new community, which I think is incredibly important, I think there is a right and wrong way to approach that. And it starts with understanding who your core audience is," she told Fox. "It starts with also understanding who is your brand and what your values are and what's your purpose."
Boucher put the story much more simply.
"The marketing director learned a very valuable lesson. Know your customer."