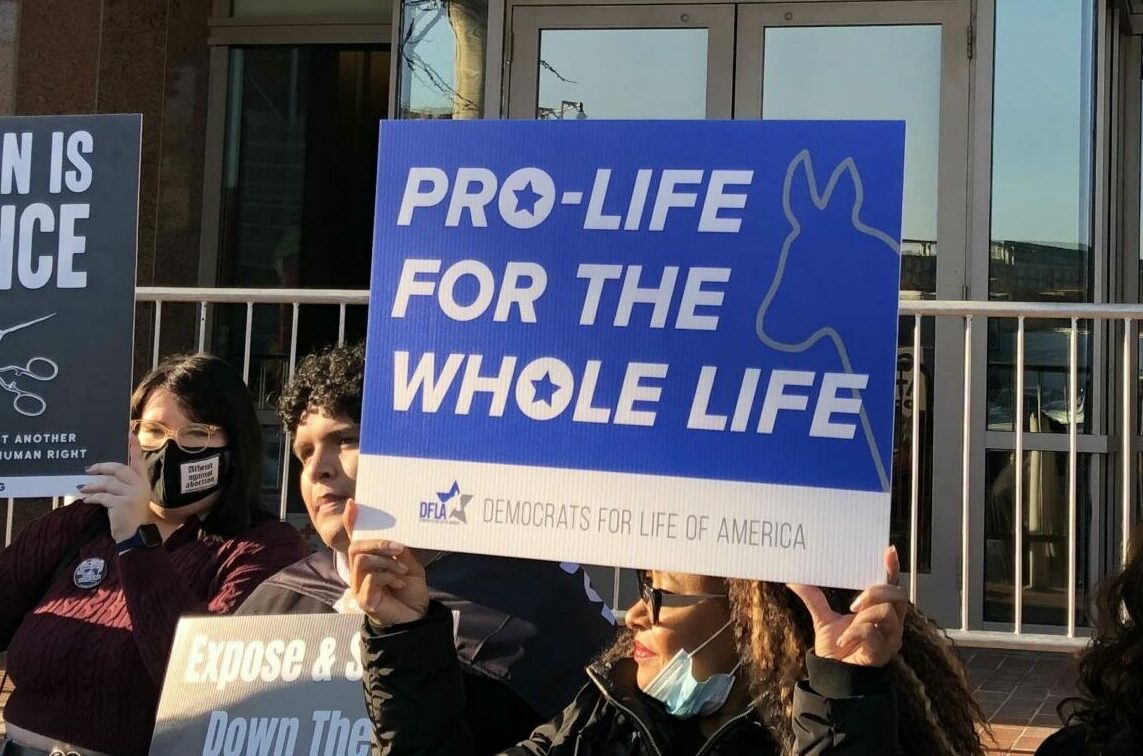 A day after Sen. Jeanne Shaheen compared New Hampshire's new late-abortion ban to an "authoritarian state," leaders of Democrats for Life called her position "extreme" and her claims dishonest.
The four members of New Hampshire's delegation held an online event in advance of Wednesday's oral arguments before the U.S. Supreme Court on the Dobbs v. Jackson Women's Health Organization case. They decried New Hampshire's new abortion law and warned of dire consequences if the Supreme Court overturned the landmark Roe v. Wade decision.
"What we're seeing in the 'Live Free or Die' state is unbelievable to me," Shaheen said. "The attempt to have state control of our personal health really is what we would see in an authoritarian state. It's not what we would expect in New Hampshire."
"I think if you want to see a revolution, go ahead, outlaw Roe v. Wade and see what the response is," Shaheen added.
Shaheen's comment made national news as an indication, critics say, of pro-abortion extremism in the Democratic Party.
Democrats for Life held a rally outside Democratic National Committee headquarters in Washington, D. C. Tuesday, urging their party to move away from its extreme abortion-on-demand position and become more open to pro-life candidates.
"One in three Democrats are pro-life. That's a lot of people. Why do you keep leaving us outside the big tent?" asked newly-elected DFL President Monica Sparks. "Shame on you, DNC!"
Asked about Shaheen's statement, DFL Executive Director Kristen Day said she found it "interesting a U.S. Senator would completely misrepresent Roe v. Wade and the effects of overturning it. She knows better. She's just trying to create a false narrative."
Gov. Chris Sununu, a target of the New Hampshire congressional delegation's criticism, was asked by NHJournal Wednesday if he'd take action to protect abortion rights if the Supreme Court overturned the 1973 Roe vs. Wade decision. 
"I'm not really paying attention to that case," Sununu said. "It's not an overturn of Roe vs. Wade. It's about viability."
The Dobbs lawsuit concerns the new Mississippi law that restricts abortion after 15 weeks. According to Shannon Brewer, who runs the only abortion clinic in Mississippi, about 10 percent of the abortions the clinic performs take place after the fifteenth week of pregnancy.
The court is also considering the constitutionality of a Texas law that bans abortion after a fetal heartbeat is detected, usually around six weeks.
Vice President of Public Affairs with Planned Parenthood New Hampshire Action Fund Kayla Montgomery said abortion rights are at stake whether Sununu is paying attention or not.
"To be clear, abortion rights are at stake at the Supreme Court. Reproductive health providers, advocates, and Granite Staters are paying attention to this case because we know it will determine the future of abortion access in our country. Without constitutional protections, abortion rights will be decided on a state-by-state basis," Montgomery said.
Overturning Roe would have no impact on New Hampshire's late-term abortion ban.
Jason Hennessey, president of New Hampshire's Right to Life, said Sununu's record on abortion has been mixed, though he does approve some of the governor's actions.
"The governor did sign the fetal life protection act, and he signed a bill to protect state taxpayer money from going to abortion clinics," Hennessey said. "This past year he's done some good things … We would certainly like to see him take more of a leadership role, but he's said he's pro-choice."
In a statement to the Portsmouth Herald, Sununu spokesperson Brandon Pratt said, "To be clear, he did not propose this legislative amendment. But as the governor has repeatedly said, he would not veto a $13 billion state budget over a change that would bring New Hampshire in line with 43 other states, and any claim that this is a radical restriction is just partisan politics."
Most U.S. states, as well as most modern industrialized countries, reject Shaheen's abortion-on-demand up to the day of birth position as extreme. According to recent polls, so do most American voters.
Gallup polling has consistently found more than 80 percent of Americans oppose abortions in the third trimester. And a new Marquette University poll found 37 percent of Americans favor upholding Mississippi's 15-week limit, while just 32 percent oppose it.
The DFL's Day said the Democratic Party's pro-abortion stance is hurting it among voters in middle America, and statements like Shaheen's aren't helping.
"She's just creating panic, unnecessary panic," Day said. "What we really need to focus on is providing women with real choice."
Damien Fisher contributed to this report.