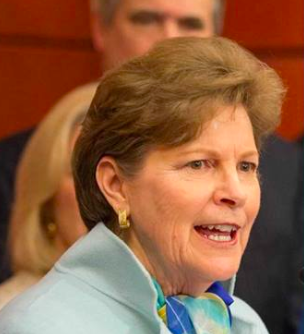 Around 6pm Tuesday evening, NH Sen. Jeanne Shaheen tweeted out that, despite voting to confirm Mike Pompeo for CIA Director a few months ago and saying she "appreciates his dedication" in the position, she refuses to support him for Secretary of State.
"I continue to have deep concerns regarding Mr. Pompeo's past statements and policy views, particularly in regards to the LGBTQ community, American Muslims and women's reproductive rights," the NH Democrat said in a statement.  "For these reasons, I have concluded that I cannot support Director Pompeo to lead the State Department at this critical time."
Less than two hours later, the Washington Post broke the story that the man Sen. Shaheen declared unfit to serve as America's top diplomat over his personal religious views has secretly visited North Korea and met with Kim Jong-un.
"The extraordinary meeting between one of Trump's most trusted emissaries and the authoritarian head of a rogue state was part of an effort to lay the groundwork for direct talks between Trump and Kim about North Korea's nuclear weapons program, according to the two people, who spoke on the condition of anonymity because of the highly classified nature of the talks," the Washington Post reported.
"The clandestine mission, which has not previously been reported, came soon after Pompeo was nominated to be secretary of state."
No word on whether Director Pompeo discussed gay rights or abortion with the North Korean dictator.
What should Shaheen do? She was one of 14 Democrats who voted for Pompeo for CIA Director, and the consensus is he's done a competent job. Now she's going to bail on him?  If she does, Shaheen faces the prospect of publicly voting to end Pompeo's efforts to resolve one of the greatest global challenged of the day–the threat of a nuclear North Korea with weapons that could reach the US–over social issues.
Yes, it's possible (in fact, it's probably likely at this point) that Pompeo's nomination will be approved by the US Senate without her support.  But if there is a breakthrough and Secretary of State Pompeo strikes an historic deal regarding North Korea–say, the signing of a peace agreement between the two Koreas– Senator Shaheen will be on the record as having tried to stop Pompeo's progress after the fact.
Then again, she's already flipped on Mike Pompeo once before. Maybe she will again.