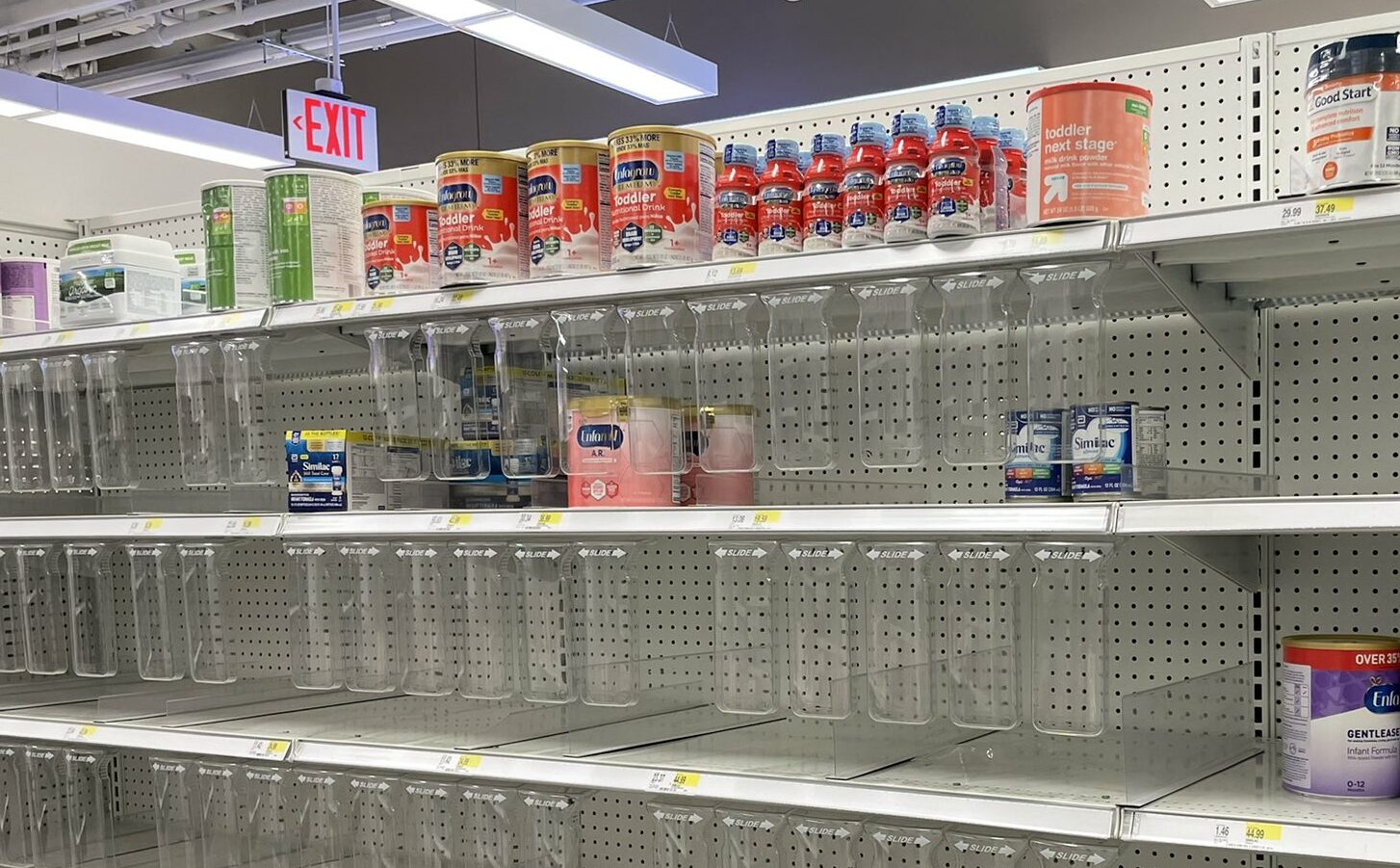 A shuttered baby formula plant and protectionist trade policies are responsible for the current baby formula shortage, experts say. But incumbent politicians are likely to pay the price for it.
President Joe Biden hit a new low in the most recent Associated Press-NORC Center for Public Research poll, with just 39 percent approval.
"The findings reflect a widespread sense of exasperation in a country facing a cascade of challenges ranging from inflation, gun violence, and a sudden shortage of baby formula to a persistent pandemic," according to the AP. Biden's approval among Democrats — typically 85 percent or higher for an incumbent president within his own party — has fallen to just 72 percent. And many political observers say the panic over baby formula is contributing to concern, even among Democrats, that the Biden presidency is in over its head.
As a result, more Democrats are acting on their own. Rather than defending the White House, New Hampshire Sen. Maggie Hassan joined a group of 32 senators urging the Biden administration to act. "It is absolutely unacceptable that families are struggling to meet the most basic needs of their children, and we urge you to do everything you can to quickly address the crisis— and ensure this type of shortage never happens again," they wrote.
The administration responded by invoking the Defense Production Act. However, that merely makes the baby formula industry a priority customer, it does not create more ingredients or products.
A major cause of the crisis came from the Food and Drug Administration's mishandling of reports of four consumer complaints of Cronobacter contamination. In response to the FDA inquiry, Abbott stopped production at its biggest factory, taking about 20 percent of the nation's formula out of the supply chain.
On Sunday, National Economic Council Director Brian Deese defended the administration's actions. "The FDA did what it was supposed to do, which was assess safety and shut down a facility in the United States," Deese said.
However, according to The Wall Street Journal, "the four cases of Cronobacter sakazakii infection in infants that the government cited could not be traced to the factory's products. No contaminated baby formula was found; Cronobacter was identified on the factory grounds but lacked a genetic match to samples from affected infants."
Now the Biden FDA has entered a consent decree with Abbott to get the factory back online. But even if the plant gets up in running in the next two weeks, it could be six to eight weeks before the baby formula reaches store shelves, according to the company.
Democrats are touting 78,000 pounds of formula flown from Europe by the U.S. military that landed in Indiana on Sunday, part of Biden's "Operation Fly Formula." That represents just a fraction of the approximately $4 billion U.S. baby formula market.
And none of these efforts address the trade regulations and government subsidies that have warped the baby formula market and contributed to the shortage.
The market was floundering before the February recall. The U. S. makes 98 percent of the baby formula it consumes thanks to strict regulation and trade policies that keep European and Canadian formula from getting to the market. Tariffs also make baby formula ingredients too expensive for American manufacturers to import.
According to trade expert Scott Lincicome, the trade agreement pushed by President Donald Trump blocks Canadian formula from getting into the U.S. and kept the Canadian industry from growing.
"Because USMCA effectively capped possible exports of infant formula to the United States, it discouraged investment in new Canadian capacity—capacity that we sure could use right now," Lincicome wrote.
Add the cumbersome regulatory scheme to the COVID economy with labor shortages and rising prices, and the shortage seems inevitable once the recall went into effect.
White House press secretary Karine Jean-Pierre told reporters last week that the Biden administration is already asking embassies worldwide to help during the shortage. Importantly, she said the FDA will now allow foreign companies to apply to supply baby formula to the U.S. market, but only with approval subject to the drug regulator's safety standards. It was not clear how long the approval process will take.
Lincicome writes the FDA has kept safe and commonly-used European baby formula produced in the Netherlands, France, Ireland, and Germany from reaching the U.S. over a labeling issue. Many American parents prefer the European formula, and this has created a black market for baby food.
"Yet, when parents here have tried to import European formula, it's been routinely subject to seizure by the FDA. In fact, formula made by two of the most popular European brands—HiPP and Holle—is on the FDA's red list and thus only arrives here via unofficial, third party channels," according to Lincicome.
More than half of the baby formula bought in the U.S. is bought by the government for the Special Supplemental Nutrition Program for Women, Infants, and Children program, also known as WIC. Through WIC, manufacturers sell their products to state governments at steep discounts, and the formula is essentially resold to poor families.
That has resulted in companies being untouched by the regular laws of supply and demand. Prices have continued to go up over the rate of inflation, and the market is not sensitive to changes that would normally trigger more production.
Dr. Erik Shessler, a pediatrician at Dartmouth Health Children's and president of the New Hampshire chapter of the American Academy of Pediatrics, said families should not panic. So far, New Hampshire parents can still find formula even if they must scramble.
"I am not aware of any local emergencies," he said.
Shessler said most infants can switch between baby formula brands without too much trouble.
"Most formula companies have the same options for classes or kinds of formulas. For example, most have a regular cow milk-based as well as a cow milk-based but lactose-free and soy formula. Most infants will be able to switch between companies as long as we stay in the same class or kind," he said.
Families that are having trouble finding what they need should contact their healthcare provider and pediatrician, he said.