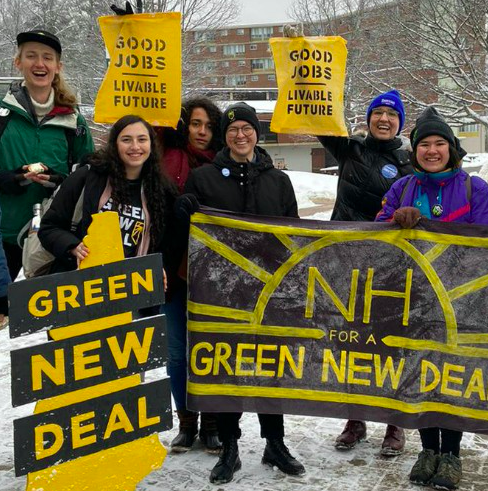 On Wednesday, Rep. Chris Pappas (D) told radio host Jack Heath it's time for America to drill for more oil and gas to fight back against inflation.
"Developing more domestic energy is an important step forward," Pappas said. "We should be looking to maximize our production, 'all of the above.'" One way to help make America less vulnerable to the international gas and oil markets, he added, is "making sure all the [oil and gas] leases are fully utilized today."
That's a very different message from the Pappas who calls climate change an "existential threat" and received a 100 percent score from the League of Conservation Voters (LCV) last year.
It is also not the message the LCV expected to be backing when it ran TV ads promoting Pappas a few months ago. The same is true of the Sierra Club, the Natural Resouce Defense Council (NRDC), and other so-called "green" organizations supporting New Hampshire Democrats like Pappas and Sen. Maggie Hassan, even as those politicians abandon climate-change policies and embrace increased fossil fuel production.
The organizations tell NHJournal they are not happy. But so far, not one has withdrawn its political support, either.
"I'll tell you I'm not a huge fan and I'm not sure what the overall goal is," said Catherine Cockery, chapter director for the Sierra Club of New Hampshire.
This week, Pappas and Hassan claimed victory after President Joe Biden announced he was releasing 50 million barrels of oil from the strategic reserve in an effort to bring down costs. Biden is also pushing foreign oil producers to generate more fossil fuels as Americas see higher prices at the pump. All with the support of New Hampshire's federal delegation.
The NRDC's Bob Deans said increasing oil and gas production is the wrong way to go. But instead of criticizing Democratic allies, he blamed Big Oil.
"The oil and gas industry has the same solution to every crisis, drill more and lock more generations into oil and gas forevermore," said Deans, whose organization endorsed Hassan for re-election on February 22.
Just two weeks earlier, Hassan told CNN she wanted the U.S. to pump more oil. "We need to push harder to increase the amount of oil, see if there's more we could do to add to the supply side there," Hassan said.
Deans did not want to talk about the NRDC's ironically-timed endorsement. "I won't comment on the political decisions being made," he told NHJournal.
Last summer, the LCV ran TV ads "to thank Rep. Chris Pappas (NH-01) and support transformative energy legislation that will…tackle climate change." They gave the two-term Democrat a 100 percent rating on their 2021 scorecard.
Today, Pappas is supporting the expansion of oil, gas, nuclear — an "all of the above" energy strategy. And the LCV is expected to endorse him yet again.
And the Sierra Club's PAC has endorsed Pappas, Hassan, and Rep. Annie Kuster in this year's election, according to its website. Critics say it sends a message that, for environmental activists, it's politics first, climate policy second.
One potential holdout is 350 NH the environmental group that regularly leads protests at the Merrimack Station power plant in Bow, N.H. It's part of the 350.org network, founded by green radical Bill McKibben, which opposes all fossil fuel projects, even if that means leaving legacy power plants burning coal and oil — like Bow — online.
350 NH's Rebecca Beaulieu said Republicans and Democrats need to stop pushing oil in the long term and focus on renewable energy.
"While managing the price of gas will help millions of people in the present, we must be pushing for more affordable electric vehicles, improved public transportation, and a transition to renewable energy that can fuel our transportation sector," Beaulieu told NHJournal. "Transitioning to renewable energy will also decrease dependence on imported oil and make the U.S. more energy independent."
Even as Biden was touting increased foreign oil production, 350NH was tweeting its demand the that president use executive orders to "keep fossil fuels in the ground & declare a climate emergency." It is a message being ignored by Democrats from Washington to Concord, N.H.
When NHJournal speculated 350NH would continue to endorse Hassan, Pappas and other Democrats regardless of what energy policy they embraced, the organization responded with a tweet:
"Where is our endorsement?"