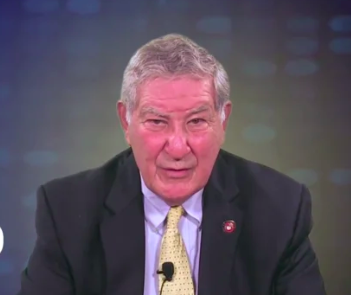 Sen. Lou D'Allesandro tells NHJournal that his Democratic colleagues in the New Hampshire House need to abandon their dreams of a tax hike.
"We are not raising taxes, period," the veteran state senator told NHJournal. "We are just going to hold them in place. That's all."
D'Allesandro was responding to questions about Gov. Chris Sununu's inaugural address, in particular the governor's call for the Democrat-controlled legislature to avoid tax increases. "I implore this legislature to learn from the mistakes of the past. The last thing we should be doing is raising taxes or pushing a budget that does not live within our means," Sununu said.
Last year NH Senate Democrats released their "Granite State Opportunity Plan" which deplores "tax breaks for corporate special interests." Sen. D'Allesandro's proposal is to freeze the business profits tax rate at 7.9 percent. This would technically be a tax hike given that the rate fell to 7.7 percent on New Year's Day.  D'Allesandro would also keep the business enterprise tax at 0.675 percent, ending scheduled future tax cuts.
Progressives in the House, however, want a true tax increase. According to New Hampshire Business Journal, House Ways and Means chair Rep. Susan Almy (D-Lebanon) wants to raise the business profits tax back to 8.5 percent, with the potential of going even higher.  And according to Speaker Shurtleff, Rep. Almy is "on the right track."
That track will have to get past Sen. D'Allesandro and the governor's veto, however. "We're not raising taxes in the Senate," D'Allesandro said. "The House, they're on the other side of the wall. And it's a big, beautiful wall, too!"
And what did the senator think of the rest of Gov. Sununu's speech?
"It was too long," he told NHJournal. "Short on substance, good on anecdotes. That's Governor Sununu."