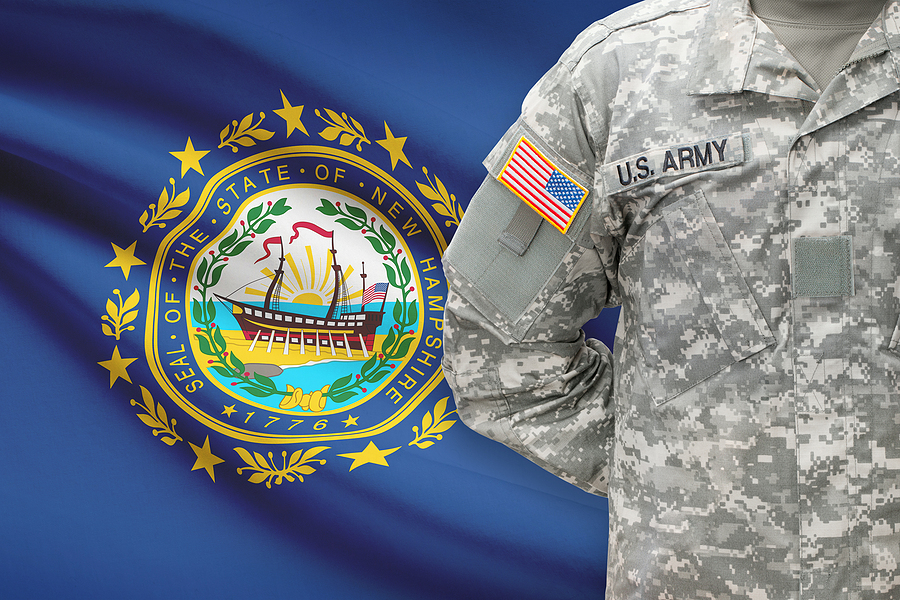 As the nation celebrates its independence — and the Revolutionary War heroes who wrested it from the British crown — new data show fewer young Americans are willing, or even able, to serve in the U.S. military today.
That includes here in New Hampshire, where the percentage of young people aged 17-24 joining the military lags behind the national average. However, the quality of military recruits from the Granite State is the best in the nation, according to a 2019 report. That is a significant finding given the declining quality of the recruiting pool.
In congressional testimony, Army Chief of Staff Gen. James McConville said just 23 percent of Americans in the 17-24 age group meet the minimum qualifications to serve due to obesity, drug use, or criminal record. Those would-be recruits need a waiver to join.
Not that young people, obese or otherwise, are banging down the doors to get in. NBC News reports an internal Defense Department survey found just 9 percent of eligible potential recruits have any interest in doing so—the lowest number since 2007.
"It's fair to say all branches of the military service, including active, National Guard, and Reserve are struggling to recruit," said Lt. Col. Greg Heilshorn, Director of Public Affairs for the New Hampshire National Guard.
And while New Hampshire's number may be below the national average, it still has the distinction of sending the most recruits to the military than any other New England state.
Unsurprisingly, states with large populations like California and Texas provide the most military recruits. However, the states sending the highest percentage of their enlistment-age population to the military are from the south: South Carolina, Florida, Hawaii, Georgia, and Alabama top the list.
The New England region ranks at the bottom.
Heilshorn said the high quality of New Hampshire's recruits is due in part to having so few of them. That gives recruiters time to work with the recruits and prepare them for their accession into basic training.
"We can have a greater training impact on our new recruits – a more hands-on approach preparing them for basic training and their advanced individual training, collectively known as initial entry training," Heilshorn said. "In the New Hampshire Army National Guard, we have a Recruit Training Company, which runs our Recruit Sustainment Program. As a result, recruits are better equipped physically and mentally to excel during their initial entry training. The N.H. Army Guard has consistently ranked among the top states among quality enlistments."
Dave Medlock, 45, of Exeter, joined the military in 1999 when he was in his early 20s. He had dreams of attending officer training school but eventually ended up spending eight years in an Army Medical Evacuation Unit, serving tours of duty in Bosnia and Iraq. He said his time in the military has had a lasting, positive impact on his life.
"Overall, it was fantastic. The best part of it was the people," Medlock said. "I have so much respect and admiration for the people that I served with, just an amazing group of people. Serving in a Medevac unit, the goal of saving lives drew the best people imaginable."
Medlock had family members who served in the military, which gave him a sense of duty and responsibility. His grandfather served as a colonel in World War II. A father himself now, Medlock said the younger generation does not have the same sense of patriotism.
"The youth of today have a very different attitude on what constitutes freedom and responsibilities," Medlock said. "They don't even think of it as a pathway."
The culture at large portrays military service negatively, and love for America among Americans continues to decline. According to the latest Gallup Poll survey, a record low 38 percent of Americans say they are "extremely proud" to be American.
Medlock said his military service gave him the training and education to succeed as a civilian. He works as an operations director for a private plane company managing 200 pilots and close to 50 aircraft.
"The reason I have this job now, at which I make a very good living, is because of my military experience," Medlock said.
Heilshorn said he thinks there are many factors behind the overall decline in military service.
"Our current struggles to meet annual recruiting goals stem from a number of factors including a shrinking pool of eligible young men and women, higher standards to meet for enlistment, and tight job market," Heilshorn said.
Heilshorn said there is an ebb and flow to military enlistment and, more importantly, retention. Military branches want to keep the personnel they have trained for as long as possible. For the New Hampshire National Guard, Heilshorn said the COVID-19 pandemic helped keep soldiers.
"Generally, our total number serving has hovered around 2,700 citizen-soldiers and airmen. We've dipped under 2,600 and been as high as 2,800. Since the pandemic, retention has been especially strong. We believe it's in large part due to the fact so many of our guardsmen were activated for extended tours in support of the state's pandemic relief efforts. There's nothing more incentivizing than for a soldier or airman to be on mission, doing their job, whether that's overseas or right in their own community."